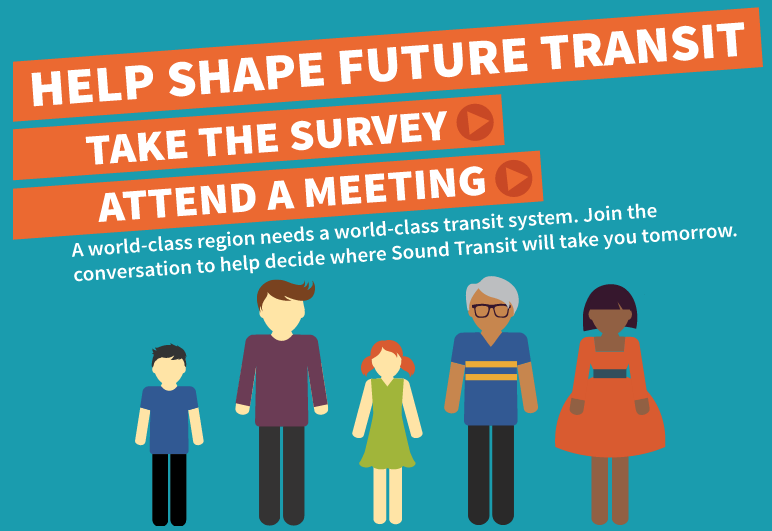 Sound Transit is in the midst of an important public outreach campaign for their next big transit expansion program, known as Sound Transit 3. Earlier last month, the agency released their Draft Priority Project List for public review and comment. This list essentially highlights a menu of possible service expansion alternatives on the table. The agency's goal in this public review process is to determine which projects have the strongest public support. Sound Transit will review the comments received and then refine the Priority Project List down for candidate projects worthy of further study by the agency. Ultimately, this will inform the Sound Transit Board as they proceed to finalizing a System Plan to be packaged with complementary revenue sources for public vote in November 2016.
But before jumping straight to 2016, there is still the need for public participation now in order to ensure that a good plan is devised.
Last month, Anton Babadjanov offered some important insight into the competing choices light rail expansion poses to Seattle and the region. He dug deep into analysis of transit corridors in Seattle. Using data from the City of Seattle, Anton compiled baseline and projected bus ridership of each corridor. He further built upon the corridor analysis by linking each one with investments recommended in the Seattle Transit Master Plan and light rail alternatives proposed by Sound Transit. He also explained the tradeoffs of each potential mode/service type at a high level (e.g. grade-separated rail, in-street exclusive rail, and in-street exclusive bus).
Perhaps most importantly, Anton laid out specific priorities for transit investment in Seattle. He focused on three key points that Seattleites should rally around in their messaging to Sound Transit:
Support fully grade separated options to Ballard (C-01b, C-01c), West Seattle (C-03a) and through downtown (C-04). These are the highest ridership lines connecting major growth centers and the transit we build to them has to be scalable for future needs. The ridership gain and decongestion effects from the improved reliability of grade-separated lines will also be the highest here.
Support east-west corridors like the Ballard – Wallingford- U District via 45th (C-02) and Queen Anne – SLU – Capitol Hill (not proposed, you can suggest it). Building a network that requires going through downtown to go from one neighborhood to the other does not reflect actual movement patterns (as shown above) and will hinder achieving urbanist goals in areas of inadequate transit service.
The original Sound Transit Ballard to downtown Seattle Transit Expansion Study included a Corridor D in its Phase 2 which covered Ballard – Fremont – Queen Anne – Belltown – Downtown. According to the map above, not only does that corridor cover two of the major routes for work trips, it also covers non-work trips in the Ballard-Fremont and Queen Anne-Belltown areas and non-work trips represent 83% of all trips. Suggest this corridor be kept for studying in your comments.
There's a small window remaining for public comment on the Sound Transit 3 draft project priority list. So be sure to provide your feedback before the end of Wednesday, July 8 (tomorrow). You can do so through Sound Transit's brief online survey or by e-mailing the agency at soundtransit3@soundtransit.org.

Stephen is a professional urban planner in Puget Sound with a passion for sustainable, livable, and diverse cities. He is especially interested in how policies, regulations, and programs can promote positive outcomes for communities. With stints in great cities like Bellingham and Cork, Stephen currently lives in Seattle. He primarily covers land use and transportation issues and has been with The Urbanist since 2014.