The Pronto bike share system yesterday announced a last minute station move in advance of the long holiday weekend. And they are moving very quickly to make it happen: crews are relocating the station at Dexter Ave and Denny Way today, placing it instead at 5th Ave N and Thomas St. This new location is directly adjacent to Seattle Center, but they are not placing it on the Seattle Center side of busy 5th Ave N. Instead, it will be on the other side of the street where it couldn't possibly get in anyone's way near the parking lot for the Ride The Ducks vehicles.
5th Ave N does have a protected bike lane on it, but thanks to Seattle Public Schools's refusal to allow the lane to continue by giving up a segment of their parking lot at Memorial Stadium, the bike lane only runs a block between Republican Street and Mercer Street, a full two blocks (and, again, across 5th Ave N) from the new Pronto station. To get there, you're pretty much on your own and the same is true as far as going south from this station.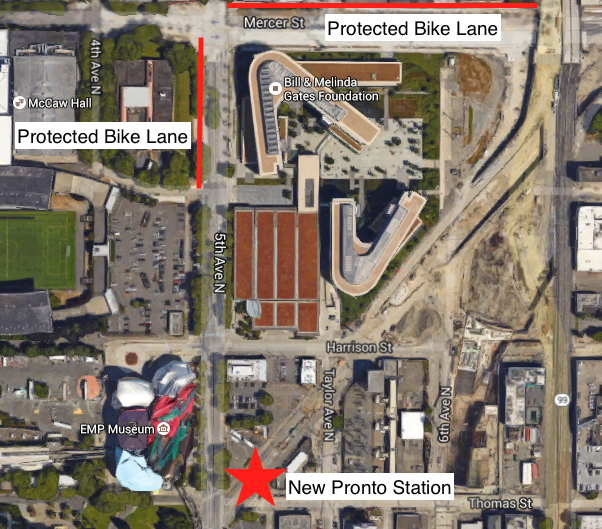 This station move brings the total number of stations that are west of Aurora and north of Denny to a whopping two: the other being a station on 1st Ave N near Key Arena.
This station could be great for cross-Seattle Center trips: a bus rider heading to the EMP can now take a bus that goes to Uptown and hop on a Pronto instead of walking all the way across the Seattle Center, or a rider heading to the Seattle Rep or Key Arena can do the same if they end up on Route 3 or 4 buses—except the trip across 5th Ave N and back is really going to make the time savings disappear faster than you can order a drink at the Seattle Rep's bar.
This is a key issue with Pronto's station placement since the launch of the system: trip pairs make sense sometimes, but oftentimes there's a slight problem with where the station is placed that makes you rethink the trip.
Last week, when Capitol Hill station was closed due to a pepper spray incident, I was at Westlake Station needing to get to the Hill for a meeting. I considered my options for grabbing a Pronto and hoofing it up the hill. I could have backtracked to Second Avenue & Pine Street (except once you are in the transit tunnel, you are just as close to Fifth Avenue as you are to Third Avenue), headed over to Westlake Avenue & Sixth Avenue (crossing Westlake is not fun during rush hour—no thanks), or walked over to 9th Ave & Pine Street. None of these options was anywhere near close to the ideal needed to make Pronto function for a transit rider. And it's not for lack of space. The Seattle Department of Transportation recently installed some back-angle parking directly opposite the Third and Pine entrance at Westlake station.
Pronto has also announced that it is relocating the station at 12th & Yesler, but has not said where it plans to move it. The station at this location was sponsored by the apartment building adjacent to the site, the Anthem, so it's good to see that Pronto is relocating low usage stations regardless of who is sponsoring them. 12th & Yesler is also very close to the site where a high profile bike accident is raising questions of safety near streetcar tracks for those on bikes. I could not speculate as to whether that is a factor in the relocation of the station here.
It is my hope that we will begin to see more prominent station placement that adds to the benefit of trip pairings, as opposed to just moving stations into the proximity of amenities and hoping for the best. We will continue to prod them to do so and will close by asking nicely: can you move it across the street at least?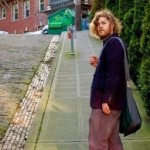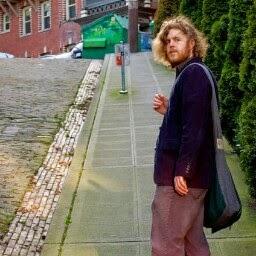 Ryan Packer lives in the Summit Slope neighborhood of Capitol Hill and has been writing for the The Urbanist since 2015. They report on multimodal transportation issues, #VisionZero, preservation, and local politics. They believe in using Seattle's history to help attain the vibrant, diverse city that we all wish to inhabit. Ryan's writing has appeared in Capitol Hill Seattle Blog, Bike Portland, and Seattle Bike Blog, where they also did a four-month stint as temporary editor.