A rapid mode shift from planes and lanes to trains is a healthy climate solution.
Many thanks to Stephen Fesler for his reporting on the new Amtrak Cascades Plan. As he describes, it's better than current service — but insufficient to meet 2030 climate imperatives. Washington law has multiple climate-mitigation requirements. Most are ignored or delayed. In 2008, the state legislature codified decade-by-decade targets requiring reductions of greenhouse gasses and vehicle miles traveled (VMT).
Sadly, we will not meet 2030 climate goals, even with full electric vehicle use. Washington State emissions have gone up since 2015. Even after a bit of a pandemic respite, transportation produces 40% of climate-warming greenhouse gasses. Diesel vehicles cause 7% of that.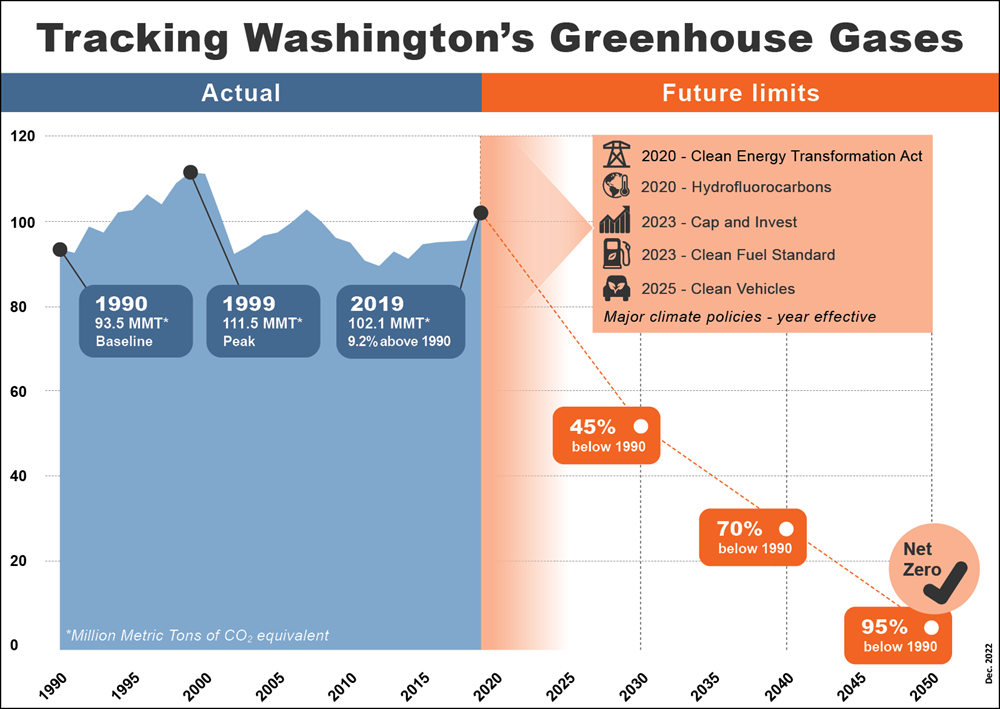 These alarming trends indicate that we need to greatly reduce our dependence on cars and planes, especially as our state population grows — including 'climate refugees' who are moving north for relief.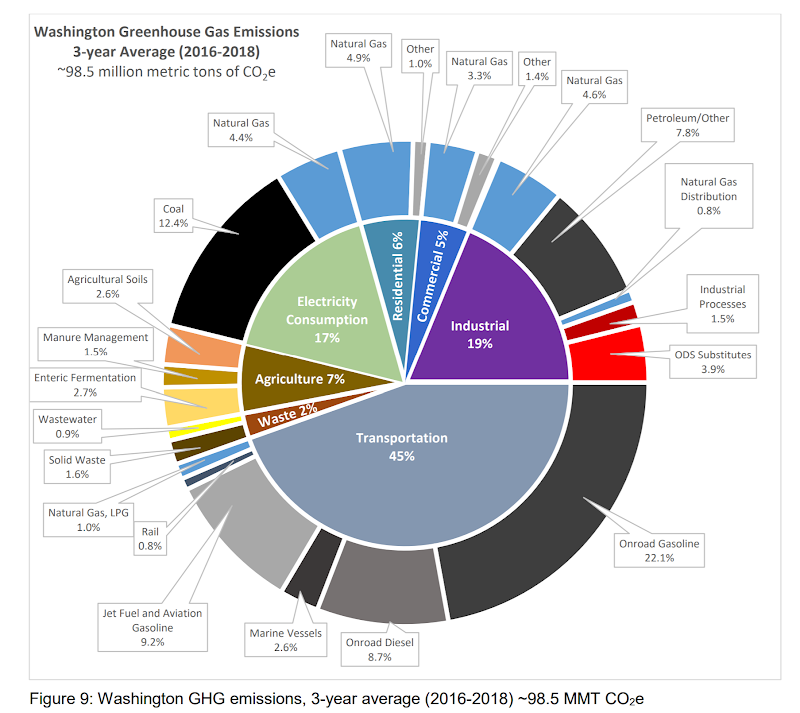 A rapid mode shift from planes and lanes to trains is the healthy climate solution. Rail is six times more efficient than short haul flights and almost five times more efficient than medium-sized cars. Even diesel trains use a third the energy and produce only a third the lung-damaging PM 2.5 particulate emissions of all those cars and trucks. Amtrak Cascades is our current passenger rail service connecting 14 communities between Vancouver, British Columbia and Eugene, Oregon. It's popular: More people take Amtrak Cascades than fly between Seattle and Portland.
The Washington State Department of Transportation's (WSDOT) new Service Development Plan includes five upgrade options to support new 125 mph Airo trainsets arriving in 2026 to be used by Amtrak. It's a good start, but doesn't build long-needed new rail infrastructure, and calls for only 330 new acres for side tracks needed to allow shared use by freight with fewer passenger train delays, to implement the 2.5-hour trip time between Seattle and Portland specified in the passenger rail plan the state legislature approved in 1993.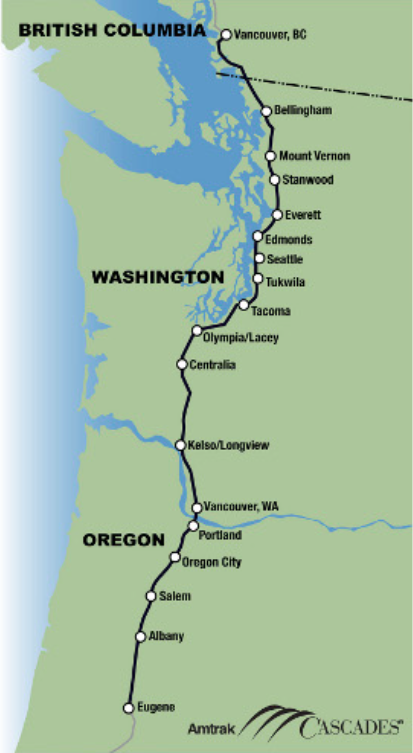 We need a paradigm shift, from moving more cars and trucks, to moving people and goods better and faster. For that, Amtrak Cascades will need curve straightening at Mounts Road, a new two-track rail bridge across the Nisqually Delta, and miles of new fast track south of Lacey. This new rail bridge will allow Amtrak Cascades to go 100 mph, not 30 mph, across the Nisqually, and can extend Sounder service from Seattle south to Olympia. Mode-shifting passengers and freight to rail will obviate WSDOT's proposed I-5 bridge replacement and widening from six lanes to eight. More new lanes encourage more, not fewer, VMTs.
A Washington State Joint Transportation Committee report estimated costs will balloon, potentially to more than $100 billion, if the state selects a route with tunnels to avoid urban pinch points and that ensures trains can operate near top speeds. That could add up to 220 miles of new right-of-way (estimated 3,000 acres) along the I-5 corridor — some of it impacting greenbelts and other dicey property takings — plus 90 miles of tunnels under cities.
Washington's Growth Management Act states that "property designated as greenbelt or open space is not subject to adverse possession." Citizen objections to a new airport in Pierce County are likely to be repeated when the state's ultra high-speed rail project comes calling for land.
The rapid pace of the climate catastrophe requires that we have solutions advancing on a faster timeline rather than waiting for massive projects to arrive, maybe into the 2040s.
California's HSR experience is cautionary. After decades of planning and delays, they built 119 miles in eight years for $18 billion. The full project, San Francisco to Anaheim, is estimated to cost $88 to $128 billion. We shouldn't put all our eggs in the high-speed rail basket.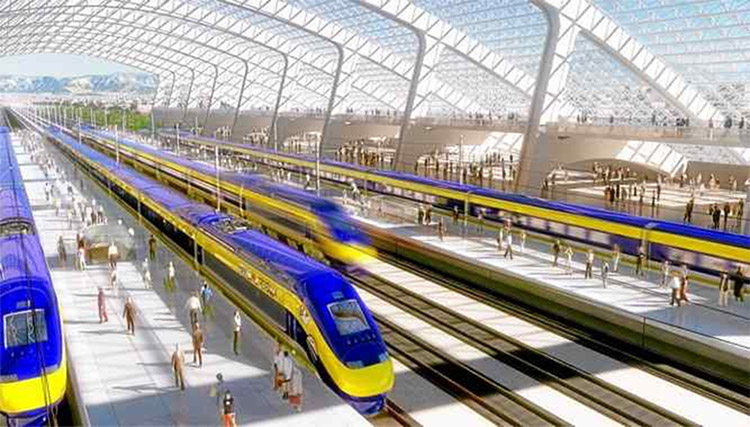 The High Speed Rail Alliance recommends 20% new high-speed lines and 80% existing lines upgraded for faster, more frequent passenger and freight trains. Our rail, health, and climate coalition strongly support a rapid mode shift from planes and lanes to trains. We all deserve Amtrak Cascades upgrades by 2030 for our transport, climate, and health needs.
Improving our existing service by 2030 can deliver benefits to riders and the climate sooner, and it also builds a larger ridership base and a virtuous cycle of less reliance on cars that will help support additional transit investments coming online in the future.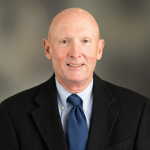 Breck Lebegue (Guest Contributor)
Breck Lebegue MD MPH is a public health physician and rail advocate. He is a member of the Washington Physicians for Social Responsibilities
Climate and Health Task Force
.