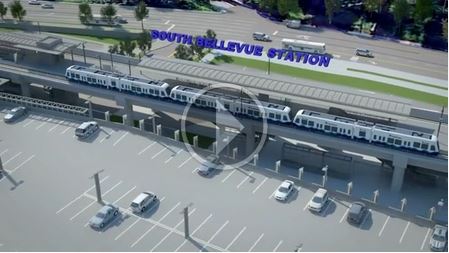 For those of you wishing East Link were open today, Sound Transit has given us something to chew on in the meantime. Sound Transit has put out a video visualization of the East Link corridor. The video focuses on the alignment from the interchange of I-90/Bellevue Way and Overlake Transit Center. Highlights of the simulation include station and transit facilities, three-car trainsets, and future transit-oriented development sites. Be sure you have time to watch in full though, the video runtime is 13 minutes.
On a related note, Sound Transit has also published the technical drawings (90% design) for the Northgate Link alignment from the Maple Leaf portal to the Northgate Station terminal tracks.
For more information on both projects, browse the extension pages of East Link and Northgate Link.

Stephen is a professional urban planner in Puget Sound with a passion for sustainable, livable, and diverse cities. He is especially interested in how policies, regulations, and programs can promote positive outcomes for communities. With stints in great cities like Bellingham and Cork, Stephen currently lives in Seattle. He primarily covers land use and transportation issues and has been with The Urbanist since 2014.