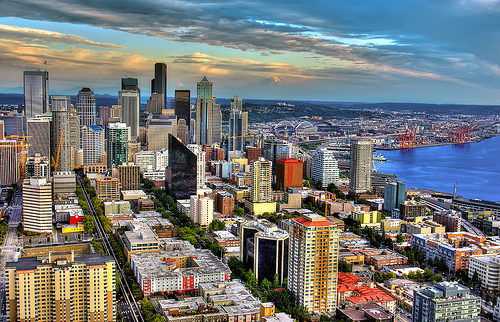 Accelerating growth: Seattle grew twice the rate of suburban King County in population from 2012 to 2013, and that rate has massively accelerated from the previous yearly period when it only grew 25% faster.
Breath easier: Sightline breaks down 17 things you should know about California's cap-and-trade system. Maybe this can be a model for our state?
Elevate your maps: Google Maps adds a hand feature for cyclists, now you can visualize your next bike ride with route elevations!
Competing proposals: Council Members Nick Licata and Kshama Sawant propose alternative funding measures to save King County Metro Transit in Seattle. There's a lot to like about this.
Racism and inequality: It may not be the sexiest mapping, but City Lab shows us maps of racist housing policies and the inequality state-by-state over three decades.
Bus stop or transit station?: It probably goes without saying, but not all bus stops are created equal. Some are flag stops, some are sheltered stops, and some are full fledge stations. Greater Greater Washington gives a great primer on the diversity of the "bus stop". Meanwhile, DC's Metro explores the differences in high capacity transit service typologies.
Unequal social welfare: We don't spend money on social welfare in the way that you probably think we do. The system is pretty broken because we broke it more even though we spend more. To top it off, we're losing a lot of our social housing to neglect and demolition.
City sets strict rules: The City Council adopted much more stringent rules for microhousing (even beyond what DPD proposed) and small lot development.
20mph zones: Paris is looking to expand its 20mph zones all across the city.
In trouble: It looks like the tunnel project may be even further delayed and that the City Council is poised to tank the city's $15/hr effort.
Third safest: Smart Growth America released some interesting statistics this week, especially in respect to Seattle. Ranking 51 cities, Seattle comes out at top as the third safest for pedestrians.
Tragic realities: You may wonder why and how bicyclist deaths occur. The statistics show that it's almost always the fault of a driver and the cyclist being rearended, but there's more to it.
First female police Chief: Mayor Ed Murray chose Boston's Kathleen O'Toole as the city's new Police Chief. O'Toole becomes the city's first female in the position.
Uneven recovery: Since the end of the Great Recession, the recovery has been very different across the country. And not just in the rate of employment growth, but also in the quality and pay of jobs.
There's a fire in the house: Bad design of space isn't just the fault of traffic planners or developers, a lot of this blame belongs with our "life savers". Ironically, fire departments across this country are making us less safe with our streets because of their fire trucks.
Map of the week: This series of maps in London explores the social differences of the city's districts in a number of ways like race, accessibility to public transport, age cohorts, unemployment beneficiaries, and more.

Stephen is a professional urban planner in Puget Sound with a passion for sustainable, livable, and diverse cities. He is especially interested in how policies, regulations, and programs can promote positive outcomes for communities. With stints in great cities like Bellingham and Cork, Stephen currently lives in Seattle. He primarily covers land use and transportation issues and has been with The Urbanist since 2014.