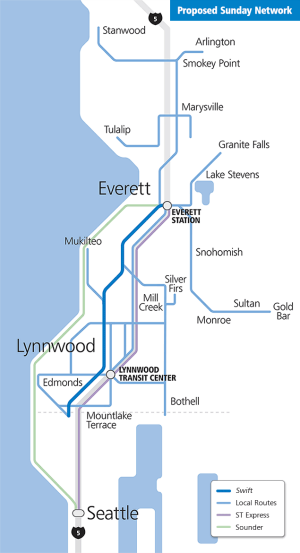 Community Transit (CT) is proposing significant service changes for 2015 that includes 27,000 new service hours for the network. The agency is proposing to bring Sunday and holiday service back while adding more hours to weekday and Saturday service. This is no doubt very welcome news for riders in Snohomish County.
From 2009 to 2012, the agency was faced with hard decisions because of the Great Recession. 37% of service (160,000 service hours) had to be cut with multiple rounds of service reductions. Sunday and holiday service were eliminated, span of service trimmed, and routes deleted. With the economic recovery in full swing, sales tax revenues have been increasing quickly allowing the agency to add 13,000 service hours in 2013 and 7,500 service hours in 2014. CT also plans to add 7,000 new service hours annually from 2016 through 2019. Even with these service increases, the agency will still be 87,000 service hours short of its peak level of service in 2009.
So what are the proposed changes?
The 27,000 service hours will be split into primary categories: Sunday/holiday service and weekday/Saturday service. The agency proposes to spend 18,000 service hours on Sunday and holiday service while a further 9,000 service hours will go to weekday and Saturday service.
Sunday and holiday service will return on June 7, 2015, which means that the agency will be able to operate a 365-day service for the first time since February 2010. Precise schedules have not been established yet, but as you can see from the proposed network map on the right, Snohomish County will have a fully functioning Sunday and holiday service with a strong hub-and-spoke focus on Everett and Lynnwood.
16 routes are proposed to operate on Sunday and holidays, which essentially mimics the Saturday network–with the exception of Routes 115 and 201. The span of service is route dependent, but the overall network is anticipated to operate from 6.45am to 9.30pm. And, the preliminary frequency for routes will fall into three categories:
Every 20 minutes: Swift
Every hour: Routes 101, 105, 112, 113,116, 119, 120, 130, 196, 202, and 220
Every two hours: Routes 222, 240, 271, and 280
Community Transit designates six major holidays that it will operate: Memorial Day, Independence Day, Labor Day, Thanksgiving, Christmas, and New Year's Day–Independence Day will be the first holiday that it operates under the new service plan. DART service will also be added and cover the same areas as fixed routes and schedules.
The new Sunday/holiday service is similar in geographic area as the previous one from 2009. However, the new scale of service is about 65% of the old with fewer routes operated. Community Transit will add additional service hours–as they become available–to Sunday service with the goal of having a consistent "Weekend Service" for both Saturday and Sunday.
The remaining 9,000 service hours will go toward weekday and Saturday service. Additional weekday trips to improve frequency and span of service will be focused on Routes 105, 112, 113, 115, 116, 119, 120, and 196. Commuter routes will also see a boost for a few peak-hour trips on Routes 412, 413, and 860. Meanwhile, Saturday will be focused solely on added span of service for Routes 105, 113, 115, 116, 130, 201, 202, 222, 271, and 280.
Fare increase
Riders may not be so keen on a fare increase, but Community Transit is proposing one for 2015 in order to match increased costs and inflation. Adult fares for local and commuter routes would each increase by $0.25. DART paratransit, regardless of age, would also see fares raise $0.25 to $2.25. All other fare categories would remain unchanged. Fare increases are proposed to go into effect on July 1, 2015.
Route modifications proposed for 2015
Highway 2 Service Changes
Service along the Highway 2 corridor is proposed to be restructured. This will help improve reliability, reduce transfers, increase coverage, and all-day service. Currently, Routes 270 and 275 serve the Highway 2 corridor. Route 270 provides service between Gold Bar and Everett with local stops between Gold Bar and Monroe and limited stops between Monroe and Everett. Route 275 essentially fills in the gaps by providing local stops from Monroe to Everett via Snohomish.
However, as part of the restructure, Route 275 would be deleted. A new Route 271 would be added in its place to provide better coverage to Monroe. New Route 271 would operate with limited stops from Gold Bar to Monroe and local service from Monroe to Everett. This service would operate seven days a week. Meanwhile, Route 270 would operate as an "express" service on weekdays from Gold Bar to Everett in the peak direction, morning and afternoon. Combined headways of Routes 270 and 271 would create a 30-minute frequency on weekdays to and from the Monroe Park & Ride.
Route 222 Revision
Route 222 is a local route serving the Tulalip Indian Reservation and Marysville. Its central focus is linking riders with neighborhoods and local shopping/employment centers like Quil Ceda Village and downtown Marysville. However, the routing is indirect and slightly like spaghetti. Community Transit is proposing to simplify the route by deleting the 4th Street-64th Street alignment west of 67th Avenue. Instead, Route 222 will proceed along Highway 528 to and from Highway 9 near the Walmart.
Route 280 Revision
Route 280 is a local, all-day route servicing the communities of Granite Falls, Lake Stevens, and Everett. Currently, the route provides limited stops between Granite Falls and Lake Stevens while the remainder of the route provides local service between Lake Stevens and Everett Station. Community Transit is proposing to extend the route to Boeing's Paine Field plant for two morning and two afternoon trips. For these trips, one morning trip would begin in Granite Falls while the other would start in Lake Stevens. In the afternoon, the return trip pattern mimics the morning: one would terminate in Lake Stevens while the other would end in Granite Falls.
Get involved
Public comments on all proposed service changes (including the fare increases) are open from now through January 9, 2015. You can contact Community Transit directly via e-mail at 2015changes@commtrans.org and/or meet with staff. Four public meetings will be held throughout Snohomish County from November 19th through December 11th:
Wednesday, November 19
6pm-8pm
Marysville YMCA, Pilchuck Room
6420 60th Drive NE, Marysville, WA 98270
Thursday, December 4
4.30pm-7:30pm
Mountlake Terrace  Library
23300 58th Ave W, Mountlake Terrace, WA 98043
Wednesday, December 10
10am-2pm
Everett Station, Weyerhauser Room
3201 Smith Ave, Everett, WA 98201
Thursday, December 11
4.30pm-7.30pm
Snohomish County PUD, Monroe Office
120 E Fremont, Monroe, WA 98272
At the end of the comment period, the Community Transit Board of Directors will hold a public hearing on all proposals. The Board will meet at 3pm on Thursday, January 8, 2015 in the Community Transit Board Room (located at 7100 Hardeson Road, Everett, WA 98203). If you feel like attending that, you can take transit to get there by using Everett Transit Route 8.

Stephen is a professional urban planner in Puget Sound with a passion for sustainable, livable, and diverse cities. He is especially interested in how policies, regulations, and programs can promote positive outcomes for communities. With stints in great cities like Bellingham and Cork, Stephen currently lives in Seattle. He primarily covers land use and transportation issues and has been with The Urbanist since 2014.