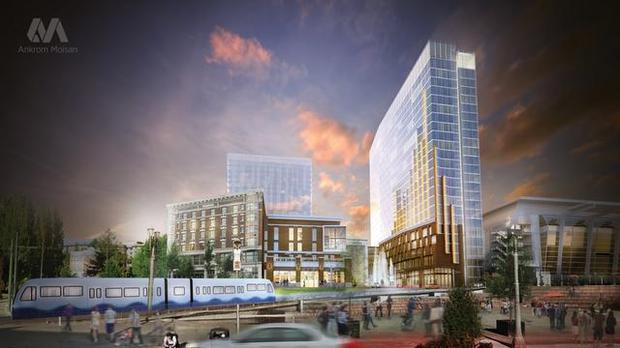 Good news for bikes: Raised crosswalk, better signal timing, and a bike leaning rail will be coming to the Burke Gilman Trail near U Village. Pronto! surpasses 10k bike trips in one month! Cascade Bicycle Club will open a new office and bike center at Magnuson Park.
Tacoma joins the boom: A developer will open a four star hotel (300 rooms) and condominium (200 units) in Downtown Tacoma by 2018.
Sleek trains: Eurostar share their redesigned trainsets to mark their 20-year anniversary.
The new Smithsonian: BIG has a $2 billon masterplan to overhaul the heart of the Smithsonian Institute and National Mall with work commencing in 2016. Meanwhile, BIG also has swanky plans for the old Battersea Power Station in London.
Save the whales: The US and China reached a landmark climate change deal this week.
Microhousing battle: Some Capitol Hill neighbors are getting together to halt a microhousing project on Harvard Avenue if it doesn't go through design review.
Capitol Hill infill: CHS highlights two new projects in design review on blocks of Boylston and Republican; check out the Boylston project, which is very whimsical.
$15 Now: Sawant and the Seattle City Council are upstanding the Mayor on $15/hr; they are speeding up implementation for City of Seattle employees with no phase-in period, it will go into full force in 2015.
Bike lights: Roosegaarde continues his implementation of LED technology, this time for bikes on illuminated cycle paths!
Dynamic station: Fulton Street Transit Center has opened in NYC and it is absolutely marvelous.
Bike jobs: Europe's cycling culture has created over 650,000 jobs to support the transportation mode.
Corruption shutdown: Apparently Paseo was running a very shady business, and they abruptly closed this week.
Urban education: Cornish College of the Arts turns 100 years old, and it's changed significantly from a Capitol Hill music school to a diverse Denny Triangle multi-disciplinary arts college. I bet Nellie Cornish would be proud of her school's dynamic programme and setting.
Wide sidewalks: Georgetown, D.C. tries out wide sidewalks for a weekend. And, what do you know? Turns out they were a big hit in a pedestrian-driven neighborhood.
Urban decline: Urban population decline in many US cities isn't new–there's a lot built into that besides white flight–but abandoned buildings are and that's a big problem because it causes a viscous cycle.
Selfish journalism: Danny Westneat keeps trolling Seattle, but Seattlish shows just how ridiculous his latest complaint about the city is–putting himself and family at risk to reclaim a stolen iPhone and tying up public safety resources.
NYC skyscraping: Development is booming in NYC and the Hudson Yards projects might just be the most interesting to see in action; a whole neighborhood will be floating above it all.
Down periscope: A former offshore torpedo base will get a new life as a water sports facility in Poland's Baltic Sea.

Stephen is a professional urban planner in Puget Sound with a passion for sustainable, livable, and diverse cities. He is especially interested in how policies, regulations, and programs can promote positive outcomes for communities. With stints in great cities like Bellingham and Cork, Stephen currently lives in Seattle. He primarily covers land use and transportation issues and has been with The Urbanist since 2014.