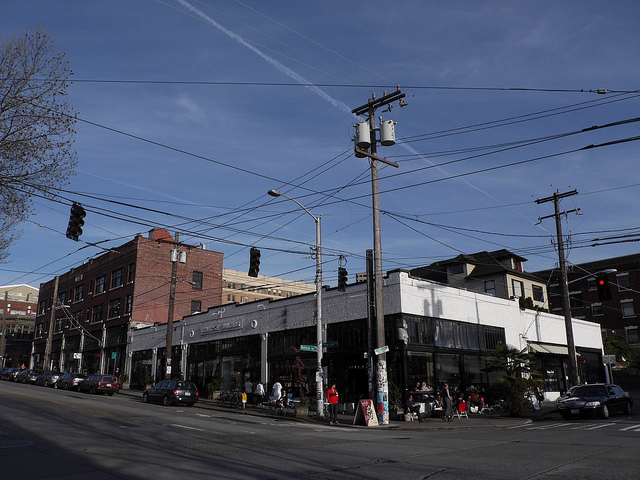 On the docket: A 6-story, mixed-use building could be on the horizon for 23rd Ave and Union St, but it's still subject to Council approval in January.
New blues: On Thursday, the Seattle Police Department debuted a whole new uniform, department logo and patch, vehicle design, and options for police body cameras.
WSDOT is lying: Bertha is still entirely doomed no matter what the State say, and Grist highlights this "clusterfuck". The Stranger further argues that WSDOT needs to answer seven fundamental questions, and then points out that WSDOT is lying on project's progress. And, what we can learn from the experiences in other cities that have removed highways.
Council makes big moves: The Seattle City Council pushes ahead with ORCA integration with the Monorail, and may proceed with annexing White Center.
Visualizing the city: You can get very unique results when you combine the skills of scientists, developers, and super-computers.
Keeping the lights on: After a week of drama in Snohomish County, the County Executive and County Council managed to come to an agreement on the budget to avert the state's first County government shutdown.
New island: Copenhagen is slated to expand by making new islands for growth, and they'll do it better than Dubai.
Punking the NIMBYs: A satirical post on CHS arguing for historic preservation of Pike/Pine's nearly last fine surface parking lot (don't worry, there are plenty left to save!) Meanwhile, Capitol Hill's REI building may get actual historic status.
Tax the rich: Governor Jay Inslee is seeking taxes on wealthier Washington residents from the sale of stocks, bonds, and other assets.
Religion and economics: Just in time for the holidays, there's a new theory that links religious diversity with national economic development.
Expanding transit: In addition to our own coverage of the new Long Range Plan for Sound Transit, Tacoma Transit has specific details on light rail's future in Tacoma.
Total collapse: A look back on the failure of the Columbia River Crossing project.
Skyscraping on First Hill: Adiós, McDonalds, hola new 17-story mixed-use building!
Bad manual: The Trip Generation Manual is taken down for grossly over proscribing road capacity needs.
A pee break: Pioneer Square needs a bus layover facility if we want better reliability on high frequency routes, and it can double as affordable housing.
Growing chains: The evolution of Portland's neighborhood greenways.
Map of the week: There's a new website out that tracks the historic resources across Snohomish County, thanks in large part of the Snohomish County Historic Preservation Commission.
Complete streets: Seattle Bike Blog makes a very clear case of why Holman Road is not a complete street, and that we should be very careful when applying the term.
More carsharing: The City Council is likely to expand the authority of SDOT to permit more carsharing. If so, BMW's DriveNow might join Car2Go on the City's streets.
Harmonizing marijuana: There may be an effort in the next legislative session to harmonize the rules for medical marijuana and recreational marijuana (as a land use planner, I hope so! Oy vey!)
A better Dexter: SDOT is deploying new bike lanes on Dexter to make it even better for cyclists; the arrangement should also improve the street for drivers.

Stephen is a professional urban planner in Puget Sound with a passion for sustainable, livable, and diverse cities. He is especially interested in how policies, regulations, and programs can promote positive outcomes for communities. With stints in great cities like Bellingham and Cork, Stephen currently lives in Seattle. He primarily covers land use and transportation issues and has been with The Urbanist since 2014.