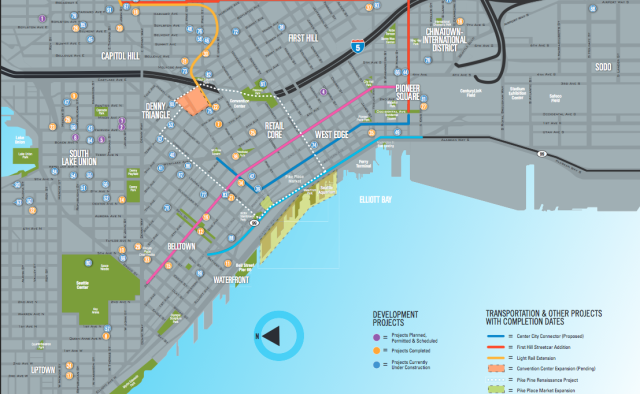 By the numbers: All the key numbers of a growing, changing, and vibrant Downtown Seattle.
Learning from Spock: You'd have to live a hole at this point to not know of Leonard Nimoy's passing. He was a gentle soul, just like his Spock character, who really did believe in Utopia–we can learn from that.
Fair changes: Bus and train fares may be going up in some ways, but ORCA Lift is also coming to reduce fares for low-income individuals. Look for the changes beginning tomorrow (March 1).
Killing a sprawl bill: Washington State Senate Democrats may have just stopped the Republicans in their tracks on transportation policy. Due to a two-thirds vote rule on tax increases (created by Republicans earlier this session), the Republicans may need more support than they anticipated for their transportation package.
Flash back: New York City wants you to take a stroll down memory lane to bygone eras. A new system has been launched to look at historical maps throughout the boroughs.
Bonkers for bridges: London seems to have a fascination with fancy pedestrian and bicycle bridges. Have they gotten just a little bonkers?
Bike map makeover: Seattle's official bike map just got a big overhaul. Tom at Seattle Bike Blog breaks it down for us and says how it could be even better.
Please fix it: Just how dangerous is Rainier Ave S? The answer is: very. On a per mile basis, it has almost 100% more collisions than Seattle's next most dangerous street. Of course, it could get a whole lot better.
Born Again Bertha: Repurposing the tunnel: Sure, it's totally in jest, but a new idea is being floated with how we might convert the SR 99 tunnel to a whole bunch of bigger and better uses. The Stranger talks with man behind this grand idea.
Comparing Seattle: Someone spent a lot of time on Google Maps and Wikipedia to compare Seattle to places across the globe.
Public benefit: $2.9 billion could come directly from developers to pay for a Sydney, Australia light rail project.
New brew: Elysian might have sold out to Budweiser, but an Elysian brewmaster could end up creating his own brewery.
Underground parking: Of course it would be the Dutch to create underground bike parking storage first…
The NYC Subway: This gif is pretty slick, watch the NYC Subway grow from nothing to everywhere.
Squeezing it in: A beautiful little home that once served as a small workshop in London.
Not sprawling: A new index says that Los Angeles in fact isn't sprawling, or at least not as much as San Francisco and New York City.
Life and death of cities: City centers are growing jobs while suburbs are quickly drying up for jobs.
Ripe or rotten carrots?: Tax exempt for 40 years, that's what one Brooklyn landlord would receive if they kept 700 units rent regulated.
Blocking growth: Some Mercer Islanders have rallied to stop any new housing options on the island community.
Bellevue bike lanes: New bike lanes are coming to 116th Ave NE in Bellevue.
Repairing the streets: Tacoma's mayor wants voters to support a $50m-per-year measure to fix Tacoma's decrepit streets.
City broadband: Cities across the US could create their own broadband networks thanks to legal barriers being dropped.
The freezeway: An Edmonton, Alberta architecture student wants to create a freezeway for ice skaters. Something tell us this is lawsuit waiting to happen, but the idea is fun!
A British Eiffel: There can only be one Eiffel Tower, but the British had a number of plans that never became viable in the end.
The value in street names: What's in a street name? Evidently, the data suggests that there's a lot actually. A handy database has everything you ever wanted to know about the First Avenues and Broadways of the US.

Stephen is a professional urban planner in Puget Sound with a passion for sustainable, livable, and diverse cities. He is especially interested in how policies, regulations, and programs can promote positive outcomes for communities. With stints in great cities like Bellingham and Cork, Stephen currently lives in Seattle. He primarily covers land use and transportation issues and has been with The Urbanist since 2014.