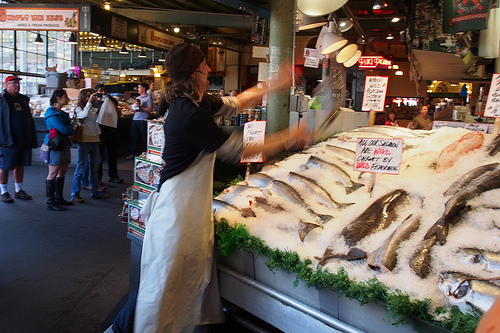 Saving history: Two buildings made the cut for historic preservation status.
Too posh to understand: Tom Douglas backs down from surcharge for higher minimum wage after making a big stink earlier this week about it.
Dear landlord: A heartfelt letter to the new landlords imploring them to hear the human side of things, not just the dollars and cents.
Keeping wages low: How the Legislature killed the minimum wage bill.
Home on Bellingham Bay: The Port of Bellingham finally is getting waterfront redevelopment, meet Harcourt.
Hey bros, grow up: Dan Savage of The Stranger tells Cap Hill folks to get constructive, embrace urbanism.
On the brink: California goes all in and places hefty water restrictions on municipal water systems. But the effort may just be in vain.
Mount Baker redesign: The intersection at Mount Baker Station in the Rainier Valley could see a huge, sweeping redesign; one that the neighborhood absolutely deserves.
Mapping the competition: Amsterdam is harnessing the power of interactive mapping to highlight their startup business culture to, well, attract business, and here's why.
April Fools': The interwebz got a little bit absurd for April Fools' Day.
The gender pay gap: A fantastic visualization on the gender pay gap globally.
We can do better: A case study into flawed street design.
Getting it done: SDOT will install 10 new taxi stands this year and wants your input. The agency is also re-timing lights in Downtown Seattle.
Youch: Bloomberg Business gives the failing WSDOT-backed tunnel project a serious bruising.
Setting the price: Three reasons why we should be pricing parking right.
More coal: Washington Republicans want to subsidize coal.
No Trans-Pacific Partnership: Local leaders are in opposition to the President's Trans-Pacific Partnership trade agreement.
More options for tent cities: The Seattle City Council approved legislation that would allow tent cities in a wider area of the city, including residential neigbhorhoods.
It pays to be green: A Texas city went 100% green for the energy source, but not for the environment.
Increasing wages: Seattle's new minimum wage rules went in effect on April 1, no joke!

Stephen is a professional urban planner in Puget Sound with a passion for sustainable, livable, and diverse cities. He is especially interested in how policies, regulations, and programs can promote positive outcomes for communities. With stints in great cities like Bellingham and Cork, Stephen currently lives in Seattle. He primarily covers land use and transportation issues and has been with The Urbanist since 2014.