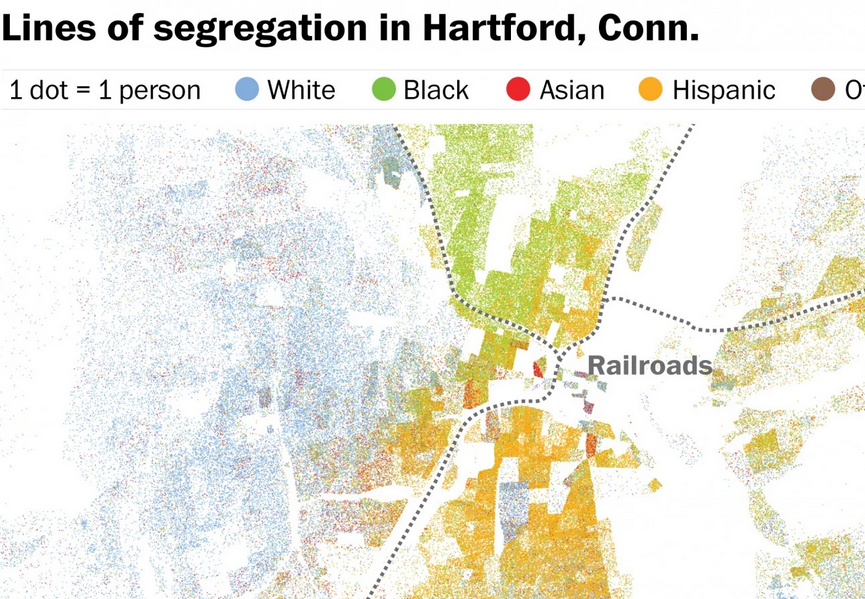 Unconventional: CHS digs deep into the details of the Convention Center expansion proposal; Curbed Seattle has the cliffnotes.
Staying tall: New York City wants to keep building tall, but with community desires in mind.
Poisoning the well: Governor Jay Inslee is actively considering a swallowing the "poison pill" in the statewide transportation package; this would kill over $1 billion in active transportation funding, but allow the Governor to pursue climate change goals.
Swank design: Capitol Hill is looking at some swanky new development projects.
Wrong side of the tracks: A series of maps across the US that show how highways and railways really do cause racial segregation.
'Tactical urbanism': Not the best term for it, but First Hill shows off some new street furniture and activation features.
Infographic: How Seattle spends your tax dollars.
Clutter reducing signs: Sydney is trying out new electronic signs that can implement parking restrictions on-the-fly.
Rezoning 23rd and Union: An update on the rezone proposal for the commercial node at 23rd Ave E and Union St.
Unmedicated traffic: Seattle Bike Blog reported this week that Seattle has a serious traffic safety emergency that needs immediate attention.
Turn off the lights: "The old suburban office park is the new American ghost town."
Wind struck: London's Walkie Talkie tower is making many unhappy with its downdrafts.
Metro rebrand: The case for better-looking buses.
Extreme urban art: Karlsruhe is trying out some extravagant and extreme art to spruce up a construction site.
Timeline: The legacy of rails-to-trail in a digital timeline.
The San Fran Effect: An explainer on how San Francisco went from America's progressive mecca to unfathomly unaffordable.
Not an accident: "We don't say 'plane accident.' We shouldn't say 'car accident' either."
Mortgaged: An op-ed in Vancouver, BC on how mortgages and foreign investment a major players in the inflation of housing prices.
Road addiction: Politico asks why America is spending so much money on roads despite a national funding crisis for transportation and looks into one Wisconsin city addicted to highway megaprojects.
Urban Pope: Five ways that the Catholic Church and Rome have put the Pope Francis' urban and environmental ethos into action.
Designing for light: New York City thinks that buildings can be built tall without sacrificing light.
I-5, it is!: The Sound Transit Board chooses an amended I-5 alignment for the Federal Way Link extension.

Stephen is a professional urban planner in Puget Sound with a passion for sustainable, livable, and diverse cities. He is especially interested in how policies, regulations, and programs can promote positive outcomes for communities. With stints in great cities like Bellingham and Cork, Stephen currently lives in Seattle. He primarily covers land use and transportation issues and has been with The Urbanist since 2014.