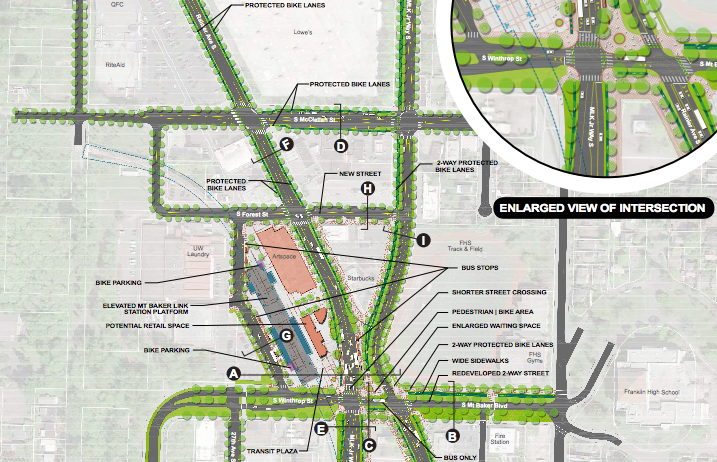 All in for BRT: Kirkland has a concept plan for future BRT through the Eastside city.
More than a US problem: Economic segregation and inequality is more widespread in Europe than you might think.
Tall and affordable: A skyscraper planned for London could be built as "genuinely affordable" for future residents.
Dual mode: An inside look at Métier, a new bike gym and cafe in Capitol Hill.
Lid it already: Capitol Hill Seattle Blog talks with the architect actively pushing for a park-like lid over I-5.
Serious about climate change: King County is putting a new, ambitious climate action plan into operation with a goal of 80% greenhouse gas reduction by 2050.
Big overhaul: Sound Transit has selected Peter Rogoff, former FTA Deputy Secretary, as CEO of the agency and enacted fare changes across the network.
Sad reminders: 137 plastic silhouettes dotted across Portland pay tribute to those who have died on city streets since 2004.
Street safety solution: With deployment of zigzag markings at 11 locations in Northern Virginia, speeds have been greatly reduced.
Reaching for the stars: A new skyscraper proposal for Basra, Iraq would put all others to shame. If it were built, it would surpass the Burj Khalifa (soon to be the second tallest) and Kingdom Tower (currently under construction) for the world's tallest building.
Parks without borders: New York City Department Parks and Recreation is trying out a new concept called "Parks Without Borders" to soften the edges of city parks and make them safer.
Accessible Mt. Baker: Seattle Bike Blog shares concept plans for a revised and safer street network near Mt. Baker Station.
Sky-bike: Copenhagen's love of bikes has led one developer to build a sky-high bike bridge between waterfront towers. Mikael Anderson of Copenhagenize isn't so convinced of the approach.
Engage everyone: A professional planner unequivocally says that diversity matters in the planning process.
Lesser known elegance: 25 gorgeous, non-famous US train stations; Tacoma's Union Station makes the listicle.
Parkway: Toronto is planning a one-mile park underneath a major city highway.
Innovative freight: Gothenburg is innovating local delivery systems with smaller cargo transport vehicles on city streets.
Restoring hope: More than $47 million in 2016 city budget will be spent on addressing homelessness in Seattle.
The great return: Reasons why wealthy individuals are moving back to city centers.
More [Insert] Cons: The Washington State Convention Center (WSCC) has a reached a major deal ($) with King County to acquire Convention Place Station for future expansion of convention center facilities. This week, the WSCC also showed off models of what the expansion might look like.
Reborn: The Eitel Building on Second Avenue and Pike Street is about to get new life with major renovations and new hotel.
False blame: Lack of bright clothing is no reason to blame pedestrians for their deaths.
A pox in the system: The prevalence of sexual harassment in public housing is shocking.
Hopelessly counting down: An explainer on why much of the New York City Subway doesn't have countdown clocks for trains. Short version: old technology.
Before and after: 12 images showing just how much Seattle has changed in 8 years.
Bold plan: Architecture firm BIG releases a neighborhood masterplan for Pittsburgh built around a former hockey arena.
Invest more: Bicycling can help fight climate change if cities make the mode choice a priority.
Finally decided (maybe): In Seattle's District 2 race, Tammy Morales finally concedes to Councilmember Bruce Harrell in her bid for election. Meanwhile, it appears that Lisa Herbold has pulled out a come-from-behind victory over Shannon Braddock in District 1.
Map of the Week: An unfortunate map showing each state where a US governor has said that they would "refuse" Syrian refugees.

Stephen is a professional urban planner in Puget Sound with a passion for sustainable, livable, and diverse cities. He is especially interested in how policies, regulations, and programs can promote positive outcomes for communities. With stints in great cities like Bellingham and Cork, Stephen currently lives in Seattle. He primarily covers land use and transportation issues and has been with The Urbanist since 2014.