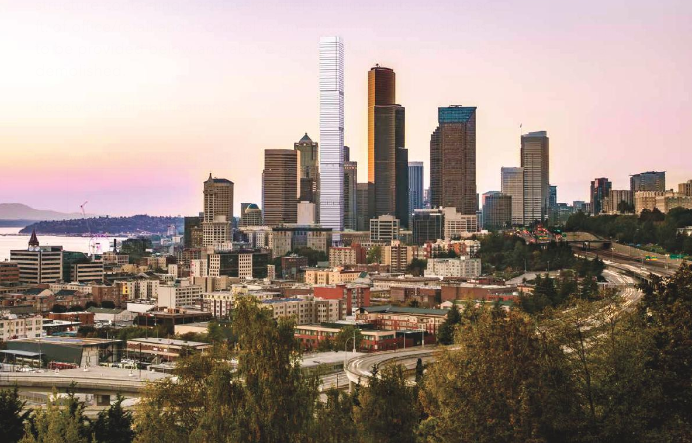 United metropole: Paris has finally unified dozens of suburbs and the city into one unitary body called "Métropole du Grand Paris"; the new body will govern some 7 million residents of the 12.2 million in the Île-de-France.
Green floaters: Rotterdam plans to green up its harbor with tree canopy using floating tree buoys.
Enormous blob: If all of Los Angeles County's 18.6 million parking spots were one circle, they would consume 200 square miles of space.
Where art thou?: Hugo House is being redeveloped, and while that will take time to complete, the literary house plans to keep its full schedule of programming running during the interim at the Frye Art Museum.
Kicked to the curb: Anyone who has been to Philadelphia know that their Baroque Revival city hall is a beacon of beauty, but for a long time the north plaza has been used as parking lot. No more; the newly elected mayor kicked the cars off of the plaza.
Safer communities: Governor Jay Inslee wants to reduce gun violence, which is why he a launched a new initiative to tackle the issue.
Bike the Emerald City: Cascade Bicycle Club is launching a new annual bike ride in April. This one will celebrate the great bicycle network of Seattle and the suburban cities around Lake Washington.
Creative solution?: Capitol Hill Seattle Blog asks if it's time to create development incentives for the Capitol Hill Arts District in order to preserve and invigorate the local arts culture.
Garbage architecture: The "Garbage Garage" opens in SoHo, Manhattan after years of concern by local residents over perceived impacts. It turns out it isn't so much nuisance and blight, but a valuable aesthetic piece in the neighborhood.
Impossible results: Astonishingly, spending $340 million and $2.4 billion nets the same amount of ridership for I-405 BRT investments.
Artistic preservation: A developer in Detroit plans to revitalize a property that happens to feature an iconic mural. Revitalizing the property, however, means irreparably changing the mural wall. The artist is suing to stop the project using a 1990s federal arts law.
Pay the piper: There are a lot of factors for why transit projects are so expensive, but are there any ways that we could reduce costs to build more?
Cynical Conservatives: The British housing market is in shambles due to major housing shortages; the Government claims that they plan to help ease this with 30,000 new "affordable" homes by 2020. But coupled with intentional erosion of public housing supply, the effort seems designed to fail poor and working classes.
Slow death: America's suburban office parks are slowly going the way of the flip phone – obsolesce and decline.
Long live Columbia Tower: Plans for a 102-story tower proposal in Downtown Seattle look to be all but dead now. In a very anti-climatic decision, the Federal Aviation Administration cites airspace safety to Boeing Field and Harborview Medical Center for lower maximum building heights.
Density, relocation, and mobility: Why commute times in cities don't grow as fast as population does.
Urban suburbs: Suburbs are often poorly defined, but one scholar argues that suburbs can be urban places as well and fit within the urban continuum.
Resident concerns: A neighborhood safety meeting was held this week in Magnolia, but the meeting was incredibly contentious on the issue of homelessness in the area.
F-that: Give your local retail store a walkability grade from A to F. Straight Outta Suburbia blogger David Barboza has come up with a rating system to do just that.
U-hunt: You can now apartment hunt by subway station in Berlin thanks to a new map that ties average one-bedroom rental rates to the nearest U-Bahn station.
Truncation station: Sound Transit provides early thinking into what ST Express service will look come 2023; truncations of current service is likely at Link terminals.
Moynihan resurrected: New York Governor Andrew Cuomo released his plan for a revitalized Penn Station plan, but New York City transit advocates want to know if the plan will actually improve transportation instead of just putting lipstick on a confusing, ugly pig that is Penn.
Eastside growth: Kirkland Urban, a planned mixed-use development in Downtown Kirkland could soon break ground, pending the issuance of commercial building permits.
The Eastside's loss: Expedia's new Interbay campus is a missed opportunity for an urban headquarters, says Seattle Met's Josh Feit. He suggests that the region is better served by Expedia sticking in Downtown Bellevue and that Seattle should improve development regulations for the Interbay site.
Bored: The tunnel boring machine, Bertha, has nearly made it 100 feet since the mid-December restart and could wrap up work around this time in 2017 (although count me as a skeptic on that one).
Set sail: The Maritime Building on Western Avenue gains landmark status; the new designation could mean that plans for an 8-story addition by Beacon Capital Partners need significant changes.
Map of the Week: Oran Viriyncy, an CHK America cartographer and former Puget Sounder, has finally released his long-awaited Seattle Transit Map.

Stephen is a professional urban planner in Puget Sound with a passion for sustainable, livable, and diverse cities. He is especially interested in how policies, regulations, and programs can promote positive outcomes for communities. With stints in great cities like Bellingham and Cork, Stephen currently lives in Seattle. He primarily covers land use and transportation issues and has been with The Urbanist since 2014.