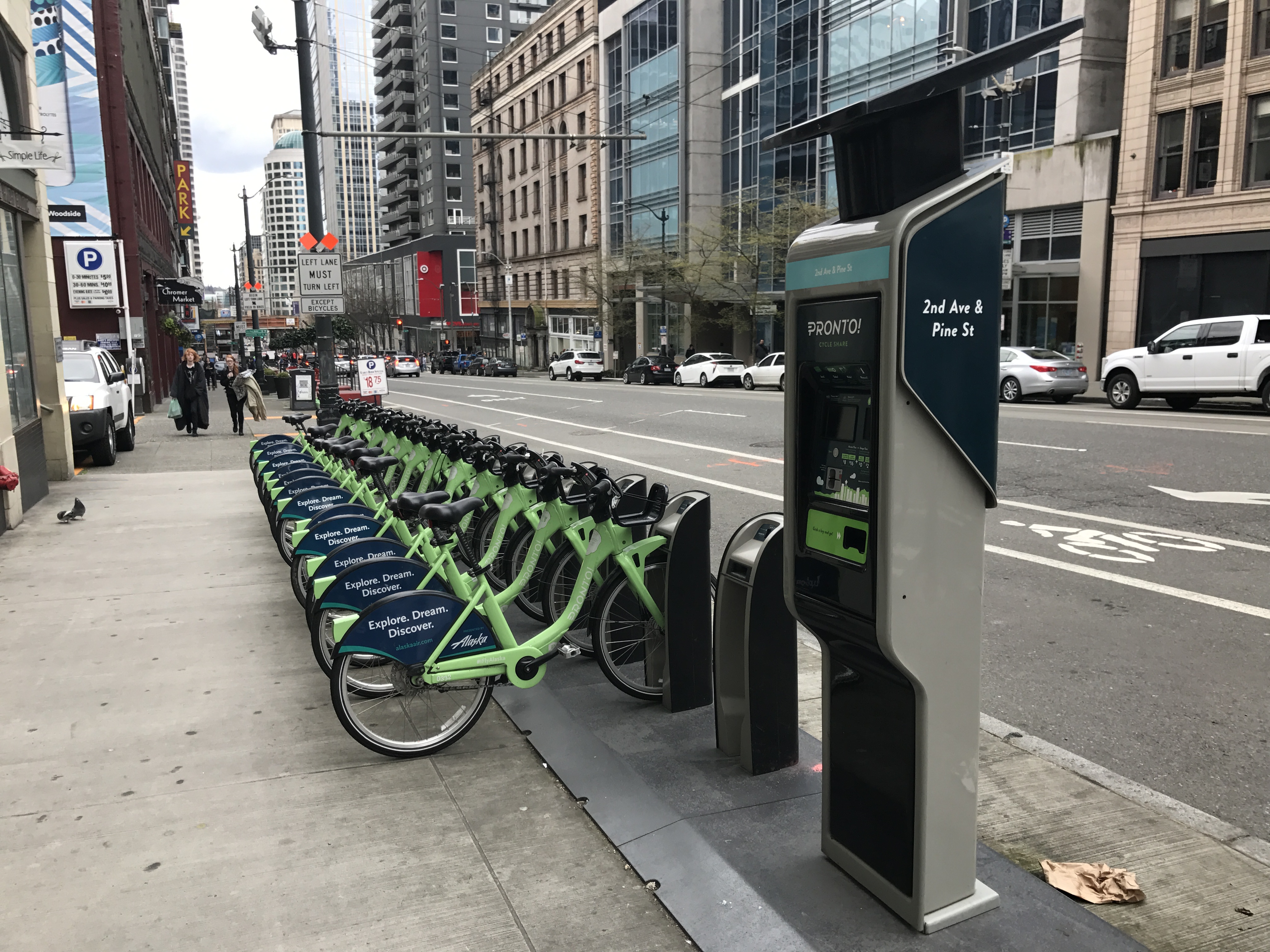 From the ashes: While Pronto is dead, could Seattle get a new bikeshare system via a private operator?
Stuck in slow mode: KIRO 7 walked Mercer this week and found that the revised light timings leave much to wont for pedestrians crossing on north-south streets.
Opting in: A new development proposal on Fifth Avenue is one of the first to take advantage of the Downtown rezone and will provide affordable housing as a result.
New NYC: CityLab tracks the recent gentrification trends taking hold across New York City.
Amazonica: Strong Towns presents competing arguments for and against the Amazonification of America.
Stuck in neutral: A new transportation report from Washington state indicates that putting the "right" toll on the SR-99 tunnel is much more challenging than previously disclosed.
Opting out: Central Co-Op drops out of the running for grocery space in the future redevelopment of Capitol Hill Station.
WAGov: Governor Jay Inslee sits down with Vox to talk about climate change, transit, and high-speed rail.
Improving education: Seattle Public Schools is planning to move school start times a bit later in the morning for middle school and high school students in the fall; Mayor Ed Murray is also seeking extra funding for school buses.
Saved: In another shellacking, the Trump administration loses in an appeals court over his threats to defund "sanctuary cities."
Frozen tolls: In other toll news, lawmakers in Olympia freeze toll increases on the Tacoma Narrows through mid-2019.
New Seattle: Architect and planner Mark Hinshaw opines about whether or not Seattle has finally figured out redevelopment.
Giving back: Real-estate and former tech mogul Paul Allen is pitching in $30 million to construction housing for homeless via his foundation.
Bet on cities: Former First Lady Michelle Obama delivered a speech on the need to invest in cities as keynote speaker at the American Institute of Architects national conference.
Pop fizz: Seattle soda tax proposal will include diet products as well as the sugary ones.
Tactical or passive-aggressive?: Kristen Jeffers (aka The Black Urbanist) penned a piece this week about a recent passive-aggressive tactic in DC to discourage sleeping on a neighborhood park bench, but explored the theme of tactical urbanism and its value.
Tiny nation: The Wall Street Journal highlighted the emergence of tiny houses as a partial solution for those without permanent housing.
Map of the Week: Every county in America has an affordability crisis.

Stephen is a professional urban planner in Puget Sound with a passion for sustainable, livable, and diverse cities. He is especially interested in how policies, regulations, and programs can promote positive outcomes for communities. With stints in great cities like Bellingham and Cork, Stephen currently lives in Seattle. He primarily covers land use and transportation issues and has been with The Urbanist since 2014.