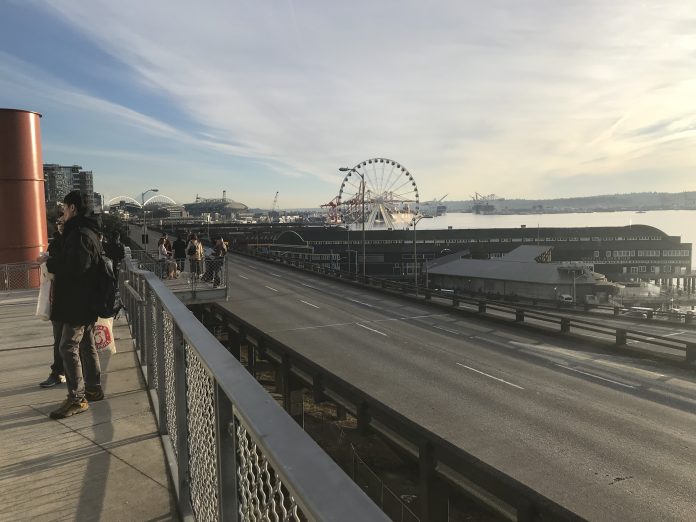 Doubling capacity: Amtrak wants to double the size of its concourse at Washington, D.C.'s Union Station by 2022.
Early warning: Los Angeles has produced the country's first earthquake early warning alert app.
Big jump: Jump expanded its private bikeshare service area and will add 2,000 bikes to streets in Seattle.
Tunnel rehab: After Governor Andrew Cuomo's (D-New York) shocking decision to change the rehabilitation plan for the L train tunnel, Amtrak is looking to a similar idea for its New York City tunnel rehabilitation work.
District 7: Michael George enters the race as another competitor for retiring Councilmeber Sally Bagshaw's seat.
Racist-in-chief: The Trump administration may be targeting a rollback of anti-discrimination disparate impact analysis for fair housing and education ($).
Tammy is in: Tammy Morales is running again for city council, hoping to take Councilmember Bruce Harrell's seat, but she won't face Harrell this time around as he's stepping down.
One for all: Construction of all-gender bathrooms at Cal Anderson Park has begun.
Small set back: Washington's supreme court has declined to hear Seattle's appeal of superior court decision against a gross income tax, forcing appeal to a lower court for now ($).
Shovelling responsibility: Why cities should remove snow from sidewalks instead of neighbors.
Pulse on GRTC: How did Richmond, Virginia get such a big bump in transit ridership for so small of an investment?
Housing Californians: California's new governor has a very bold statewide housing plan.
Saving Cougar Mountain: How did residents in Issaquah save acres of pristine land ($) on Cougar Mountain?
Debate of convenience: In Japan's highly honorific culture, convenience stores are creating a debate on how speech should be conducted.
44k by 2024: A King County task force is targeting construction of 44,000 affordable housing units by 2024.
Puck planning: Councilmember Rob Johnson will leave office at the end of year and advise the proponents of a new hockey arena at Seattle Center on transportation issues.
It's complicated: What does a new poll on Seattle area residents reveal on homelessness issues ($)?
Poster girls: The London Transport Museum is highlighting women and their artistic work of London's beloved transit posters.
Going public: Governor Jay Inslee (D-Washington) wants to create a semi-public option for health insurance ($).
Going backwards: After a three-year decline, carbon emissions rose last year in America ($).

Stephen is a professional urban planner in Puget Sound with a passion for sustainable, livable, and diverse cities. He is especially interested in how policies, regulations, and programs can promote positive outcomes for communities. With stints in great cities like Bellingham and Cork, Stephen currently lives in Seattle. He primarily covers land use and transportation issues and has been with The Urbanist since 2014.