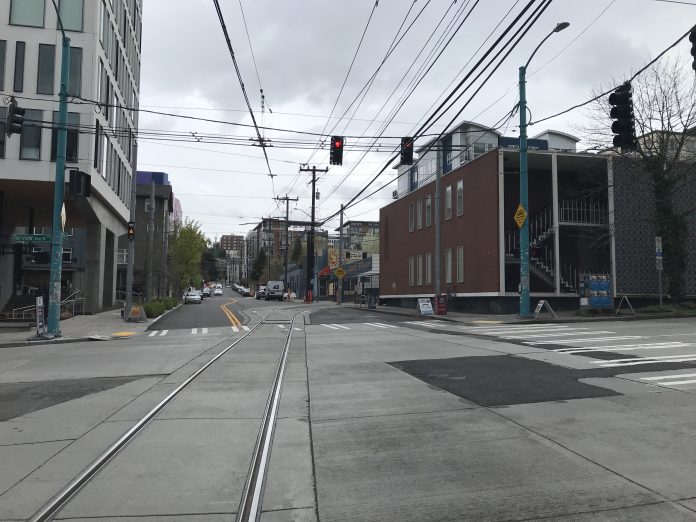 Fore: Seattle's public golf courses continue to see usage drop.
Via dud: A new microtransit service was launched to connect riders with light rail stations in Southeast Seattle and Tukwila, but is it worth the cost and abysmal ridership?
Renter protections: Councilmember Kshama Sawant wants to adopt a rent control ordinance in some form that could be effective as soon as state law is changed to permit it.
Build it and they will come: Seattle added a protected bike lane in Downtown Seattle and bike trips jumped 400%.
Madison Valley appeals: In the Madison Valley, community members are trying to appeal a mixed-use project using the environmental review process.
In-line for the win: Despite a kerfuffle with community and City of Spokane, the Spokane Transit Authority has opted to keep in-lane bus stops on E Sprague Ave.
Legislature watch: A bill to make it easier to build accessory dwelling units in cities across Washington has died in the state legislature. On the flip side, an environmental justice bill appears headed for final passage.
On the decline: Transit ridership declined across America in 2018.
Notre Dame: Despite the tragic fire, donors have stepped up to restore Notre-Dame Cathedral in Paris ($).
Bike talk: Listen to Seattle's transportation director and The Urbanist's Patrick Taylor talk bike lanes.
Stemming renter evictions: Syracuse is working to prevent evictions of renters in creative ways.
Arena budget and timing: The Seattle Center Arena costs have continued to escalate and is now delayed, but it is all backed by private dollars.
Trumpian racism expands: Secretary Ben Carson has a draconian proposal to have his federal department kick immigrants off of housing assistance programs.
Micromobility: E-scooters are booming across the nation while dockless bikeshare is failing, but Seattle's dockless bikeshare program stands out.
Brightline: With funding in hands, Brightline is now able to break ground on expansion of the higher-speed passenger line from West Palm Beach to Orlando.
Still in demand: The apartment boom in Seattle is the biggest in any major city in the country, seeing the fastest vacancy fillings ($).
About that substation: Was the $210 million Denny Substation really a necessary investment?
Walking in Seattle: According to a new study, Seattle pedestrians often linger on sidewalks but rarely sit down, amongst other findings.

Stephen is a professional urban planner in Puget Sound with a passion for sustainable, livable, and diverse cities. He is especially interested in how policies, regulations, and programs can promote positive outcomes for communities. With stints in great cities like Bellingham and Cork, Stephen currently lives in Seattle. He primarily covers land use and transportation issues and has been with The Urbanist since 2014.