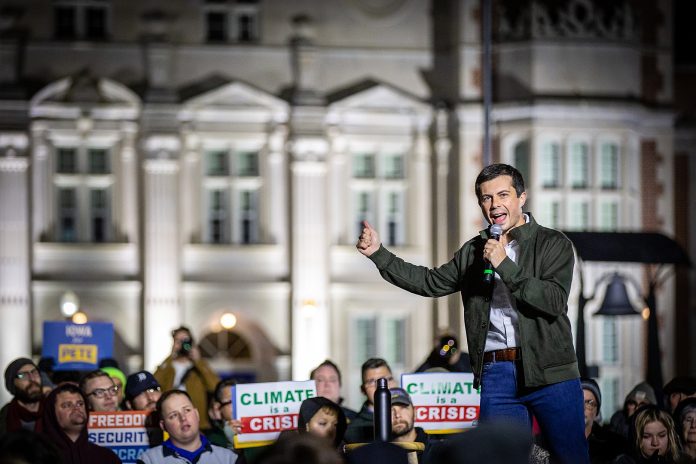 Stretch dollars further: America can afford to build a lot more rail-based transit than projects are delivering.
Security exploited: As cities require landlords to accept alternative security deposit options, a new industry is cropping up to support it but are there exploitative drawbacks to this?
Loser no one wants: Locals in Palm Beach plan to use planning approval conditions to keep Donald Trump from living full-time at Mar-a-Lago ($) in his post-presidential electoral defeat life.
Areas for improvement: Washington's carbon footprint continues to grow driven by buildings and airplanes.
Transportation Secretary Pete: President-elect Joe Biden has picked Pete Buttigieg as the next transportation secretary. But what might his picks for other cabinet positions mean for transportation?
Key environmental picks: President-elect Joe Biden has also picked Jennifer Granholm, a former governor of Michigan, to lead the United States Department of Energy, New Mexico's Representative Deb Haaland to lead the United States Department of the Interior, former EPA head Gina McCarthy as Climate Change Czar ($), and North Carolina's environmental head Michael Regan as Administrator of the Environmental Protection Agency ($).
SADs: In November, the Seattle metro was reported to be the most emotionally depressed major region in America ($).
Loopy project: Streetsblog highlights one of the worst highway boondoggles of the year in San Antonio, Texas.
Robust community engagement: Bogotá has collected over 7,000 community design proposals to redesign the city's major thoroughfare, Avenida Séptima, and is using them to plan a revamped street.
Punishing land use abuse: In Melbourne, the developers who illegally knocked down the historic Corkman Pub building will go to jail.
Play in a pandemic: Should playgrounds remain open during the pandemic?
Indirect lobbying disclosure: Seattle has passed a new lobbying law that requires disclosure of "indirect lobbying".
Rapid Chicago: What if Chicago had rapid transit everywhere?
Regulating vacation rentals: San Diego has taken a strong approach to regulating short-term vacation rentals with heavy limits.
Repeal bike helmet laws: Crosscut reports that nearly half of all bike helmet citations in Seattle go to people experiencing homelessness.
Part of the solution: New research indicates that building more market-rate housing can help lower rents for everyone.
Reducing car dependence: Can buying parking lots help reduce car dependence?
Station numbering: Instead of using pictograms on Link trains, Oran Viriyincy suggests using station numbering.
EVs still pollute: Electric vehicles may remove some pollution, but they don't stop all pollution according to research compiled by the Organisation for Economic Co-operation and Development.
A modest proposal: Portland bike advocates want the Oregon State Legislature to dedicate a minimum of 5% of the state highway trust fund to footpath and bike trails.
Transit parity: Boston's Representative Ayanna Pressley wants the federal government to fund transit equally with highways.
Cultural space: Seattle has a new agency dedicated to developing cultural space ($).
Wrong direction still: Seattleites continue to drive less per capita year-over-year but the total miles traveled are still going up despite targets.
Back to school: Washington could begin reopening some schools for in-person teaching under new guidance.
Cowards: Renton's City Council approved legislation that will leave residents in emergency shelter homeless.
Missed connection: With the shortening of the RapidRide J Line, will a key Roosevelt Way bike connection be left out?
Parking mandates repealed: Oregon's state land use board just made sweeping changes to eliminate parking minimums on most lots for urban housing.
David versus Goliath: Some Seattle small businesses are backing the JumpStart Seattle tax ($) against other Chamber of Seattle interests.
Keep moving: A portion of Lake Washington Boulevard has been reopened as a Keep Moving Street temporarily. However, Stay Healthy Blocks on 14th Avenue in Capitol Hill might not return.
Eric Johnson's propaganda: KOMO pumps out more anti-homeless screed without truly exploring the causes of homelessness and solutions.
Boom in Houston: Houston continues to boom with massive developments planned for 2021 in its suburbs.
Still underfunded: In the widely anticipated national Covid relief bill, what will transit agencies get out of it?
San Diego could go big: With big political changes in San Diego, the region could wind up voting on a major $177 billion transit expansion plan for light rail, buses, and high-speed rail.
Not banning bikes: It turns out that the United States Department of Transportation is in fact not banning bikes on roads after all.
The featured image of Pete Buttigieg is by Phil Roeder.

Stephen is a professional urban planner in Puget Sound with a passion for sustainable, livable, and diverse cities. He is especially interested in how policies, regulations, and programs can promote positive outcomes for communities. With stints in great cities like Bellingham and Cork, Stephen currently lives in Seattle. He primarily covers land use and transportation issues and has been with The Urbanist since 2014.