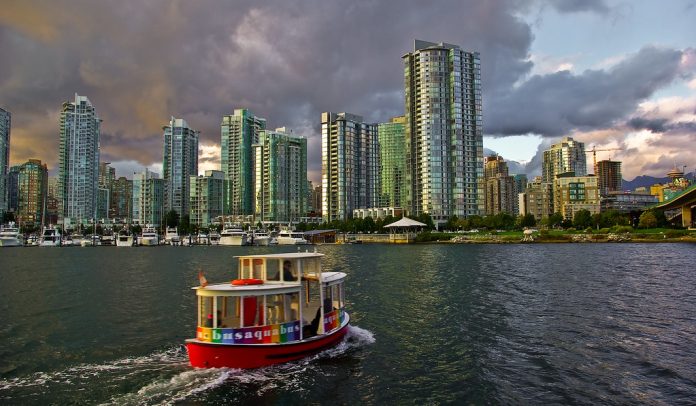 Vancity: Vancouver has adopted a plan that will grow the city about 260,000 people by 2050.
Good or bad: San Francisco vetoes a big housing measure that might have actually stifled housing construction ($).
Skagit electric ferry: An electric ferry for Skagit County is nearing construction.
Housing tax strategies: British Columbia will soon expand the speculation and vacant home taxes. In Metro Vancouver, the speculation tax turned 20,000 condos into rentals.
76ers' urban arena: The 76ers are planning a new arena in the heart of Philadelphia and footing the cost of it.
Mass timber: Toronto could get a 31-story mass timber tower making it the tallest in North America.
NASCAR taking over Chicago: Chicago will be welcoming NASCAR for the next several years under a new deal.
NYC pedestrian plaza: In Manhattan, a street in Chinatown is being turned into a colorful pedestrian plaza.
Adaptive bikes: San Francisco has launched an adaptive bicycle program.
SROs: America should bring back the single room occupancy hotel as a partial housing solution.
American transit: In Boston, an Orange Line train caught on fire last week. In DC, a massive service disruption is coming to Metrorail.
Micro: What's the future of microhousing in Seattle?
Low fares: Massachusetts could mandate low-income transit fare options.
Walk for groceries: In Vermont, a green organization is trying to get people to walk to grocery stories.
Hostile law: A new Missouri law criminalizes sleeping outside on public land.
New restaurant: Pike Motorworks has had a vacant retail space for years on E Pine Street, but is finally set to get filled.
Climate action: The EPA was dealt a huge blow on climate, but there are other ways the agency can take action.
Safety strategy: Vancouver may address commercial vehicles to protect people biking.
MIO regs: Approved legislation will make it easier for Seattle Central College to build new student housing on Capitol Hill.
Decriming walking: There is a renewed push to decriminalize "jaywalking."
There's not enough: The US is short about 3.8 million homes according to a report.
Slashing mandates: Oregon has slashed parking mandates across the state for new development.
Wilding: How is Chicago wilding rivers after industrialization?
PCC: A long-await PCC grocery store project in Madison Valley is finally moving forward.
Greener vehicles: USPS is planning to buy more electric vehicles than originally promised.
The problems: What are some big reasons driving the national bus operator shortage?
Rent crisis: California could see big rent increases soon ($).
For reform: The Los Angeles Times editorial board came out in support of California legislation to eliminate parking minimums ($).
Not meeting goals: San Diego isn't meeting its housing goals.
Climate policy: The Seattle City Council adopted legislation directing that the comprehensive plan update address climate change and climate resiliency.
Revolutionary: How could a transit app for the blind revolutionize how everyone rides?
Policy failure: Basically no one is happy with the I-5 Columbia River bridge replacement and expansion project. Will the bridge be too tall for people biking and rolling?

Stephen is a professional urban planner in Puget Sound with a passion for sustainable, livable, and diverse cities. He is especially interested in how policies, regulations, and programs can promote positive outcomes for communities. With stints in great cities like Bellingham and Cork, Stephen currently lives in Seattle. He primarily covers land use and transportation issues and has been with The Urbanist since 2014.