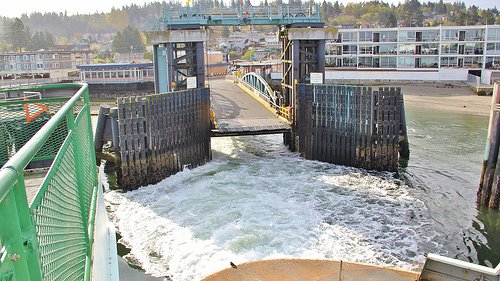 Departing the Mukilteo terminal. Photo by the author.
Located just southwest of Everett, the city of Mukilteo boasts excellent urban amenities, many transportation options, and impressive views of Possession Sound and Mount Baker. The city's location along the shore of Puget Sound makes it a natural crossroads for rail, sea, and road transportation.
The Washington State Department of Transportation (WSDOT) is planning to replace Mukilteo's aging and congested ferry terminal with a new multimodal facility. The new terminal will be built adjacent to the existing one, on a large parcel that was formerly used by the military. To complement this project, Sound Transit will also expand the Mukilteo Sounder station by adding a second platform. After construction is complete, the old terminal will be removed.
Together, these projects present a unique opportunity for Mukilteo. The new terminal will significantly improve pedestrian access to trains, buses, and ferries. Meanwhile, the removal of the old terminal will leave behind a huge amount of land in an area with beautiful views and abundant transit access. By designating this area for transit-oriented development, Mukilteo could create a vibrant neighborhood, enriching the lives of residents, workers, and tourists alike.
Planned Improvements
While WSDOT's future ferry terminal site is currently nothing more than a sea of parking, it will see a major transformation over the next few years.
Currently, the Mukilteo Sounder station only has a single platform, on the north side of the tracks. This creates scheduling bottlenecks, since all trains with a stop in Mukilteo must use a single track. For this reason, no Amtrak trains currently stop at Mukilteo. Sound Transit is in the process of building a second platform on the south side of the tracks. A pedestrian bridge from the south platform will connect passengers to the north platform. When complete, trains stopping at Mukilteo will no longer have to cross over to the north track. This will improve reliability, simplify scheduling, and potentially allow Sound Transit or Amtrak to increase service to Mukilteo Station.
The Mukilteo ferry terminal is currently served by two half-hourly all-day routes, and peak-only routes to Boeing, downtown Seattle, and the University of Washington. Community Transit will be building a new transit center adjacent to the Sounder station and the new ferry terminal. With the addition of much-needed layover space, Community Transit will be able to run more buses to and from the waterfront.
There are also many other improvements:
Walk-on ferry riders will have a new terminal entry that leads directly to the passenger level, a significant accessibility improvement from today.
An additional tollbooth will reduce ferry backups on the Mukilteo Speedway.
A new waterfront promenade will create public space for residents and visitors.
More parking for Sounder riders will be added.
Reclaiming The Waterfront
When WSDOT vacates the existing ferry terminal, they will leave behind many acres of land. Mukilteo should seize the opportunity to build a new transit-oriented neighborhood.
There are many parcels that are well placed for redevelopment, including the existing Ivar's site and the old ferry holding lanes. There are also a handful of possible sites nestled inside the new terminal, including a parcel east of the new stormwater treatment facility, and another east of NOAA.
Buildings could be as tall as four stories without obstructing the view from houses up on the bluff. With ground-floor retail, and three residential floors, this could provide Mukilteo with about 400 housing units and a vibrant commercial district.
A few other minor changes could further improve safety and mobility for the new neighborhood:
A sky bridge across the train tracks, connecting the terminal to Prospect Avenue, would improve access to both Sounder platforms, and would provide a convenient connection between Upper Mukilteo, Sounder, the waterfront, and the ferries.
There is currently just one at-grade railroad crossing in Mukilteo, just where the Boeing spur meets the BNSF mainline. Replacing the crossing with a grade-separated bridge would improve safety and reduce train delays.
Conclusion
It's not every day that an important port city opens up acres of prime coastal land. Mukilteo has a once-in-a-lifetime chance to revitalize their waterfront and create a transit-oriented neighborhood. Let's make sure that it doesn't pass up this opportunity.
Guy is a high school student in Bellevue with a strong desire to become an urban planner. Before moving to Bellevue, he grew up in the Paris metropolitan area where he fell in love with and learned from some of the best rail systems in Europe. Translating his experiences from abroad to Seattle, Guy is now passionate about improving this region's public transit (especially marine-based transportation) and cycling infrastructure. Aside from the technical side of things, Guy also enjoys photography and music.