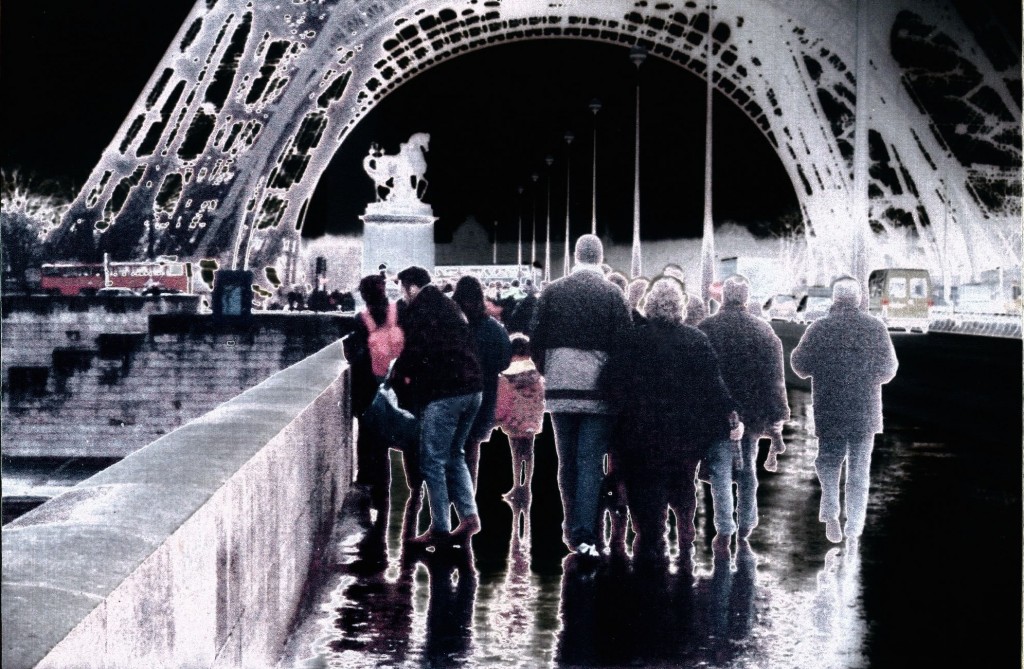 Editor's Note: This is a guest post from Chuck Wolfe and was originally published on myurbanist.com.
In 1997, I returned to Europe after a long absence. My Paris photograph, above, jump-started a then-dormant fascination with the scenery of urban life and form.
I later digitized the photograph, to enhance internal contrasts between the Eiffel Tower, the layered scene on the Pont d'léna and the Champs de Mars beyond. My goal? An indelible impression, evoking a provocative, dream-like quality, consistent with a profound place-based memory.
Call this informal process "place-receiving", and not placemaking.
Is place-receiving composed of unique occurrences, limited only to when and where we, the users, find them? Can they be replicated? If so, how?
These questions raise a practical side—and a real challenge—in assuring that placemaking efforts dovetail with the human nature of place-receiving described here.
The challenge comes from today's renewed interest in creating special urban places for people—whether public, private or somewhere between—often offered by design professionals or related consultants.
Sometimes, the look and feel of a remade urban place is not consistent with the human perceptions common to place receiving. A quick example from my hometown: Assertions that downtown redevelopment approaches and several features of the Seattle waterfront plan just don't fit the context of local climate, local history and likely end users.
Sixteen years later, disassembling the Paris photograph, I see many central elements of what urban visitors, residents and design professionals aspire to, whether resulting from spontaneity, casual tactics, or more purposeful plans.  The photograph suggests several words well within the vocabularies of placemaking, complete streets, green infrastructure or human-scale approaches.
Some summaries of these elements seem stale and full of labels. Others evoke emotion through climate, color and the built environment.  Here are just five examples:
The pavement dramatically mirrors people approaching the Eiffel Tower on the Pont d'léna.
The Eiffel Tower, the Pont d'léna, an equestrian statue, cars, buses and people combine to enhance  a Paris view and experience.
The grainy textures of infrastructure stand out along the Seine.
Water and pavement blend in Paris.
A red bus and red backpack stand out against the Pont d'léna, the base of the Eiffel Tower and the expanse of the Champs de Mars.
Other summaries could be more poetic, or more human in focus. And perhaps they should, because  place and place-receiving occur as much in our minds as in the real world.
My take? In the end, we should focus more on place-receivers as the most authentic stakeholders of meaning in the urban experience. If people cannot place-receive with a sense of acceptance and inspiration, placemaking may mean very little indeed.
Image composed by the author in Paris in December, 1997. Click on the image for more detail. © 2009-2014 myurbanist.  All Rights Reserved. Do not copy.

For more information on the role of personal experience in understanding the changing city, see Urbanism Without Effort, an e-book from Island Press.
See more at myurbanist.com.