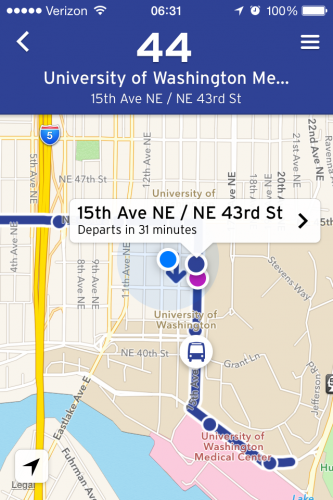 Transit apps have revolutionized the way we use transit. Transit riders no longer need to carry around a paper schedule of a route or know where the nearest stop is. An app can provide that information instead, often with real-time arrival data on-the-fly. When transit apps originally came out, compiling data from multiple transit agencies was challenging. Apps usually served a few transit agencies or one type of transit mode as opposed to many, often unrelated ones.
This has changed rapidly as transit apps have become much more sophisticated. In many instances, transit apps are uniquely specialized. Want to calculate the cost of a transit trip? Or how about which door of a train you should board so that you can exit a station most quickly? Yep, you can find apps just for those purposes. For the typical rider, though, there are core features wewant in an app, and those probably aren't one of them.
OneBusAway has been a practical and integral player in the transit app market for Seattle. Originally developed by University of Washington students as a class project, the app was later acquired by Sound Transit. The pace of the app's development has been slow and not as inclusive as other transit app developers. Recognising a gap in the market for a more dynamic transit app, developers of the Transit App added the Puget Sound in 2012 as part of their supported regions.
The Transit App developers have created a transit app that's clean, intuitive, and universal for users. The app offers useful features like offline schedules, trip planning, use in other cities, and real-time arrival information (where available). The developers have diligently updated thequality and capabilities of their app. Last week was perhaps the biggest update yet to the app with a completely refreshed version for iOS users.
More after the jump.
Key Features
Universality
The app currently covers 62 metropolitan areas in 5 countries. The Transit App has been steady and intentional about its growth to other communities. Adding new data sources and making connections with transit agencies takes time, especially when you're trying to get user-facing data right. The good news is that the areas covered by the app include many popular cities. If you live in Seattle but are planning a trip to Los Angeles, Washington, D.C., or New York City, the Transit App has you covered. All you have to do is download the bundled data from the intended metropolitan area, and you're ready to go.
Offline
Offline capabilities of the app are exceptional. If you don't have wifi or mobile data available, you'll still be able to get scheduled data. By enabling the GPS functionality of your mobile device, the app can locate the nearest stop and list all services scheduled from that point. While abroad, I've found this highly useful because the app can map routes and plan trips based upon the hardcoding of scheduled data.
Scheduled and Real-Time Arrival Information
The app provides arrival data at the stop level in two forms: scheduled arrival times and real-time arrival (when available). About half of the regions that the Transit App serves have real-time arrival information. When the data is being received as real-time in the app, a pulsing radio wave icon appears above the estimated time. Tapping on a particular route allows you to map it, which displays dynamic stop locations along the route. The map displays estimated locations of all buses in operation along the route alignment. Alternatively, you can switch from the map to a stop list for the route, which indicates your location to the nearest stop and the arrival times at each stop.
Trip Planning
Trip planning is as easy as dropping a pin on the map for a starting or ending location. The app does the rest. As you can see on the right, the trip planner lays out your options in an easy to understand format. If I wantto get to Fremont as quickly as possible, my best option isa combination of walking and the route 16. Tapping the preferred trip physicallys map that trip. Portions of the trip that consist of walking and transit are shown as well as times and locations.
Conclusion
Like any new piece of software engineering, it isn't perfect. There are three features missing from the app that I hope will be added in time:
Community Transit data. Community Transit has not made their data available in an open data format. For this reason, the Transit App developers have yet to include Community Transit routes (except for those under the ownership of Sound Transit) into the app.
Visual stop locations on the map. While the "Nearby" and trip planning functionality of the app are great, people like to see stops nearest to them when looking at a map. Including this is an easy add and perhaps something the Transit App developers can provide as an optional feature for users who want it.
Vehicle data. The app doesn't provide information on a given vehicle such as its register vehicle number or deviation from schedule. Nor does the app offer a way to report issues with the data.
Aside from these three nitpicks, the app is truly versatile. With the most recent iOS update to the Transit App, Puget Sound transit riders should consider this as a great alternative. The faster speeds, trip planning, offline mode, universality, and many other functional capabilities make the Transit App superior to OneBusAway in almost every way. Based upon previous releases by the Transit App, Android users should see an equivalent update soon.
Supported Puget Sound agencies by the app: Sound Transit (including Link and Sounder), King County Metro (including the Streetcar and Water Taxis), Pierce Transit, and Kitsap Transit (including Foot Ferry). The Transit App developers are looking into adding Washington State Ferries in the future.

Stephen is a professional urban planner in Puget Sound with a passion for sustainable, livable, and diverse cities. He is especially interested in how policies, regulations, and programs can promote positive outcomes for communities. With stints in great cities like Bellingham and Cork, Stephen currently lives in Seattle. He primarily covers land use and transportation issues and has been with The Urbanist since 2014.