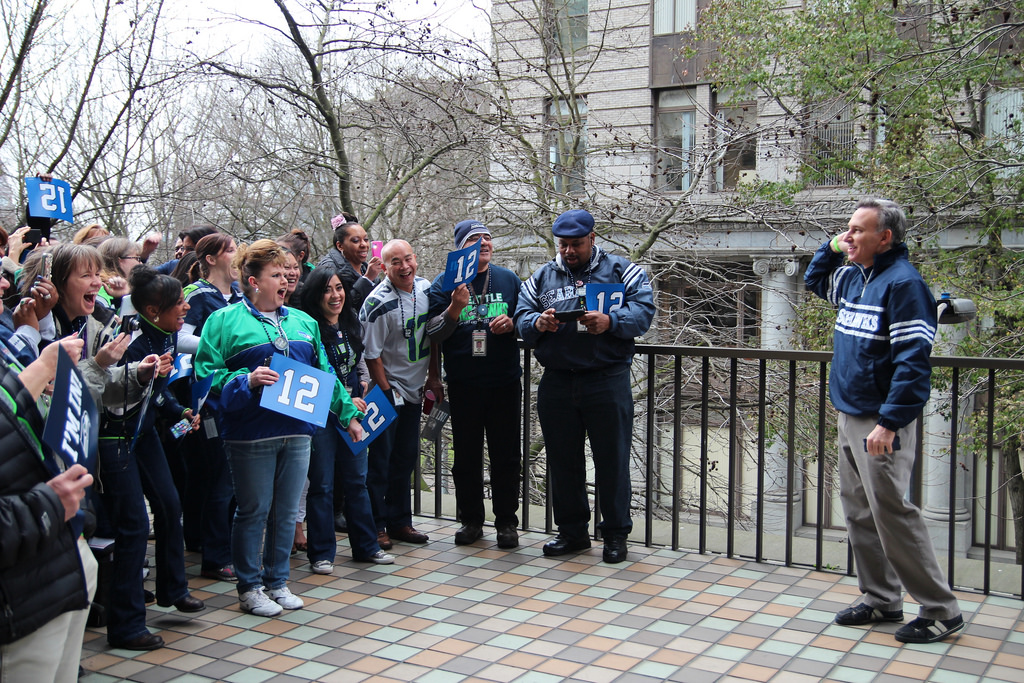 Dow Constantine is asking sports fans to support Metro Transit by voting YES on King County Proposition 1. "We need to save Metro to keep the 12th Man–and every fan–moving," says the King County Executive, in a last-minute effort to rally sports fans in support of the embattled transit measure.
When introducing the measure earlier this year, Constantine warned that an absence of action by the Legislature on a statewide transportation package would lead to dramatic cutbacks in Metro bus service. "We are out of time for a statewide solution that includes a local option." He stated, "We must move forward on our own."
Proposition 1 would create  a Transportation Benefit District (TBD), providing around $130 million a year in funding for Metro Transit and county roads by imposing a $60 vehicle fee and a one-tenth of one percent (0.1%) increase in the sales tax. The measure is needed because of the decline in sales tax revenue, which Metro relies upon, that resulted from the Great Recession. Bus fares have already increased four times in the last five years, with another increase due in 2015.
The quality and quantity of transit options available to and from games significantly impacts the fan experience at sporting events. After Metro helped more than 700,000 Seahawks fans get to and from downtown for one of the most memorable moments of our lifetime, Publicola columnist Erica Barnett pointed to the Seahawks parade as an argument for preserving public transit. Investor Chris Hansen and his Sonics Arena organization have shown their commitment, emerging as one of the top 5 donors to the campaign, which has also been endorsed by the Seattle Mariners.
"A strong transportation plan is an important part of a successful fan experience for any sporting event," advises Ralph Morton, Executive Director of the Seattle Sports Commission. "It is essential that our world-class stadiums are accessible. To be successful, they require diverse and effective local transit, including buses and light rail, in addition to eco-friendly options such as bike and pedestrian access."
Sporting events, especially for successful teams or critical games, create surges in traffic that require careful planning.
"Thousands of Seahawks, Sounders and Mariners fans need to get safely to and from the stadiums," says Brooke Stegar, General Manager of Uber Seattle. "We regularly see a large increase in demand during home games in Seattle. Reliable transportation options reduce hassle and congestion. They also ensure public safety by taking drunk drivers off the road."
Metro offers special shuttle service from certain park & ride lots for all weekend Seahawks and University of Washington home football games, in many cases providing a valuable introduction to public transit for residents who may otherwise be unlikely to try riding the bus. A suburban resident who successfully utilizes public transportation to attend a Seahawks game may consider transit options in the future when traveling to SeaTac airport or, if they enjoy their experience, may be more likely to ride the bus downtown for shopping, dinner or to attend a show.
"Anyone who's joined the crowds for a big game knows how much easier it is to take the bus to the downtown," advises Constantine.
Dow Constantine, more than any other elected official, has been a champion for fans of sports and other cultural events. I trust his judgment and encourage readers to support him by voting YES on Proposition 1.
Ballots must be mailed by Tuesday, April 22.
Brian Robinson is a lifelong resident of the Seattle area. He served as Co-Founder of Save Our Sonics and President of ArenaSolution.org. Brian's complete bio is available at Coalition206.org, follow him on Twitter @Coalition206.