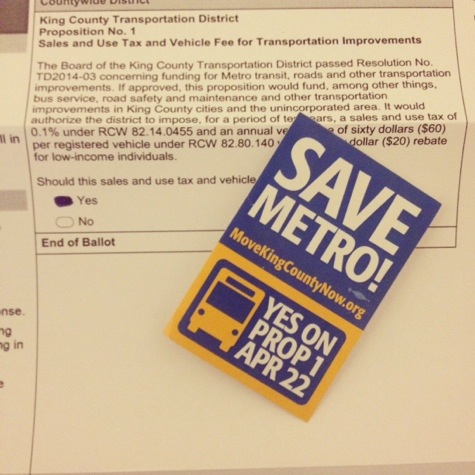 It's not too late to turn in your ballot—tomorrow is Election Day! Ballots must be postmarked by the 22nd, so be sure to get yours to the Post Office or a collection box. And, don't forget to remind your friends, loved ones, and fellow transit riders to vote YES. Begging is a totally acceptable option if all else fails. But if you need to arm yourself with reasons, we would encourage you to look at the Seattle Transit Blog's reasons why here and here.
If you plan to drop your ballot off at a drop off box, you will need to do so by 8pm on election night. Mobile drop off locations have variable close times between 5pm and 8pm. If you've already voted, you can track your ballot online. Let's save King County Metro as well as our roads and bridges!

Stephen is a professional urban planner in Puget Sound with a passion for sustainable, livable, and diverse cities. He is especially interested in how policies, regulations, and programs can promote positive outcomes for communities. With stints in great cities like Bellingham and Cork, Stephen currently lives in Seattle. He primarily covers land use and transportation issues and has been with The Urbanist since 2014.