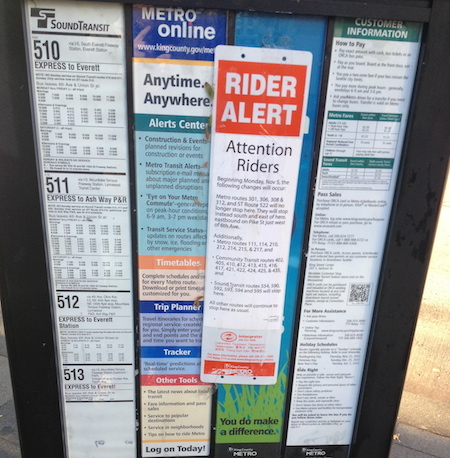 The development keeps coming: It looks like Pioneer Square, Downtown, and even Downtown Kent (my hometown) will get some big projects soon. That empty parking next Pioneer Square? Consider it gone. We expect a classic brick building to grace the space instead. Rainier Square (part of the University Tracts) might just get a 50-story boot-like skyscraper. Guys, it comes with eco terraces!
North Rainier rezone: The rezone process for North Rainier has taken quite a few years, but this week the Planning, Land Use, and Sustainability listened to tons of comments on the rezone. It looks like the full Council could vote on the rezone later this month.
Take a ride on the rollercoaster: Earlier this week, Mayor Murray asked supporters of I-118 to drop their support, and some followed up within hours to do just that. Murray said that he was devising a plan to save the buses, but that it wasn't Ben's I-118. Some folks were rightly pretty pissed. Wednesday, Thursday, and Friday got really, really weird–with Murray even dubbing Ben as the city's "Transit Czar". But then, last night we learned that Murray changed his tune by backing a Seattle-only measure, details we'll find more about on Tuesday. Stay tuned.
Slip 'n' slide: Move King County Now may have joked about slip 'n' slides, but this English city got serious and put one together for fun. Maybe it isn't such a bad idea.
Share the road: It was a busy week in cycling. On Wednesay, the Broadway Bikeway opened for cyclists. They Mayor announced that protected bike lanes would finally be coming to 2nd Avenue in Downtown, just before the launch of Pronto! in September. Which leads us to our next point: Pronto! On Tuesday, the sponsor (Alaska Airlines) and the brand for Seattle's bike share system were revealed. Pronto! has a number of local community meetings coming up, so keep an eye out for those. Norway is running some clever ads to tell drivers to share the road. And, just in case you wondering: Idaho is apparently over 30 years ahead of us when it comes to cycling laws. It's much safer for cyclist to treat stops signs as yields and read lights as stop signs.
Crosslake rail: Parson Brinckerhoff gives us an interesting rundown of the technical work that it will take to get light rail across Lake Washington. And Sound Transit is close to making a $43M deal with the University Washington for its light rail tunnels under the campus. It turns out those trains can be pretty disruptive when it comes to electromagnetism, and that's not good for electron microscopes.
Bad tea leaves: Conservatives are still steaming over Agenda 21 in many states, despite the fact that the United Nations document is a set of non-binding principles for establishing sustainable development policies.
The maps are back: Curious about biking, walking, and transit use in the Puget Sound? Take a peek at this impressive set of Census information over the past 20 years. D.C. is making us look bad, they've got 250 miles of BRT and rail planned. And finally, watch London grow from Roman times to now.

Stephen is a professional urban planner in Puget Sound with a passion for sustainable, livable, and diverse cities. He is especially interested in how policies, regulations, and programs can promote positive outcomes for communities. With stints in great cities like Bellingham and Cork, Stephen currently lives in Seattle. He primarily covers land use and transportation issues and has been with The Urbanist since 2014.