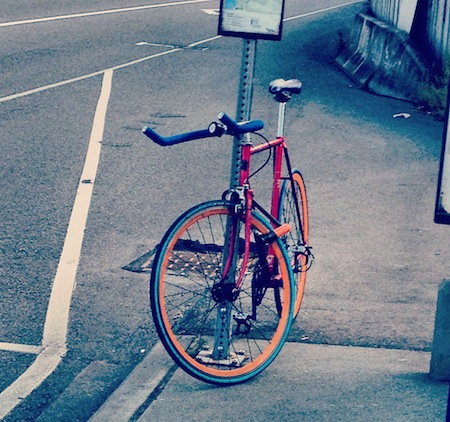 Now calling at Union Station: It looks like Denver has a Union Station, too, and it's pretty darn cool. The new multi-modal facility marries the old station with new platforms, concourse, and local bus service. Sounds like something we could use…
Breaking ground: 23rd and Union will finally get the ball rolling with new digs on the way, while a few others are still working on land use permission. Of course, other parts of Capitol Hill are already experiencing a lot of development, and in response, the City Council is considering how to preserve some old building facades. Meanwhile, it would take 100,000 new units to stop or reduce rising prices in San Francisco, this is why restricting housing is a big problem.
Ride the bikes: Washington, D.C. made a trial run of zebra bollards along Pennsylvania Avenue to discourage U-turns into the center-running cycletrack, and it appears to have worked. Now the District's Department of Transportation is looking at how to improve the pilot project effort. New work on the Burke-Gilman Trail is about to begin with detours in place. Meanwhile, the University of Washington has submitted their TIGER grant application to the Feds for funding the trail's improvements. You can help support the application online! And, walking and biking took a big jump year-over-year in Seattle (2011-2012), 18% just for walking! Transit usage is up 40% since 2004. No surprise here since we're still breaking records!
Two proposals from Mayor Murray: It was a busy week in the Office of the Mayor with Ed putting out his plan to save Metro service in the city and make pre-kindergarten education universal.
Going Euro and buses for nothing: If double-decker buses and bike share wasn't enough for you, Seattle is now due to get some of those swanky red bus lanes that you see all over Europe. SDOT will be making a trial run soon by painting key bus lanes in the city. Meanwhile, our friends down in Houston have linked up with Jarrett Walker of Human Transit to devise a better bus system for the city. The reimagined network will more than double the city's all-day bus network while costing absolutely nothing more.
Cool architecture this week: We're not necessarily fans of skybridges, but this Berlin project kinda rocks. NYC is soon to open its thoughtful 9/11 museum. And then there's this weird ship-like tower in Hong Kong.
Transit and housing costs: The Atlantic Cities asks the question "does transit inflate housing costs?" It seems like it probably does, but it's far more nuanced than that, and it may not be all bad. And, the good news is, transit makes us happier. It probably comes as little surprise, but social interaction improves the overall well-being of people, and transit is just one way that gets us engaged and happier about our day. Over in Arlington, the long awaited Columbia Pike streetcar will be a huge success, more than doubling ridership in the same corridor and boasting more ridership than many other services in DC, Virginia, and Maryland. This is why fixed rail matters.
Reopening and expanding: The Seattle International Film Festival is slated to reopen the Egyptian Theatre toward the fall! Meanwhile, the Capitol Hill business improvement district may soon be expanding to incorporate a few more blocks.
Expediting it: The President said this week that he would speed up transportation investment, but Streetsblog had a harsh take on it. And on a related note, ST has released some of their corridor studies for High Capacity Transit, the Seattle Transit Blog has covered 3 of them so far: Eastside, North, and South.
Infographic: Google brags about their Google Maps by showing off the expansion of their transit mapping technologies.

Stephen is a professional urban planner in Puget Sound with a passion for sustainable, livable, and diverse cities. He is especially interested in how policies, regulations, and programs can promote positive outcomes for communities. With stints in great cities like Bellingham and Cork, Stephen currently lives in Seattle. He primarily covers land use and transportation issues and has been with The Urbanist since 2014.