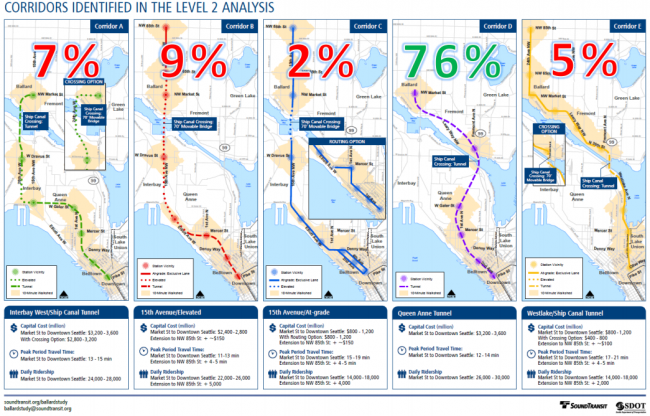 NW Seattle Residents Prefer Tunnels
The Ballard to Downtown High Capacity Transit Study results are in: people that attended meetings and provided digital feedback want Option D!
The public identified Corridor D as its favorite corridor with a commanding 76% of the votes. Like the Denver Broncos' 8 points in Super Bowl XLVIII, none of the other options reached into double digits as a percentage of the total responses. These numbers are fantastic! Beyond the hugely numeric endorsement of the tunnel option, the paltry "support" of the other options is a gigantic indicator of a public that would likely oppose anything less. I'm sure this isn't lost on Sound Transit (ST) or the Seattle Department of Transportation (SDOT). The tune appears to be "NE Seattle will have fast, uninterrupted, reliable transit (sic. tunnel) from Downtown to Northgate–We (NW Seattle) want that too." Other large takeaways from the final report:
Provide Fast and Convenient Connections
Travel time improvement, ridership, and reliability were identified as the three most important factors in evaluating rail options between Ballard and Downtown Seattle. Most participants strongly believed that tunnels, due to grade separation and lack of disruption to other modes, allow for faster and more reliable transit than at grade or elevated options.
Anticipate future growth now
The majority of public input indicated that the cost of constructing a new rail line should not be a concern. Rather, the corridor that provides the best opportunity for Seattle's future growth and development should be prioritized.
Anticipate Future Growth Now…
…In Ballard. Why? Because it is the responsible thing to do. We all know that Ballard is a desirable neighborhood to live in–but just how desirable? Take this metric for example: the 2004-24 Comprehensive Plan anticipated growth of 1,000 housing units in Ballard. Ballard doubled that target in 2013 with over 2,000 units added–11 years ahead of schedule. In terms of new housing units, between 2000 and 2010, Ballard is only bested by the Denny Triangle and Belltown neighborhoods citywide. These and other awesome metrics can be found in the Ballard Existing Conditions Report.
The good news is that I believe Seattle's DPD is revisiting/guiding Ballard's future growth with a new Urban Design Framework for the expressed purpose of acting directly in conjunction with ST and SDOT's 2013 HCT corridor analysis. The premise of this belief is that DPD is demonstrating to ST planners that Ballard will be a capable/enticing "ridership anchor" for a new ST line to be funded in a future ST3 ballot measure. Take a look for yourself:
Here you see a 17th Ave NW Ballard subway station terminus (the blue is Swedish Hospital). While this is by no means a finalized or guaranteed alignment, it is the "alignment" for the extremely popular Corridor D. This page comes directly from DPD's Ballard Existing Conditions Report–not from ST's Ballard to Downtown Study archives. It's awesome seeing this sort of cross-agency cooperation! As it also turns out, this alignment is directly adjacent to the tallest zoning in Ballard, NC3-85. It's evident that the trains will go to where the largest numbers of people are going to be. This is responsible transportation and city planning.
As stated on the Ballard Urban Design Framework website (again, emphasis mine):
The end result of this effort will be an Urban Design Framework (UDF) that defines the urban design recommendations, including streetscape design, land use regulations, and design guidelines that will guide future development while ensuring Ballard's people and places can thrive. The UDF document establishes the basis for resulting City legislation to amend the Land Use Code. The UDF will also include an assessment of each potential high-capacity transit station being considered in the Ballard Transit Expansion Study.
So there you have it: Ballard planning with HCT in mind. It appears that if NW Seattle residents want a grade separated line on the next ST ballot measure, they need to support Ballard's Urban Design Framework recommendations (whatever they may be.) Currently, recommendations are scheduled to be released this December 2014. I, for one, am looking forward to future transit-oriented development (TOD) recommendations.
Author's note: Apologies for this article being so Ballard heavy on a future (yes, I'm that optimistic!) transit line that includes many other potential station locations in different neighborhoods. It's just that there isn't a UDF for Fremont, Upper Queen Anne or Uptown (correction: there is a UDF for Uptown) at this time for me to analyze in conjunction with the HCT findings to synthesize.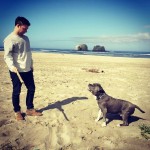 Caelen is a third generation son of Ballard. When he was in high school, his parents moved the family out to beautiful Bainbridge Island where he found himself missing urban life--homesickness for Seattle continued on into his college pursuits. Classically trained in structural engineering with an emphasis in earthquake design, he loves steel, glass, and concrete. He primarily writes about Ballard land use (hopefully home to future TOD) and Sound Transit packages, both emphasizing long-range planning.