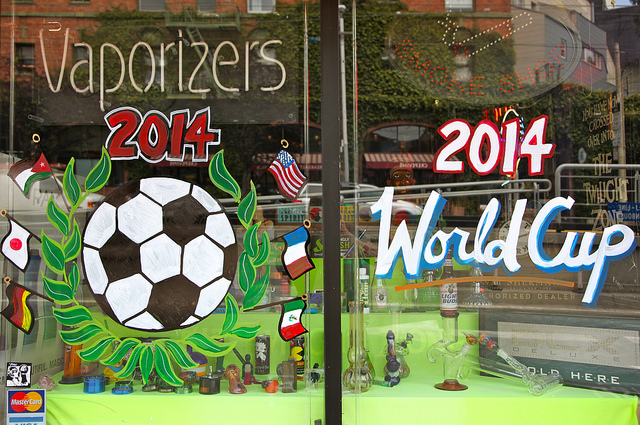 Politics might define urbanism: This week, Pew Research found that there is severe political divide amongst those who choose to live in big cities, suburbs, small towns, and rural areas. Density, which continues to be the preference as the country grows, is the real adversary for conservatives. Of course, this also means the political polarization is growing even more rapidly.
McCleary is no joke: The Washington State Supreme Court is not happy with the Republican caucus, which has continued to fail at meeting the demands of the Court to fund education first. Even with increasing state revenues, the next biennium will see a massive gap between basic needs for regular programs and the required increase in funding public schools.
World Cup madness: Architecture is part of World Cup heritage, and Dezeen gives us the skinny on all the stadiums. Google will let you take a Street View into them, so you don't have to miss out. Most World Cup soccer players play in European leagues. NASA shows us a night map of all the World Cup cities lit up. And there's plenty of places to watch World Cup action over the next month!
Goran out, Joncas in: SDOT Interim Director, Goran Sparrman, has decided to remove his name from the hat for SDOT Director. He's not sure what his future will hold, but he will continue to lead the department until the Mayor nominates a new Director. Meanwhile, Mayor Ed Murray has picked Kate Joncas, former Downtown Seattle Association President, as his Deputy Mayor.
This week in transit: SDOT will hold a meeting on the Broadway extension of the streetcar, CHS provides the background (and here's some history on the old streetcar). Seattle Transit Blog argues for better ways to increase farebox recovery and reduce costs. King County Executive Dow Constantine issues an executive order for Metro to better integrate with Sound Transit for efficiencies. City Lab talks about making transit more like public utilities while also asking what future suburban cities with transit will look like. Link Light Rail keeps breaking records with no signs of stopping.
Bay Area nonsense: A week later, people are still lamenting the San Francisco veto vote on taller buildings.
Development and speculation: The H.W. Baker Linen Supply Co. building on E Pike and 11th Ave gets picked up by a local developer (don't worry, the building is staying). Swedish Hospital is planning a significant expansion at its Cherry Hill campus. Canterbury Ale House makes its comeback. Trinity Lutheran College in downtown Everett chooses microhousing and private management company for it. The developer for the Rainier Square project makes the case for their preferred alternative (Design Review available online). Capitol Hill has plenty of utility capacity for development. Sightline Daily argues that speculation could be nipped in the bud while development and reuse of property could boom in cities if we changed our property tax system. And a new website offers developers a way to find distressed and available properties ready for redevelopment.
Berlin repurposes its old airport: It's not often that you take a major airport and simply decide to turn it into a park, but that's exactly what Berlin has done. There aren't many bells and whistles to the new grounds, but people like it.
The kids: For the longest time, cities have been experiencing the dwindling of kids, it was all for the yuppies and dincs. But Seattle has bucked the trend and is seeing explosive growth in the children as a percent of population.
Protect the bikes: If you're under age 24, you're almost absolutely guaranteed to support protected bike lanes. San Antonio goes nuclear and plans to removes its best cycle lanes in the city, even its local newspaper decries the shortsighted act. Next City explores protected bike lanes in depth in 5 cities with 17k cyclists and 20k drivers. Head injuries are down in bikeshare cities, and as we already knew, helmets don't increase safety. Floating transit stops are actually quite good for cyclists.
Bugs and climate change: Sweden wants to save its bugs and offers a new way to do that–in massive biodomes that the public can also patronize. Our world maps might need to change, not because of political boundary changes, but because the ice is melting so fast. And this comic puts climate change in simple terms.
Undriving: Carsharing is weaning people off of owning a car and driving. SDOT is looking at changes to parking rates this fall, and some the options are quite dynamic.

Stephen is a professional urban planner in Puget Sound with a passion for sustainable, livable, and diverse cities. He is especially interested in how policies, regulations, and programs can promote positive outcomes for communities. With stints in great cities like Bellingham and Cork, Stephen currently lives in Seattle. He primarily covers land use and transportation issues and has been with The Urbanist since 2014.