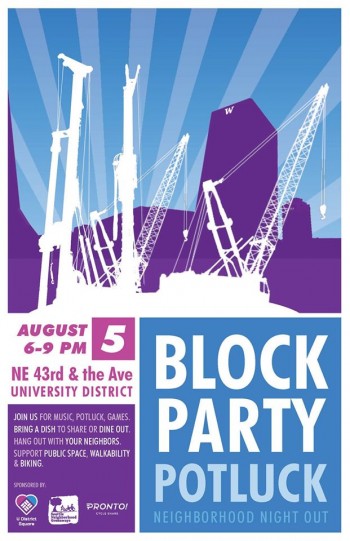 You may have heard this thing about a new Link Light Rail subway station in the U District. You might even know that it's being built at 43rd St and Brooklyn Ave. But you probably don't know that the U District is getting a Greenway, parklet, and loads of new Pronto! Cycle Share docking stations. On Tuesday, you'll have an opportunity to see this dynamic block and learn about all the cool new infrastructure, meet business owners and neighbors, and talk about the future of the U District. Here's what University Greenways has to say about it:
We're closing the street and opening it right up for people!

Tuesday, Aug 5 from 6-9:30 pm U District Block Party at 43rd and University. Come eat, listen to live music and play games. Learn about light rail, bike share, green streets and more!

Join University Greenways, U District Square and Pronto Cycle Share for a potluck, music, games and a chance to imagine a more walkable, bike-friendly U District.

Join the discussion. Learn about a planned parklet at 43rd and University Way, bike share stations that will open this fall, Seattle's green street designs for the area, upcoming University Greenways projects and the future light rail station that is under construction right now.

You can RSVP and connect here. Bring your bike, kids, a dish, & a sense of adventure. Or just show up: there are plenty of dining options around, and much fun to be had!

Stephen is a professional urban planner in Puget Sound with a passion for sustainable, livable, and diverse cities. He is especially interested in how policies, regulations, and programs can promote positive outcomes for communities. With stints in great cities like Bellingham and Cork, Stephen currently lives in Seattle. He primarily covers land use and transportation issues and has been with The Urbanist since 2014.