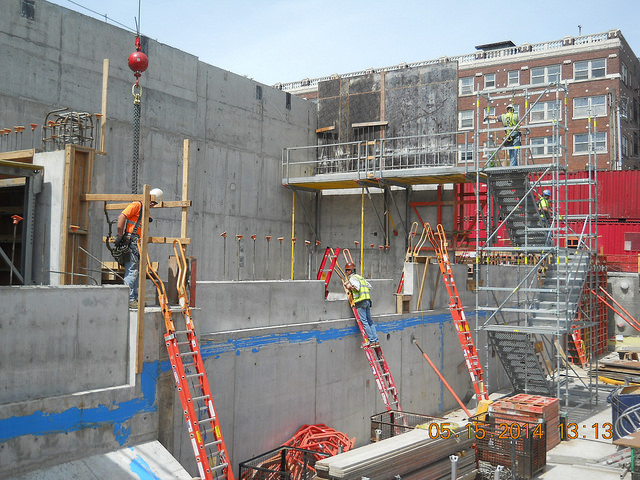 As of July 30, Sound Transit's University Link Extension project was 87.2% complete, up 2.6% from our last update. And the Northgate Link Extension project (formerly known as North Link) has been rapidly proceeding, too.
In this project update, we'll share some statistics and details about the significant progress that Sound Transit has made, including station box work at all sites under construction, tunneling work from Northgate, and movement of the Capitol Hill crane.
University Link Extension
Capitol Hill Station saw the big red crane come down in mid-August. The crane was promptly redeployed to the Roosevelt Station construction site. Sound Transit anticipates that the crane will remain in Roosevelt for the next two years, in order to move equipment and supplies in and out of the station box. Meanwhile, work at Capitol Hill Station continues with construction of the station box. As you can see above, station walls have been constructed above ground. These are partially viewable from E John Street. As of July 30, Sound Transit reports the station as 64.5% complete.
The University of Washington Station is almost done (96% complete). The pedestrian bridge over Montlake Boulevard, and related station access construction, have recently been Sound Transit's main focus. The access project has led to months of lane closures, bicycle detours, and re-grading work in and around the Montlake Triangle area (the triangle island landmass fronting on to Pacific and Montlake). But from the looks of it (see below), the pedestrian bridge across Montlake is nearing completion. The University of Washington must finish their part of the project by connecting Montlake Triangle with the Rainier Vista mall, which is due in early 2015.
For the tunnels themselves, the primary focus has been track, power, and safety system work. Sound Transit reports that the tunnels are 43% complete.
Northgate Link Extension
Construction at the University District Station has moved on from drilling and pile driving (which your correspondent felt and heard from his apartment) to digging. Sound Transit reports that 230 pillars were driven into the ground, ranging from a depth of 40 to 120 feet, during the drilling phase. These pillars were then reinforced with support beams, concrete shells, and rebar. Now that the site has been sufficiently secured (as a result of all pillars being driven into the ground), the station box can be excavated and the station walls can be shored up. These walls will form the shell of the completed station. The excavation for the station will reach 95 feet underground, and work will continue through the spring of 2015.
Just to give you an idea of how quickly the tunneling work is going, Brenda (the primary Northgate Link Extension tunnel boring machine, and not to be confused with Bertha!) was launched from the Maple Leaf Portal in May July, and has already traversed more than 1,600 feet. Sound Transit estimates that Brenda will reach Roosevelt Station early in 2015, after having traveled a total of 1.5 miles. (Luckily for the future riders of the Northgate Link Extension, Link trains travel more quickly than tunnel boring machines.) Another tunnel boring machine is scheduled for launch from the Maple Leaf Portal in a few short months. All tunnel boring work on Northgate Link should wrap up in 2017. The twin-bored tunnels will connect Northgate, Roosevelt, University District, and University of Washington Stations, at a total distance of 3.6 miles per tunnel.
For live camera feeds of these two projects, check out EarthCam's University Link and Northgate Link feeds.

Stephen is a professional urban planner in Puget Sound with a passion for sustainable, livable, and diverse cities. He is especially interested in how policies, regulations, and programs can promote positive outcomes for communities. With stints in great cities like Bellingham and Cork, Stephen currently lives in Seattle. He primarily covers land use and transportation issues and has been with The Urbanist since 2014.