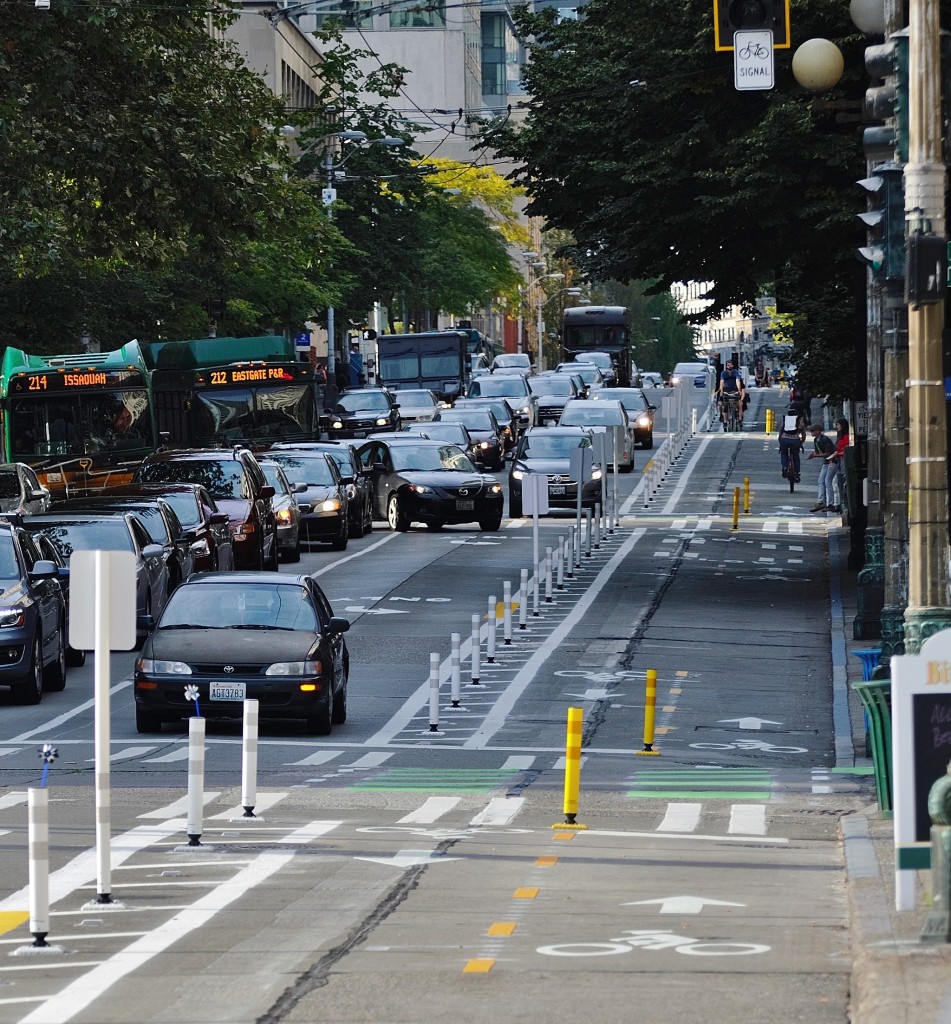 Earlier this week, bicyclists and bicycle advocates from all around the region celebrated the opening of the Second Avenue Protected Bike Lane (also known as a cycle track) in Downtown Seattle. The facility was rolled out by the the Seattle Department of Transportation (SODT) early Monday morning just in time for bicycle commuters to hit Downtown streets. This new facility stretches sixth-tenths of a mile (10 blocks) along Second Avenue from Pike Street to Yesler Way.
The new bike lanes were constructed in mere weeks after proclamation by Mayor Ed Murray. In May, the mayor announced his intention for protected bike lanes through the heart of Downtown in time for the launch of Pronto! Cycle Share. With a month remaining for the launch, the bike lanes were rolled out with time to spare and ample opportunity to learn how they are functioning and make tweaks.
The project also includes a block of additional protected bike lanes at each end of the Second Avenue Protected Bike Lanes. One block is located along Pike Street between First Avenue and Second Avenue while the other is located along Yesler Way between Occidental Avenue and Second Avenue. The two extensions link Pike Place Market and Pioneer Square into a new high quality bike network.
The cycle tracks along Second Avenue replaced skinny, door-zone bike lanes. Since their inception, they have generally been considered extremely hazardous to cyclists, often through tragic left-hooks by motorized vehicles. And, as many will know, Sher Kung was killed by exactly this type of hazard just two weeks ago. The bike lane, dubbed worst in the city by cyclists, still lives on in its old form north of Pike Street and south of Yesler Way. Although, these areas are somewhat less dangerous and see considerably less bike traffic.
Aside from being protected from traffic and located out of the door-zone, the protected bike lanes practically eliminate the hazard of left-hooks throughout the corridor. Bikes now have their own signal phase at cross streets which allows them to go straight. Left-turning cars from Second Avenue are given a red signal during the bike-through phase. When the bike signal (and pedestrian signal) switch to red, left-turning cars are given their own green arrow (viewable in the video below).
User Experience
I rode both northbound and southbound on Second Avenue on Tuesday evening to try out the bike lanes. Volunteers and SDOT staff were still out educating drivers and cyclist about the new bike lane. The bike lane feels–and certainly is–safer than the previous facility.
Bike signals were easy to get through during the evening peak while going northbound. All drivers appeared to honor the no-left-turn-on-red lights. Second Avenue was a comfortable incline and quick. Car traffic did not appear to experience any usual traffic volumes or congestion, but bike traffic was way up from what I've ever seen Downtown. It was especially impressive to see the number of bikes headed northbound. Most of these cyclists likely would have used streets like Western Avenue, First Avenue, or Third Avenue to make their northbound commutes.
Many cyclists made sure to voice their gratitude and excitement for the new bike lanes whenever they stopped by volunteers and SDOT staff at intersections. Meanwhile, other volunteers were educating drivers and getting feedback from them. Most drivers had positive reviews regarding the bike lane, left turn phasing, and having fewer bicyclists to worry about in general traffic lanes.
One positive aspect of cycle signals is the stoppage of cyclists every few blocks. This naturally creates groupings of cycle groups and by extension safety in numbers. For drivers, this makes cyclists very easy to spot in the street.
Once volunteers were gone, a few drivers made left turns on red. Others were initially confused by beginning their turns on the straight-through green light only to realize that the left-turn signal was red and promptly stopping.
Yesler Way and Pike Street felt safe, but the switch from Pike Street to Second Ave (and vice versa) was less than elegant. I had to dismount and use the crosswalks to get across the street safely, which was a challenge given the high amount of pedestrian traffic on Pike Street. Turning left on Second Avenue from Yesler Way was a much better experience; I just followed the main car signal without issue.
Suggestions
Two suggestions that I initially intended to make have already made it on SDOT's bucket list: changing straight-through traffic lights and extending traffic lights further into the street.
First on the list is an up arrow. Instead of solid circular lights for straight-through traffic, an up arrow would add clarity for who the light is applicable to. On the first two days of the new bike lanes, cyclists and drivers alike told SDOT in droves that an up arrow would be a good solution. This would eliminate confusion as to whether the green signal allows for a left turn or not. Seattle Bike Blog also suggests installing electronic no-turn signals if the former solution does not work.
Second on the list is stretching traffic lights over the entire street instead of just at the corners of the intersections. Streets on the southern part of the Second Avenue bike lane project already have these installed. Installing these along the whole corridor would create consistency and make it much clearer as to which signal applies to each traffic lane.
A third suggestion is to turn the intersection of Second Avenue and Pike Street into an all-way walk signal (also known as a "scamble"). This type of intersection would allow bikes and pedestrians to cross the intersection in any direction, even diagonally. It would solve the problem for cyclist getting from Pike Street to Second Avenue while making it safer and easier for pedestrians to cross. It's a low-cost solution since it would only require the installation of signs and modifying the light phasing.
A fourth and perhaps most important suggestion is to reverse the light phasing at left-turn intersections along Second Avenue. This would create a of wave green lights for bicyclists when headed northbound on Second Avenue. The current signal phasing gives bicyclists a red light at every left-turn intersection. If you have a look at the video above, you will notice several northbound cyclists arriving at the intersection at the 40-second mark, just five seconds after the light turned red. Having the bike signal later in the traffic light phasing would fix that problem. Another advantage of this solution is that car traffic turning left clears before the bicycle traffic crosses. Except for times when large queues of car traffic are turning left, this makes it so that no left-turning cars could turn against the signal and hit a bicyclist during the bicycle green phase.
A fifth and final suggestion is to extend protected bike lanes. Full stop. It's an idea that I most often heard while riding along Second Avenue. In terms of this project, the bike lanes should be extended as far as possible north and south while also building upon the related facilities along Pike Street and Yesler Way. We should build out protected bike lanes as outlined in the Bike Master Plan as quickly as possible.
Guy is a high school student in Bellevue with a strong desire to become an urban planner. Before moving to Bellevue, he grew up in the Paris metropolitan area where he fell in love with and learned from some of the best rail systems in Europe. Translating his experiences from abroad to Seattle, Guy is now passionate about improving this region's public transit (especially marine-based transportation) and cycling infrastructure. Aside from the technical side of things, Guy also enjoys photography and music.