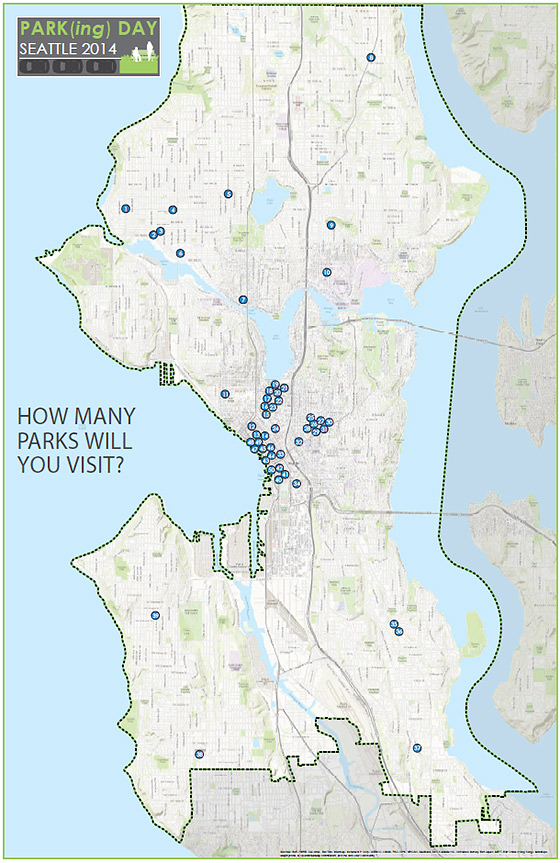 You read that right. This year, Seattle will host 50 parklets across the city, up from 46 from the previous. We're number 13 on the list (see larger scale PDF map and location list), but there's going to be plenty of other great spaces to visit, and we hope you do. As SDOT says:
Even though you probably have to go to work or school on Friday, we hope you'll have a few minutes to check out the cool ways that your friends and neighbors are using a parking space for a day. There will be life-sized Jenga, greenhouses and trees, corn hole and board games, a Jimi Hendrix-inspired performance space, forbidden books, pop-up protected bike lanes, pianos, art, and just about anything else you can imagine!

PARK(ing) Day happens once a year, on the third Friday in September, and is an opportunity for any Seattleite to temporarily turn parking spaces into parks. The event raises awareness about the importance of creating a walkable, livable, healthy city and helps people re-think how our streets can be used.
As we noted last week, The Urbanist will be hosting a PARK(ing) Day parklet on the west side of First Avenue between Stewart St and Virginia St (map).You'll find us there any time between 9am and 3pm on Friday. We plan to have board games, street furniture, and a bike repair station set up right in the heart of Downtown Seattle. And, we hope that you'll drop by for coffee, games, people watching, and good company.
We're still looking for volunteers if you happen to have time to help facilitate or run our bike repair station. Let us know if you have any questions/ideas or want to help by sending us an e-mail.
Get out there and enjoy the parklets!

Stephen is a professional urban planner in Puget Sound with a passion for sustainable, livable, and diverse cities. He is especially interested in how policies, regulations, and programs can promote positive outcomes for communities. With stints in great cities like Bellingham and Cork, Stephen currently lives in Seattle. He primarily covers land use and transportation issues and has been with The Urbanist since 2014.