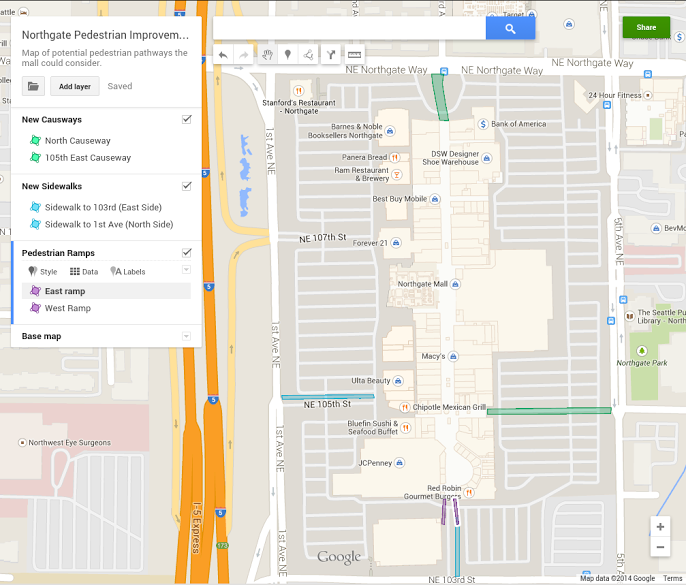 With the coming light rail expansion to Northgate in 2021, it's a good time to start talking about what things could be done to make Northgate a much more interesting place. By creating better spaces in Northgate, we can advance the goal of making the most effective use of this new station. New growth for Northgate is already planned for nearby properties under the city's current zoning and growth strategies. But, Northgate Mall (owned by Simons Property Group) has a particular opportunity to redevelop as a regional employment center and neighborhood core for the greater Northgate community. With a train station at the southwest edge of the mall property, Simons could implement a number of strategies through redevelopment and infill of the property to become an even more active (and profitable) destination in the years to come.
1. Reconnect the pedestrian grid.
Reconnecting Northgate Mall's indoor pedestrian walkway to the Northgate street grid by strong connections to existing and adjacent pedestrian infrastructure should be a top priority in order to support future development and growth of the site. Connecting the central portion of the mall with a causeway to 3rd Avenue NE and NE 105th Street, the mall could become a common pedestrian pathway between new apartment structures, the light rail station, and other shopping and entertainment options. This increased foot traffic would drive additional impulse sales to stores at the mall than would otherwise be possible if the mall owner solely relied upon auto-oriented traffic to the site. On top of these benefits, a new pedestrian grid would provide new and useful pathways employees, residents, and visitor alike throughout the site that is dry, secure, and pedestrian-friendly zone.
2. Let the air in.
The climate controlled mall has been falling out of favor in the last decade. Many malls have since experimented with outdoor shopping streets on mall grounds. Property owners of Northgate Mall and Alderwood Mall have taken note of this, too, and begun to experiment with new outside uses. These outdoor venues are popular in the summer time, but less so in the colder, rainy months of the year.
Perhaps Simons could make a bold decision to remove the closed entrances to the mall while leaving the corridor roofing intact. Shopper would keep their rain protection from the roofing above, but have the fresh air of the outside. Think of it as a European arcade. In order to achieve this though, stores would likely need to modify their storefronts to retain their climate controlled interiors. So it's not without cost, but it could also allow more stores to pick their own hours of operation rather than being required to close when the mall itself closes its doors.
3. Shotengai it by lining pedestrian causeways with shops.
By converting Northgate Mall to a fully open air (though covered) shopping street, the mall could extend its shopping reach across the current parking lot toward its new pedestrian connections to the edges of the mall property. This would make for a larger and more varied shopping experience.
4. Aim taller.
Building taller buildings in place of some of the existing storefronts and throughout the current parking lots would allow more uses like residential, office, services, and more to locate in the core of Northgate.

5. Build a public square.
Creating a civic space space like a large neighborhood park or square go a long way to anchoring Northgate Mall as the neighborhood's center. Programming public events like music performances or a farmers' market on the mall property or on a civic space would be a constant draw for people to visit Northgate for more than just retail shopping. Northgate could be a new center for cultural and civic engagement in an area of north Seattle that is in serious need for those kinds of social spaces and activities.
6. Bring the living space into the mix.
Building space for apartment dwellers, hospitality, offices, and services in taller buildings on mall property would drive even more people into the heart of Northgate, which could perhaps help establish a "Downtown Northgate". The enhanced economic activity of people living and working in Northgate would further push the need for better access to goods and services in their immediate surroundings.
7. Don't forget the groceries.
Unlike some of the hotter real-estate markets in Seattle, the greater Northgate area has very few grocery shopping options within walking distance. In order to support the growth of both Northgate and its surrounding neighborhoods (Licton Springs, Maple Leaf, Pinehurst, and Haller Lake), there needs to be a new grocery store near or on the mall property. Locating a pedestrian-oriented grocery store near the new light rail station would make it incredibly accessible to thousands of transit riders and local residents. By extension, these individuals could forego driving or making a separate trip to reach a grocery store while encouraging more pedestrian and retail activity in Northgate.
8. Keep it entertaining.
The neighboroods on the north end of the city (north of 85th Street) have very few local entertainment options outside of bars or movie theaters. Things like game centers or rentable karaoke rooms could help feed the growing hunger for something to do in the evenings and on weekends outside of home. Northgate is already a major transit hub, and so it's highly accessible from many places in the city and region. It could certainly become a prime location in the north end of the city for some new kind of compact indoor entertainment venue.
9. Make Northgate Mall into 'Downtown Northgate'.
If the Northgate Mall were truly to embrace its future as Downtown Northgate, adding office space in mixed use buildings on the mall property should not be out of the question. The combination of high capacity transit service and an existing shopping and restaurant base, the mall property is ripe to support the kind of office space demand that's likely to be headed Northgate's way. Downtown Seattle and South Lake Union certainly has growing competition for office space. Inevitably, supply will become more scare as they build out, and this could drive price-conscious companies to relocate to more affordable, but desirable and highly accessible locations like Northgate.
10. Tower above it all (make an observation tower).
Perhaps a far-fetched idea–but a fun one–would be to create a greater-than-200-foot tower with an observation deck. Visitors and locals alike could take a short elevator ride to the top and get stunning views of the surrounding cityscape and countryside in this quickly growing community. There are few options for such views this far north in the city and it might be time to rethink where to focus tall buildings; restricting them only in and around Downtown Seattle doesn't seem reasonable going forward. Of course, in order to allow such a structure, zoning rules would have to be changed to accommodate skyscrapers in Northgate.
Summing it up
Though not all of these options would be necessary in order to turn Northgate into a more dynamic and fun neighborhood, many of them would go a long way in contributing to increased livability and walkability of this growing neighborhood. Northgate should make it a priority to capitalize on its largest tract of land so that it can become the regional center and community core that Seattle and Northgate need and deserve.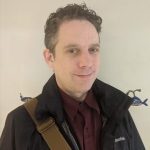 Charles is an avid cyclist that uses his bike as his primary mode of transportation. He grew up in the Puget Sound, but is currently overseas living in Japan. He covers a range of topics like cycling, transit, and land use. His time in Tokyo really opened his eyes to what urbanism offers people and has a strong desire to see growth happen in Seattle.