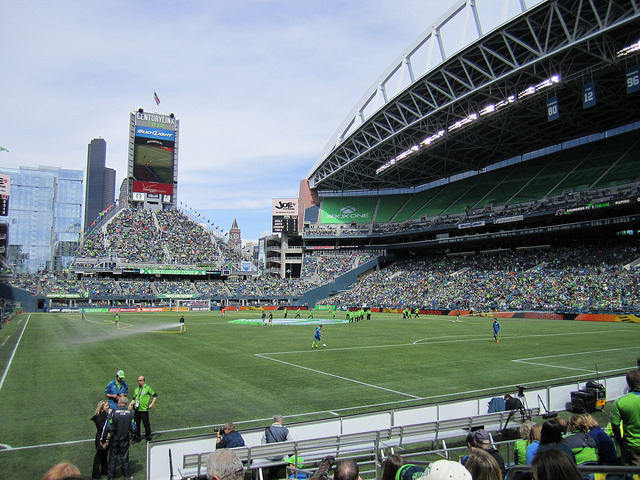 Watch out travel junkies: Venice is out to fine those two-wheeled bags from tourists because area residents are tired of hearing the rattling noise from them. But at least Norway is giving out some sweet passports to their citizens.
Delivering safety: Smaller delivery vans could go a long way to making streets safer in cities. NACTO has a new street manual in mind just for these miniature Eurovans.
Urban sports: Downtown stadiums could be what saved Major League Soccer from folding in the 2000s. Seattle Sounders get a feature! And, yeah, this year had record attendance across the league. Guess who's number one?
Seeding green: Capitol Hill could see its first recreational marijuana retailer in February.
Brewing change: The former Olympia Brewery site is getting picked up for redevelopment that will include a mix of uses, brewery, distillery, brewpub, and more.
Bike superhighways: Developing a plan to implement bicycle superhighways across Copenhagen took more than just the effort of the central city, it took the commitment of the surrounding communities to make it a reality.
Keep the sidewalks open: A very compelling case for always making sure that pedestrians don't get the shaft during construction.
Map of the week: Poop! Yep, really, poop. Thank you, San Francisco and your lack of hygiene.
Drop some $$$: Sound Transit is ready to get the numbers out there for the capital expansion projects for Sound Transit. It isn't inexpensive, but it's totally worth it; The News Tribune of Tacoma argues for more rail all across the region.
Utrecht modern: A modern rowhouse with dormers fits perfectly into a block of Utrecht, Netherlands.
Party crashers: It was the Verrazano Bridge's 50th birthday this week, but the New York Metropolitan Transportation Authority got photobombed and protested at the bridge's party. Why? The bridge connecting Staten Island and Queens doesn't have a path for cyclists and pedestrians.
A step backward for the BGT: UW Transportation had a very short-lived solution to the intersection of Pend Oreille Road and the Burke-Gilman Trail; it looks like the intersection will revert back to its previous layout.
Public health fees: Temporary food stands are looking to see a big increase in permit fees from Seattle and King County Public Health, which could put a squeeze on vendors.
Catch the carbon: A look at all of the carbon pricing programs across the globe, and the coolest of animated maps showing them.
Park revitalization: How creating green waterfront parks helped lift Pittsburgh to renewed success.
36 hours: A video about how to spend 36 hours in Seattle.
Failed privatization: Streetsblog takes a look at how private tolling companies are fleecing taxpayers and financial institutions and using bad projections to do it in a three-part series.
So iconic: Even a six-year-old can map the London Underground pretty accurately.

Stephen is a professional urban planner in Puget Sound with a passion for sustainable, livable, and diverse cities. He is especially interested in how policies, regulations, and programs can promote positive outcomes for communities. With stints in great cities like Bellingham and Cork, Stephen currently lives in Seattle. He primarily covers land use and transportation issues and has been with The Urbanist since 2014.