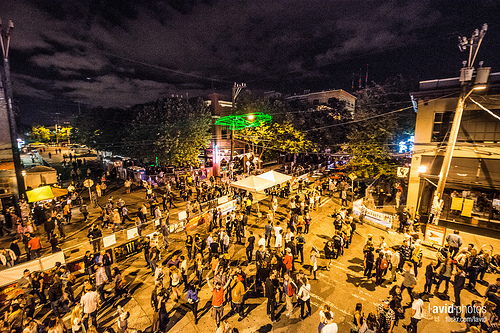 Keep 'em out: An article in defense of newcomers to Seattle ($); they have a lot to offer, so chill it!
Battery powered: Your future train just might be battery powered, and here's how.
New transit app: A rundown on the pros and cons of the Puget Sound's newest transit app; Martin over at the STB isn't so keen on it. We're still fans of Transit App.
Better maps: We do great at making maps for people who can see, but what about for those who can't? The solution is braille maps.
Westlake Cycletrack: The latest details on the Westlake Cycletrack are out; the designs are actually very good.
Swedish expansion: Neighbors of Squire Park near Swedish Hospital are livid about the latest proposal from the hospital and their contract company, a debrief on the latest meeting.
Weekly Bertha: Crosscut has the latest on the struggle and drama over Bertha. It's pretty clear that cost overruns are not the responsibility of the State, but the City of Seattle. Seattle wasn't warned about the likelihood of "catastrophic failure" by the State. And, the City Council does not trust WSDOT.
Safe routes: Washington Bikes provides an outlook on funding for the Bicycle and Pedestrian Program and Safe Routes to School Program, only 20% of the $100+ million grant requests will be funded over the next two years.
New Greenway: Construct of the Central Area Greenway will get underway this month.
Boston Olympics: If Boston is successful for the Summer Olympics, this could be what the new Olympic grounds could look like.
Charlie and the Chocolate Skyscraper: The future elevator just might let you go left and right in addition to up and down; skyscrapers could change radically.
Bus pup: Seattle's special bus rider is world famous now.
No respect: Some drivers still aren't respecting the space of bicyclists.
Radical gamesmanship: Senate Republicans create an unconstitutional rule for the chamber by increasing the number of votes needed to pass tax increases. The party also released a very regressive plan for state programs and education.
Productive farming: This indoor farm is 100 times more efficient than your standard farm.
Reducing poverty: Mayor Ed Murray creates a more permanent plan for more homeless encampments and beds at shelters.
22nd and Madison: A new development is on the way for the intersection of 22nd Ave and Madison St.
Populist: Governor Jay Inslee delivered his State of the State Address, which was very populist in nature.
Tenant protection: Senator David Frockt introduced his legislation for greater tenant protections.
Modern newspaper: France's Le Monde is slated to get some swanky new digs.
The only theory: One economic theory to explain all of the things.
History teaches: What the collapse of ancient capitals can teach us about cities today.
Regressive taxation: Guess which state has the most regressive taxes!? We do!
Different wages: There might be a good case for cities having different minimum wages from their state.
Vision Zero: One question can win the effort to create zero deaths on our streets. We know the rules of the road aren't enough to save people's lives.
Protected bike lanes: They work in the suburbs of the Netherlands, there's no reason they can't in the US.
Big myth: The story of gentrification is sort of a myth.
Decline of driving: It started a lot earlier than you probably think.
Taco Time Apartments: A review of the mixed use project on E Madison St from CHS.

Stephen is a professional urban planner in Puget Sound with a passion for sustainable, livable, and diverse cities. He is especially interested in how policies, regulations, and programs can promote positive outcomes for communities. With stints in great cities like Bellingham and Cork, Stephen currently lives in Seattle. He primarily covers land use and transportation issues and has been with The Urbanist since 2014.