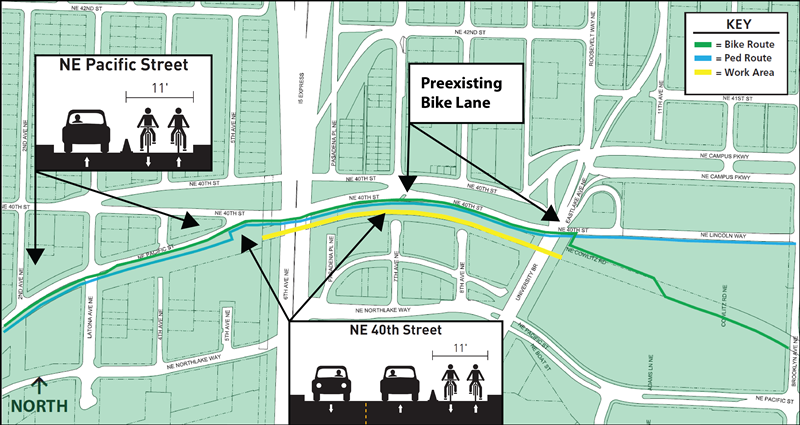 The construction along the Burke-Gilman Trail (BGT) seems almost never ending, and it's about to get a bit more painful for regular users. Since summertime, Seattle City Light has been working segment-by-segment to do utility work in the trail right-of-way. The BGT was recently closed between Adams Lane NE and 7th Avenue NE. The next stage of construction moves the closure further westward between the University Bridge and I-5. The new closure and detours go in effect on January 17 (Saturday) and should last until mid-February. The good news is that this is the very last phase of construction by Seattle City Light along the BGT. Other work elsewhere on the BGT will continue by the University of Washington and Sound Transit.
The UW is keeping the public up to date with a handy Google Map (see below) for all of the closures and detours.
Seattle City Light has the full details of the project:
Seattle City Light is continuing its electrical reliability and capacity upgrade of the system feeding the University of Washington (UW). The project has required intermittent detours of the Burke-Gilman Trail while underground conduit is installed between City Light's substation near I-5 and the UW's substation near 15th Ave NE.

This last phase of conduit installation will require detour of the trail between Latona Avenue NE in Wallingford and Adams Lane near the University Bridge. See Burke-Gilman detour map. The work has a planned start date of this Saturday, January 17 and will last until approximately mid-February, 2015.

Pedestrians will be detoured onto sidewalks while cyclists will be detoured onto pre-existing designated bike lanes and lanes to be set apart in current traffic lanes. In the latter case, cones bolted to the asphalt will separate cyclists from traffic. For roadway adjustments to protect bicyclists, see Burke-Gilman Trail detour insets on map . Signage will direct cyclists and pedestrians at waypoints along the detour route. See Burke-Gilman Trail detour signage example. 

Westbound motorists on NE 40th Street will not be permitted to turn left onto NE Pacific Street at 5th Avenue NE to accommodate the new temporary lanes for cyclists. Traffic will be detoured there and can rejoin westbound NE Pacific Street at Latona Avenue NE.

Stephen is a professional urban planner in Puget Sound with a passion for sustainable, livable, and diverse cities. He is especially interested in how policies, regulations, and programs can promote positive outcomes for communities. With stints in great cities like Bellingham and Cork, Stephen currently lives in Seattle. He primarily covers land use and transportation issues and has been with The Urbanist since 2014.