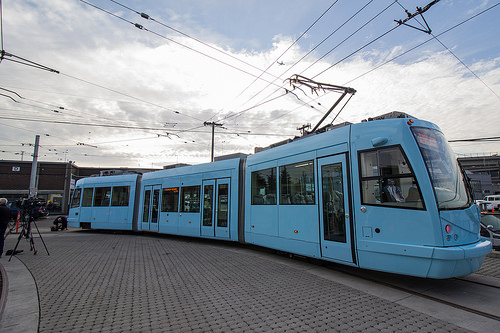 Get addicted: Forget SimCity, meet the new Cities: Skylines, a new planning simulator that waste your life away!
Let us build rail: Electeds all across the region showed up to the House Transportation Committee's public hearing on the transportation package, and it was unanimous: give us authority for transit completely.
Map of the Week: The United Kingdom rediscovers their first-ever national geologic map, and it's a beauty.
Give us affordability: Seattle Mayor Ed Murray wants to construct 50,000 new units over the next decade, 20,000 of which would be affordable to those at or below 80% of area median income.
23rd and Union, and Madison: A new project could be on the way for the northwest corner of 23rd Ave and E Union St, filling in a big gap on block. Meanwhile, 23rd Ave and E Madison St sees the "missing tooth" project move forward to recommendation.
Please be alert: A woman using her walker in Downtown Seattle was hit by a person driving a pickup truck, she died from the injuries.
Great plan for Spokane: The Spokane region is soon to vote on a big transit package, which has some great features of it. The Seattle Transit Blog takes a look at a smart way to serve the eastern areas of the region with a connected and frequent network.
Digging in: Denmark wants to dig an 11-mile tunnel to save most Denmarkers and Scandinavians a 100-mile detour around the Jutland Peninsula. This could be a big game changer for Europe as it brings places closer from a transportation standpoint.
Two takes on the linkage fee: Seattle is slated to adopt a linkage fee for affordable housing in the next year. One group says that we should absolutely adopt it for equity while Erica C. Barnett suggests that it may not matter all that much given market changes.
Time to rebalance: Conventional suburbs and exurbs are costing America its future at a rate of $1 trillion per year.
Equals: 6 places where people biking, walking, and driving are all treated like equals. Guess what? Seattle makes the list!
Suck-Pit List: We may not be the rainiest city in the US, but we top the misery index. Well done, Seattle!
Exclusive right-of-way: Yonah Freemark at The Transport Politic suggests that Seattle could lead the way on investing in streetcars for other US cities. Seattle plans to deploy exclusive right-of-way for streetcars to increase reliability and speed, starting with the South Lake Union line.
Promoting active transportation: Boston Bikes director, Nicole Freedman, is getting a new job here in Seattle; she'll be the City's Active Transportation Program manager.
Making way for the new: Piecora's on Madison Street is gone, but Equity Residential is planning to build a new 6-story mixed-use building on the grounds of the old pizzeria.
Testing the rails: Mayor Murray hit the streets of Seattle to test out the new First Hill Streetcar. These trains are gonna be colorful!
Apple watch: Transit App comes out with version of app for Apple Watch.
Single family lots: Old Urbanist surveys a broad range of single-family development throughout the eras and by lot size to talk about their patterns.
NYC's 7 line extension: The subway line may be fairly delayed, but at least the photos are pretty! Take a tour of the future stations.
Test gridlock: A handy interactive visualization of how gridlock works.
Inequality in housing: A take on the cause of inequality in the housing market.

Stephen is a professional urban planner in Puget Sound with a passion for sustainable, livable, and diverse cities. He is especially interested in how policies, regulations, and programs can promote positive outcomes for communities. With stints in great cities like Bellingham and Cork, Stephen currently lives in Seattle. He primarily covers land use and transportation issues and has been with The Urbanist since 2014.