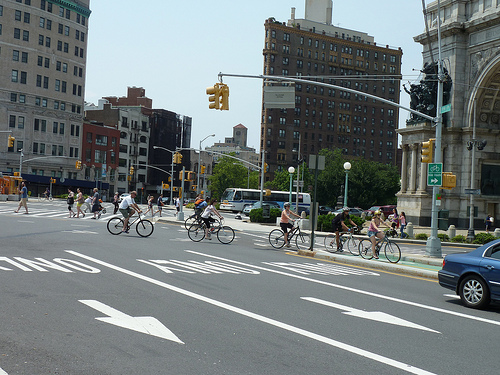 Highspeed opposition: The current arguments being made against Texas' private highspeed rail project are fascinating.
Better design: The UK is rolling out new pylon designs for electric power grids to reduce visual impacts.
New parking meters: Seattle has some high-tech parking meters to replace the aging ones across the city.
Housing imbalance: The US spends way more on homeownership subsidies than actual social and affordable housing subsidies.
On hold: A trail linking Snohomish to Woodinville has fallen apart, for now.
Leading the way: Why Austria is going all in on new methods of woodframe construction.
The best way: Seattle Transit Blog talks about how Link might get to Federal Way.
Dramatic growth: New York City has experienced explosive growth in biking over the past decade.
New law: Bicyclists can now get across the street a little bit easier with this common-sense change in law.
Map of the week: An amazing visualization of New York City's vibrant rainbow of tree species.
Own worst enemy: Democrats are hesitant to give Sound Transit property tax authority because of other priorities.
Filling the hole: 44 people have thrown their names in the hat to fill a vacant Seattle City Council position.
Fireside chat: The Stranger talks to Pronto!'s director about the success of the program six month on.
Midwest shift: A look at how Minneapolis is growing while Chicago is shrinking.

Stephen is a professional urban planner in Puget Sound with a passion for sustainable, livable, and diverse cities. He is especially interested in how policies, regulations, and programs can promote positive outcomes for communities. With stints in great cities like Bellingham and Cork, Stephen currently lives in Seattle. He primarily covers land use and transportation issues and has been with The Urbanist since 2014.