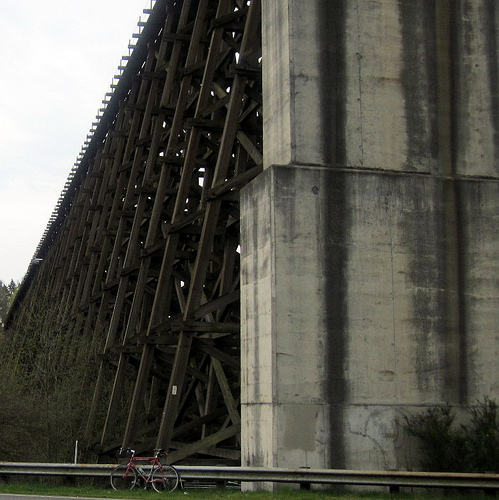 Top 10: The current ranking of US cities as the most walkable.
Shell No: The reason why Shell's Polar Pioneer is allowed to dock in Seattle, for now.
Making room: A Dutch city makes room for its river and readies for a new identity.
Bus to Link: Seattle Transit Blog writes how the bus restructures centered around new light rail stations could be slightly improved.
Debunked: Drivers really don't pay for the cost of their roads, not even close.
Demise of streetcars: It wasn't just car companies that killed streetcars in the middle of the 20th Century, it was congestion, too.
Deadly tracks: High speeds were the primary cause of the Philadelphia passenger train crash this week, although positive train control could have prevented it.
13th place: Seattle has dropped to 13th place nationally for bikeability ($).
Contaminated: A shocking number of places in the Los Angeles area depend upon water sources that are deeply contaminated.
Not as dense: The typical New Yorker lives in a less dense NYC than back in 1970.
Low taxes: How billionaires are paying low property taxes for the best views in the house.
Unequal infrastructure: America's public transportation is failing and it's causing deep inequality.
Let's Make #Homes4WA
Washington faces a very deep housing availability and affordability crisis that has only worsened in the past several years. It's time for Washington to face this crisis head on. It's time to take action to house Washington. Let your legislators know we need their help to house everyone.

Stephen is an urban planner with a passion for sustainable, livable, and diverse cities. He is especially interested in how policies, regulations, and programs can promote positive outcomes for communities. With long stints in great cities like Bellingham, Cork, and Seattle, Stephen currently lives in Kenmore and primarily covers land use and transportation issues for The Urbanist.