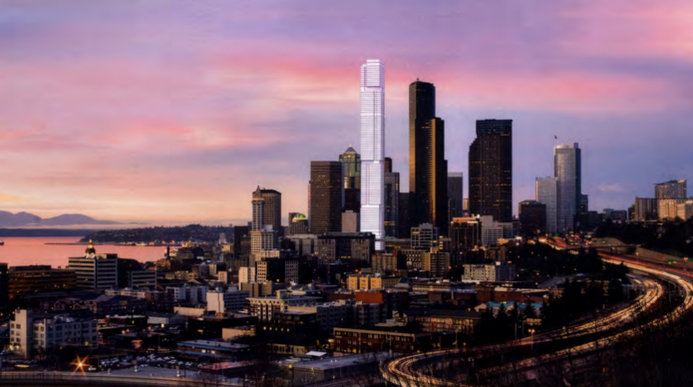 Breaking new heights: A first peek at the 102-story Crescent Heights tower set for Downtown Seattle, but there could be issues with the proposal.
Placemaking Bham: Bellingham is completely remaking their streets in Downtown to be more pedestrian and bicycle friendly.
New housing opportunity: Sound Transit is considering the future of surplus property on First Hill.
Safe lanes: Protected bike lanes prove to be more useful in snowy cities than warm cities.
Endless speed: Despite efforts to kill highspeed rail in America, efforts across the nation are unbreakable.
Pope in America: Pope Francis is making waves in the United States this week and forcefully called to save the planet, address refugee crises, inequality, and many more pressing issues of the day.
Disconnected: The Campus Parkway bike lanes in the University District will come very close to connecting to the Burke-Gilman Trail, but they won't quite make it.
Aurora Bridge tragedy: The tragedy of Ride the Ducks struck this week when a tour vehicle collided with a filled charter bus on the Aurora Bridge.
Where the people go: The leading cities of America's immigrant populations.
From above: Mighty and ominous images of the human condition; they're stunning.
Parks and mobility: The Seattle Parks District will fund some significant bike and pedestrian facilities to improve neighborhood access.
MA best in biking: Massachusetts has the most advanced bikeway design guide yet in the United States.
Overly romantic: Romanticizing housing of old may not be completely wise and honest to the truth of the past when we look back into it.
Map of the Week: Mapping the world's pollution in cities worldwide in real time.

Stephen is a professional urban planner in Puget Sound with a passion for sustainable, livable, and diverse cities. He is especially interested in how policies, regulations, and programs can promote positive outcomes for communities. With stints in great cities like Bellingham and Cork, Stephen currently lives in Seattle. He primarily covers land use and transportation issues and has been with The Urbanist since 2014.