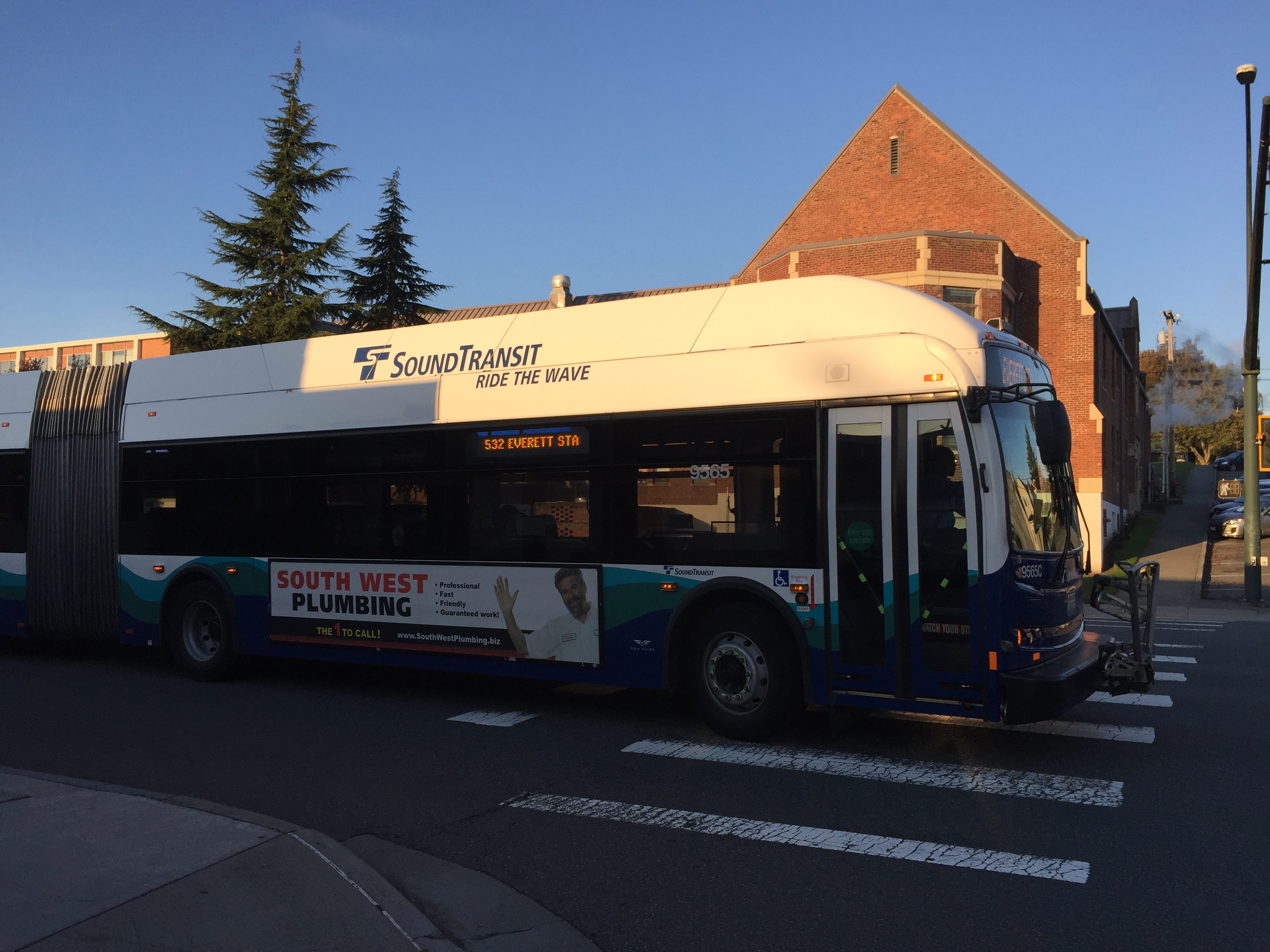 Did you happen to see any buses driving on the shoulder this morning? If you did, it wasn't a figment of your imagination. Community Transit and Sound Transit are now testing out commuter routes in the right-hand shoulder lane of southbound I-405. Two stretches of the highway will be permitted for transit operations during the hours of 6am to 9am on weekdays.
The agencies have worked with the Washington State Department of Transportation (WSDOT) to allow this as a solution to new restrictions in place from the recently installed High Occupancy Toll (HOT) lanes. WSDOT's HOT lanes limit access to specified locations to improve traffic flow and ensure that drivers pay their tolls. Double white lines demarcate when crossing lanes is prohibited. At HOT lane access points, lane lines become dashed to allow drivers to enter and exit.
However, one major unintended consequence from this arrangement is that it preempts transit from using large stretches of the lanes and thereby reduces the 'high occupancy' aspect of the lanes. Many commuter bus routes jump on and off at the right-hand side of the highway. They need ample distance to weave in and out of lanes. Sound Transit routes 566 and 567 as well as Metro route 952 had suffered from this pitfall for portions of SR-167 since HOT lanes opened on the highway; the double lines were removed last year however.
Some commuter buses will operate on the right-hand shoulder between SR-527 and NE 195th St, and SR-522 and NE 160th St, a stretch of highway that represents approximately 3 miles. Community Transit says that its commuter buses will largely use it for out of service operations. Sound Transit, on the other had, plans to operate routes 532 and 535 in the shoulder when traffic is running well below the posted highway speed. The remainder of the time, buses from both agencies will use the right-hand general purpose lane. Passenger service in the shoulder lane could begin next week.

Stephen is a professional urban planner in Puget Sound with a passion for sustainable, livable, and diverse cities. He is especially interested in how policies, regulations, and programs can promote positive outcomes for communities. With stints in great cities like Bellingham and Cork, Stephen currently lives in Seattle. He primarily covers land use and transportation issues and has been with The Urbanist since 2014.