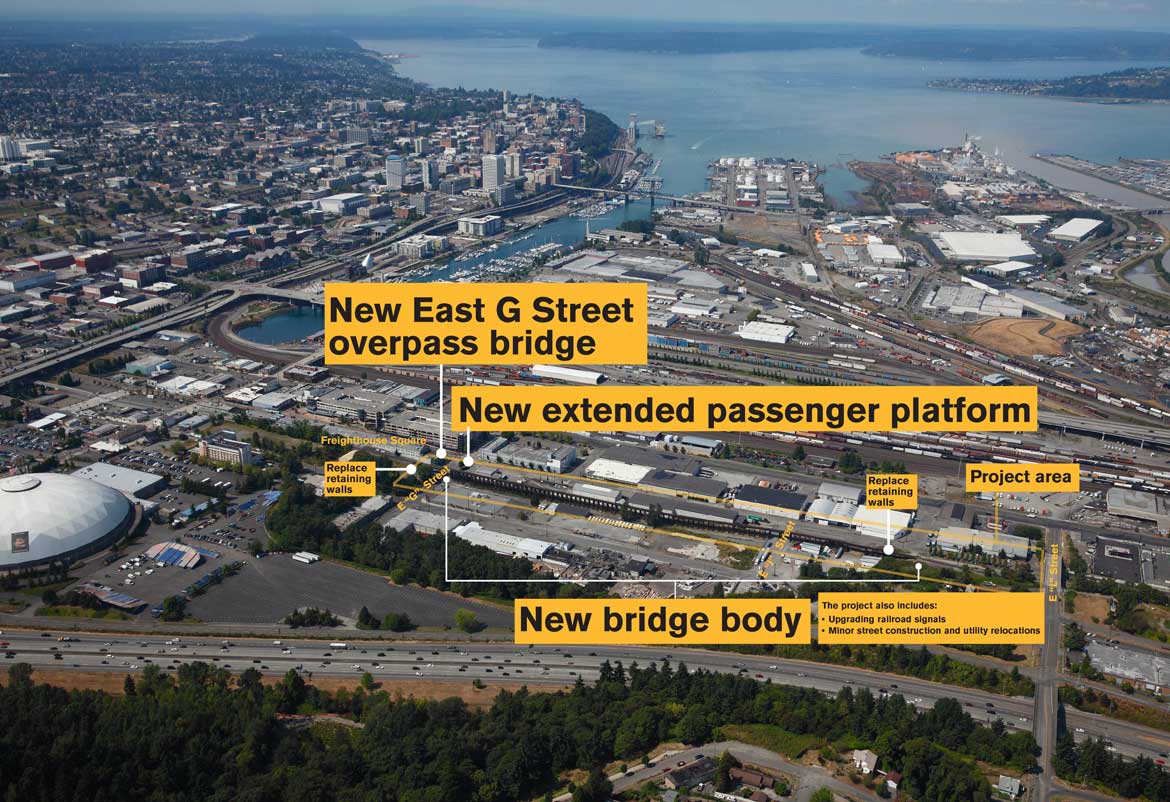 Design work on the Tacoma Trestle replacement project is now coming to a close after a two-year public involvement process. Sound Transit heard many valuable comments from the public and has accordingly made adjustments to the final design. Project work centers on replacement of a 0.65-mile wooden railway trestle just east of Tacoma's historic Freighthouse Square.
Today, Sound Transit's signature South Sounder services operate along the single-tack trestle with an at-grade stop next to Freighthouse Square. Replacement of the trestle will upgrade this stretch of the railway corridor to modern double-track standards. A new trestle bridging system will be constructed primarily out of concrete, although one segment will feature steel. Concrete bridge segments will sit atop double pillar posts and spans.
Sound Transit held a series of open houses during the two-year public involvement with key milestones at occurring at 30%, 60%, and most recently 90% design in August. Staff evaluated a laundry list of comments that largely centered on aesthetics, landscaping, and safety. Although, important issues like environmental and cultural resources were raised as well. Sound Transit has developed a comprehensive program based upon this feedback.
Special treatments are planned for the trestle crossing at East G Street, in part because of its historical significance, but also as a practical way to enhance the pedestrian experience. Sound Transit will replicate the old Milwaukee Railroad logo by prominently placing it on the trestle. That railroad company was a major contributor in developing the early economies of many Puget Sound communities due to direction connections to the Midwest. With the removal of the old trestle, Sound Transit will also provide interpretive displays to document the role it played for the area. The East G Street trestle itself will be made of steel, which is entirely a design choice and nod to the golden age of railway building.
In keeping with the STart program, Sound Transit has commissioned artwork for the East G Street crossing. A mural was chosen as the preferred way to incorporate visible artwork to pedestrians, which will be placed on the west side of the trestle underpass. This will help to create a strong connection to the Freighthouse Square building next to the mural area. Sound Transit collaborated with the community and Tacoma Art Program to select an artist; the group chose locally based painter Jeremy Mangan who is known for his earthy landscape and object-focused portrait work. His formal design has yet to be revealed, but Mangan says that he intends "to capture moments of a story of motivations and activities, always in tension: strange yet familiar…" Glean from that what you might.
Aside from art, Sound Transit will greatly improve the streetscape with safer crossing connections, street lights on sidewalks and track lighting along the trestle, street trees and landscaping, and high quality fencing around undeveloped Sound Transit property.
For passengers, the most significant change resulting from the trestle replacement will be a partially elevated stop. The existing single platform for all northbound and southbound trains will be extended across the East G Street crossing. Passengers can continue to access the platform at-grade from Freighthouse Square and East D Street, but they will also be able to do so from east side of East G Street. Oringally, Sound Transit had planned for the platform to be semi-transparent with glass windscreens, but due to safety concerns the windscreens may be deployed using different materials. Canopies will be added above the platform for greater overhead weather protection.
Replacement of the trestle represents an important part of a larger package of railway improvements coming to the south end of the Puget Sound. The new trestle builds upon recent investments that Sound Transit has made in the corridor, which successfully completed track renewal southwestward as far as Lakewood Station and allowed extension of Sounder service. The trestle will greatly increase the capacity of the corridor by allowing more trains to pass through faster and safer. That's great news for passengers of Sounder, but also future Amtrak passengers who will benefit from a consolidate departures and arrivals hall at Freighthouse Square and the Point Defiance Bypass.
The Tacoma Trestle project is funded primarily by the Sound Transit 2 investment program. Sound Transit has earmarked $115 million for the budget with an addition $10 million coming from a Federal TIGER grant. Construction on the project will begin in 2016 (see construction phasing video below). Before that happens though, Sound Transit will put out a call for project bids from contractors later this fall. The trestle should be completed in early 2018 and operational soon after.

Stephen is a professional urban planner in Puget Sound with a passion for sustainable, livable, and diverse cities. He is especially interested in how policies, regulations, and programs can promote positive outcomes for communities. With stints in great cities like Bellingham and Cork, Stephen currently lives in Seattle. He primarily covers land use and transportation issues and has been with The Urbanist since 2014.