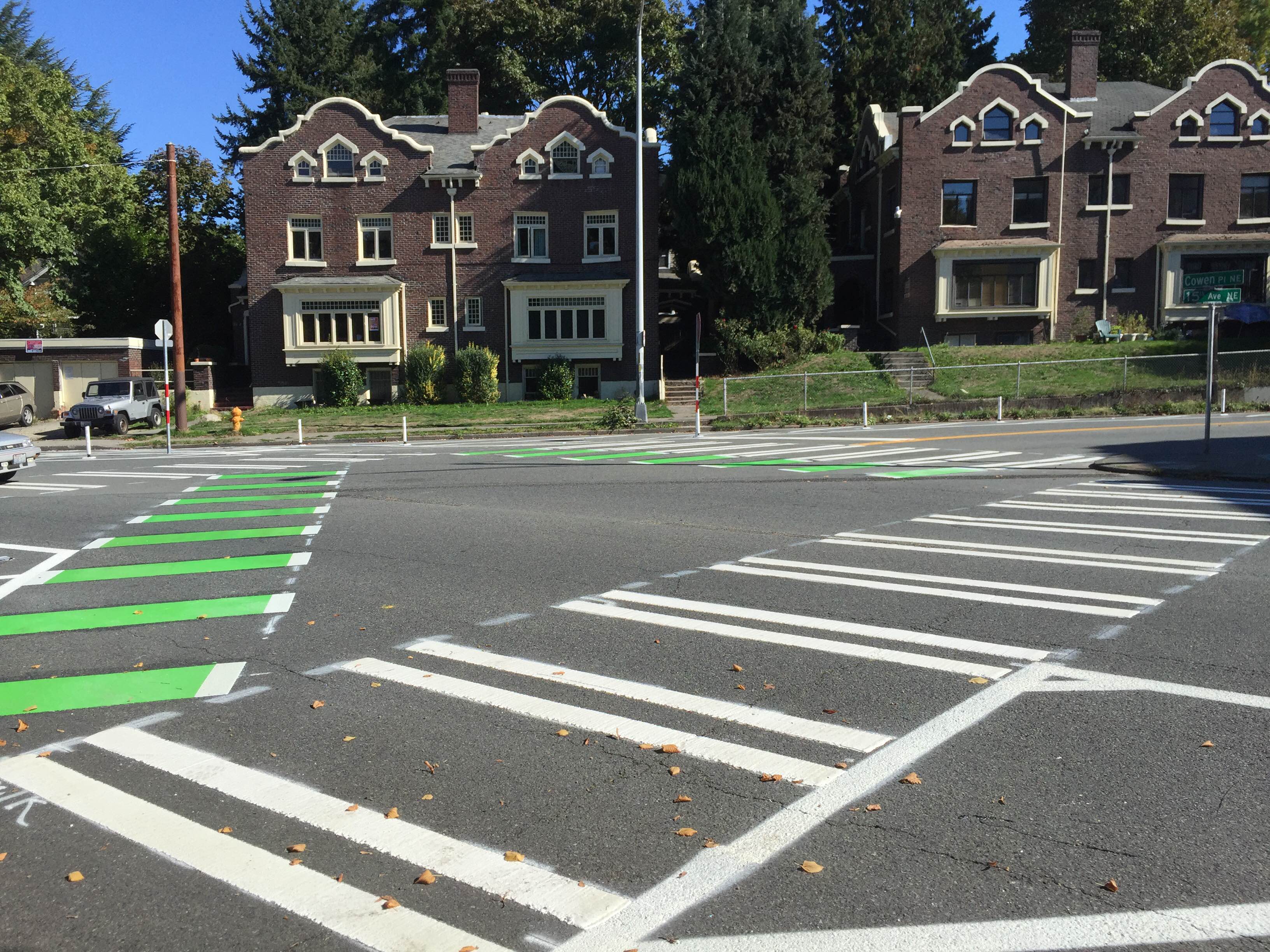 Differing opinions: Council district elections are in full swing in Seattle. This week, Debora Juarez and Sandy Brown went head-to-head with dueling proposals on how to get more sidewalks in District 5 (North Seattle). Meanwhile, Councilmember Kshama Sawant goes all in on Move Seattle, but her opponent, Pamela Banks, runs from the proposal.
Free the bikes: Idaho has been lightyears ahead on cycling law with the "Idaho stop." Under the law, bicyclists are merely required to yield at signed intersection and data shows it's safer than requiring stops.
Not here: Boulder, Colorado could be on the cusp of passing a charter amendment that would allow 66 different neighborhoods to weigh in with a referendum anytime the city council adopts development code and zoning changes.
Intelligent crime fighting: The Seattle Police Department goes high-tech with a brand new Real Time Crime Center to improve community policing.
Unaccountable?: Strong Towns lists five ways that engineers deflect criticism of their decisions.
Slow it down a little: Some critics are saying that the Convention Center expansion project is a rush job.
The bike economy: Salt Lake City has reduced car parking and boosted biking facilities; where it has done so, retail sales have been boosted.
Saving pieces: The Wayne Apartments weren't the only building receive protection this week; Capitol Hill's Gaslight Inn gained landmark status as well.
Guns no more: San Francisco's last gun store will soon close, largely due to very strict controls on the businesses.
Walking and biking improvements: Seattle Neighborhood Greenways has a few ideas on how to make South Lake Union and Uptown more bikeable. Another detour returns to the Burke-Gilman Trail. And, Seattle lays out a comprehensive plan to make walking and biking to school safer and the norm.
Small isn't new: The tiny house movement isn't exactly new, CityLab highlights small houses dating back as far as the 1600s.
ORCA: TNG: What the next generation of the ORCA fare payment system could look like.
Unjust risk: Deaths from car crashes are very biased against lesser educated groups, an unfortunate result of unjust socioeconomic factors.
A better corridor: The City of Shoreline is conducting a major corridor study of 145th Street; Seattle Bike Blog argues that better walking and biking infrastructure is needed.
About time: Civic Square will break ground next year after an 8-year delay.
Up or down?: City Observatory asks if America is witnessing the end of peak driving.
More choices: The Federal government is proposing a rule that will making it easier for local jurisdictions to create safer streets.

Stephen is a professional urban planner in Puget Sound with a passion for sustainable, livable, and diverse cities. He is especially interested in how policies, regulations, and programs can promote positive outcomes for communities. With stints in great cities like Bellingham and Cork, Stephen currently lives in Seattle. He primarily covers land use and transportation issues and has been with The Urbanist since 2014.