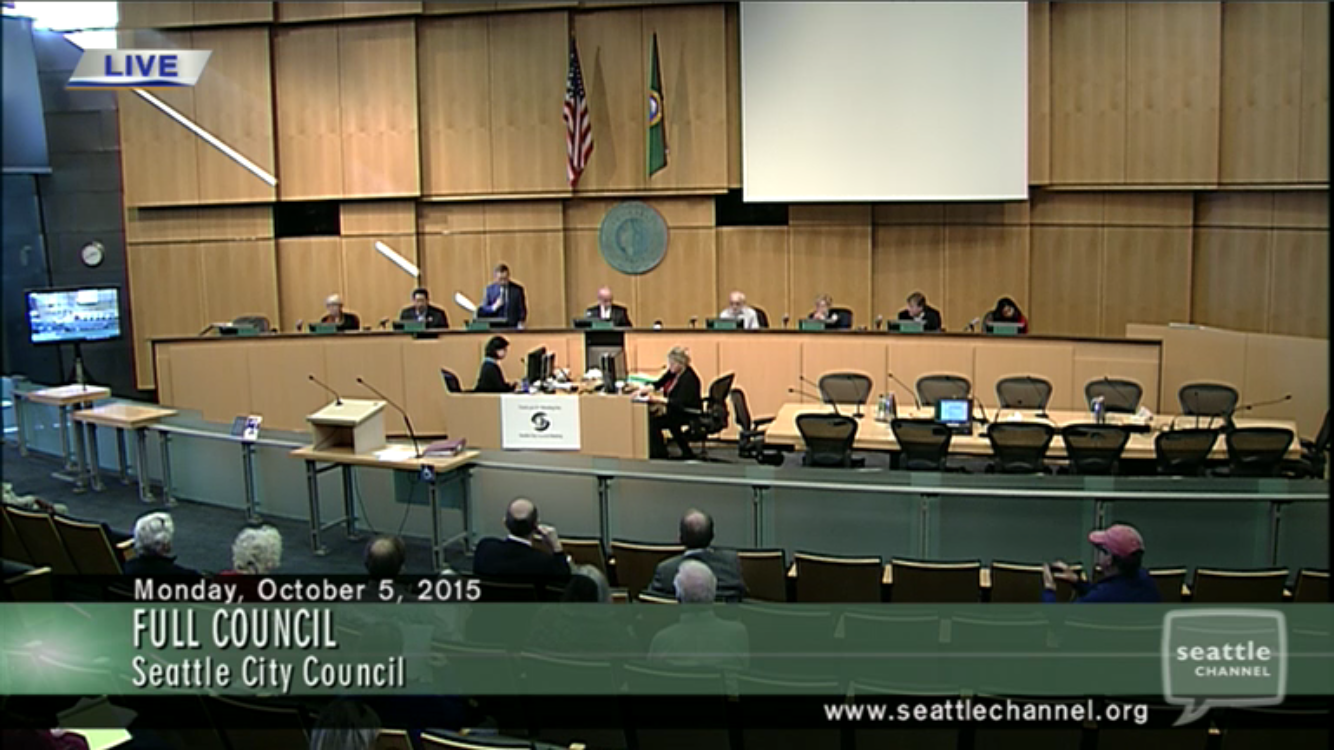 At the top of the agenda on Monday, the City Council discussed a resolution (Resolution 31611) on the SR-520 highway rebuild from Montlake to the I-5 interchange. The project is a massive undertaking by the Washington State Department of Transportation (WSDOT) to add lanes to SR-520, provide direct access for transit, build a potential second bascule bridge across the Montlake Cut, lay down new trails, and lid portions of the highway. The City's resolution is more than just a policy statement, it's a negotiation tool to get WSDOT to build better walking, biking, and transit facilities for the people who may never drive on the highway.
In committee, Councilmember Mike O'Brien had proposed additional language that would beef up safety and utility of facilities for bicyclists. His amendment plainly stated that the SR-520 project must accommodate protected bike lanes from the Montlake Bridge to East Roanoke Street on Montlake Boulevard. This language left some in committee concerned that it might be premature and overly prescriptive.
At the behest of Councilmember Tom Rasmussen, O'Brien tabled the amendment pending feedback from the Seattle Bicycle Advisory Board (SBAB). Within a week of the committee meeting, the SBAB responded with a letter of support for O'Brien's amendment going as far to say that protected bike lanes are "imperative" on the street. Both the amendment and resolution passed on a 9-0 vote.
Generating a lot of public comment earlier in the Council meeting, the following order of Council business centered on acquisition of property in the Roosevelt neighborhood for a public park. Earlier in the year, the City of Seattle won a $3.3 million judgement against long-time Roosevelt slumlord Hugh Sisley. The judgement was the result of many years of unpaid fines for code violation. To settle the issue, City Attorney Pete Holmes said that the City would seize at least one property for a public park. That property happens to be a corner lot between NE 65th St and NE 66th St (1322 NE 65th St).
In March, local green architect, Rob Harrison, circulated a plan to develop the parcel of land as affordable housing and park space. His plan was predicated upon three pillars:
Housing should be made affordable for families making less than 50% of the area median income through a long-term lease or the establishment of a land trust;
The land should be developed by a Seattle non-profit housing organization and be built using Passivehaus standards; and
City right-of-way on 14th Ave NE between NE 65th St and NE 66th St should be vacated for a multi-use public open space.
But City Councilmembers had heard over three hours of public testimony in a prior public hearing from Roosevelt residents that largely voiced support for a new neighborhood park for two primary reasons. In the estimation of most residents, preservation of the view corridor from Roosevelt High School is a worthy community value. For another, residents argued that the Roosevelt neighborhood core is deeply lacking in accessible open space. Hitting that point home before the Council vote, Jim O'Halloran of the Roosevelt Neighborhood Association said that new open space would act as a "balance between density and what they call 'the essential elements of livability.'" O'Halloran drew a connection to the Mayor's Affordable Housing and Livibility Agenda in a concluding quip saying: "This is the 'L' in the HALA endeavor."
Despite a massive surplus of park space in Roosevelt — as much as 8 times that envisioned by the Comprehensive Plan — the Councilmembers voted unanimously in favor of acquiring property for a public park, but not before Councilmembers Kshama Sawant and Nick Licata spoke on the matter. Sawant expressed mixed feelings about the one-sided nature of the ordinance (Council Bill 118509):
I will admit though that it's very difficult to make a choice between affordable housing and park space. We need both and we shouldn't in general have to pit one against the other…which is why I think overall that our approach should be to push for comprehensive policy on affordable housing citywide and also to make sure that we have going forward progressive revenue sources to expand park space as well.
Referencing Harrison's proposal, Sawant continued:
Some of the people who were talking about housing being built, they were saying that a new light rail station was about to go up a block away and affordable housing is really good when it's closest to transit. I have heard that 50 units of affordable housing using Passivehaus technology would have been built upon the property….I want to make sure that we include those points for the record so that going forward…we take those points into account and make sure that we are making the best choices.
Licata followed up Sawant to describe the fresh history of Roosevelt's upzones in advance of light rail. His points indicated that Roosevelt had been cooperative in the planning process and already agreed to higher development capacity than had originally been envisioned by the City's planning department. Licata explained that the tension between providing more open space and affordable is challenging, but that in the case of Roosevelt, he felt that open space is more sorely needed. He added that "this is not a grand, wide park; it's really a pocket park."
Wrapping up the agenda, the City Council voted on a measure to close a loophole in the tenant relocation assistance program. Under the current program, families that make 50% or less of the area median income are eligible for monetary assistance if a property owner serves notice 90 days in advance of the building undergoing major renovation ($6,000 or more in rehabilitation work for the vacated unit) or demolition. Families can qualify for up to $3,225 in relocation assistance paid 50-50 by the landlord and City.
Some landlords, however, have skirted around the rules by raising rents on tenants in the hopes that they'll move before the requirement kicks in. To prevent this, the ordinance (Council Bill 118516) will add some serious teeth to the tenant relocation assistance program. Three things must occur:
The landlord chooses to increase rent on a unit by 20% or more;
The tenant vacates the unit within 90; and
The landlord applies for permit within 6 month to conduct a major renovation to the unit.
If all three of these occur, there will be a presumption that the landlord intentionally avoided payment of relocation assistance. As a result, the City will withhold building permit issuance until the landlord pays all outstanding penalties for violating the tenant relocation assistance program. Those fines don't come cheap. Landlords who skirt around the rules could face a $1,000 per day fine for each day they are in violation of the code.
Additionally, the ordinance allows tenants to file a complaint against a landlord if they experienced an increase in rent by 10% or more (either incrementally or in one increase) within 12 months so as to avoid payment of relocation assistance.
This all comes on the heels of shocking revelations in South Seattle where tenants of one apartment building are living in deplorable conditions. Sawant and Licata visited the building last week to meet residents and tour their units. What they found were bug and rodent infestations, nonfunctional heating systems, missing life safety alarms, and broken fixtures. The absentee landlord, Carl Haglund, had planned to double rents of tenants ahead of building improvements. But bowing to extraordinary public outcry, Haglund has partially backtracked. He promises to offer a month of free rent to current tenants and keep rents the same until the units pass health and safety inspections.

Stephen is a professional urban planner in Puget Sound with a passion for sustainable, livable, and diverse cities. He is especially interested in how policies, regulations, and programs can promote positive outcomes for communities. With stints in great cities like Bellingham and Cork, Stephen currently lives in Seattle. He primarily covers land use and transportation issues and has been with The Urbanist since 2014.