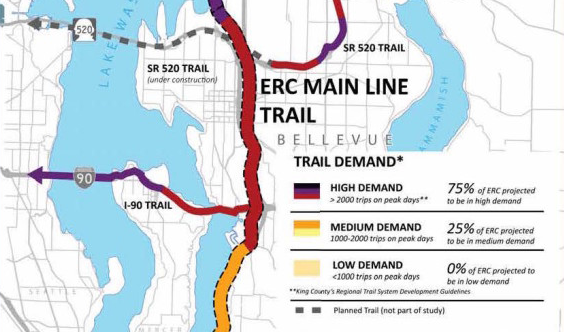 No hands: China rolls out the first driverless bus.
Car-Free Europe: Oslo is going big to ban cars from the city center within four years. Meanwhile, five other European cities are gearing up to the do the same.
Tearing up rails: Hong Kong is debating whether to scrap its iconic and historic tramway where double-decker streetcars operate.
Pre-fab renaissance: New York City's first pre-fab micro apartments are under construction.
Glorious progress: Guadí's La Sagrada Família church in Barcelona enters final construction after more than 100 years.
1955 to 2015: What Back to the Future got right about cities.
Rising skyline: Another sleek, cylindrical tower could be added to the London skyline.
Ready or not: Final details on the University Link bus restructure are out, changes begin in February 2016. Ryan Packer revisits the King County Council deliberations on the restructure and what's in store for Capitol Hill.
Two directions: The tension between seeking advantage or seeking equity.
Complex stories: There's a great divide in San Francisco and New York City on zipcode level when it comes to affordable housing prices.
Hurricane-proof: While not to market yet, a new house called "Sure House" has been designed to withstand a hurricane.
The parking question: Convincing people that housing doesn't need parking is just as challenging in Washington, D.C.
Semi-green alternative: The first US nuclear power plant to open in 20 years gets energized in the Tennessee Valley.
ERC trail: Multi-use trail plans are in the works for the old Eastside Rail Corridor, and Tom at Seattle Bike Blog has the details. Take the survey if you have time!
No-go-Joe: The US won't be getting "Amtrak" Joe Biden for president; the Vice President announced he wouldn't run earlier this week.
Rent or buy: Richard Florida looks at where Millennials should rent or buy in the US.
Viva cleaner air: CicLAvia in Los Angeles not only opened streets exclusively to bikes and pedestrians for a massive one-day street festival, it also substantially reduced local air pollution.
Incarceration epidemic: 130 police chiefs in the US want to reduce mass incarceration.
Steamy NYC: Why steam rises from many New York City streets.
Poor policy: Texas is on the cusp of enshrining an equally absurd gas tax policy for transportation in their constitution as Washington State.
Map of the Week: Map of Middle-Earth annotated by J.R.R. Tolkien.

Stephen is a professional urban planner in Puget Sound with a passion for sustainable, livable, and diverse cities. He is especially interested in how policies, regulations, and programs can promote positive outcomes for communities. With stints in great cities like Bellingham and Cork, Stephen currently lives in Seattle. He primarily covers land use and transportation issues and has been with The Urbanist since 2014.