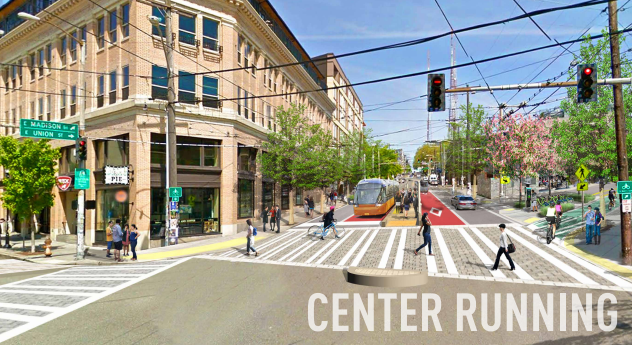 Whittling away: Madison BRT could show the region what high quality BRT is capable of, or it could be the posterchild for "BRT creep". Zach at the Seattle Transit Blog explains what's at stake at the next project decision point. It's not just buses though, Tom at Seattle Bike Blog shares concerns on possible compromises on bike improvements.
Going Euro: San Francisco has added some swanky bike lanes that are elevated 2 inches above the street surface.
Tragedy strikes: Paris suffers a coordinated series of terrorist attacks. In spite of this, the world shows support for the French. All of this comes on the heels of other urban acts of similar terrorism in Beirut and Baghdad.
In dire straights: The top US transit systems need a cash infusion of $102 billion just to keep of with basic repair.
The German way: Residents of Berlin's expansive social housing programs will see rental prices drop.
Another skyscraper: A Vancouver-based company is planning a 41-story residential tower in the Denny Triangle.
Spicing it up: Milwaukee is classing up their "parking craters" with a bit of paint and pizzazz.
Neighborhood redesign: A project to redesign the local street network in Mount Baker is partially funded; Seattle Bike Blog has preliminary details on possible changes.
New school: The University of Washington approves a new $163 million biology building next to the Burke-Gilman Trail.
Disputing bad press: A Capitol Hill building owner objects to "economic eviction" accusations.
Lanes are no solution: Caltrans, the department of transportation for California, says that adding highway lanes doesn't solve traffic woes.
The divide: What Yelp can tell us about gentrification and race.
Paving paradise: Unsurprising suburban sprawl can require nearly three times as much pavement per capita that urban counterparts.
Playing ball: A group hoping to rebuild KeyArena for professional men's basketball and hockey teams hasn't yet heard back from the City of Seattle.
Generic brand: New plans show what the Broadway Whole Foods building and apartment tower will look like.
Housing choices: A British survey provides a window in why people to choose to live where they do.
Powers combined: Work on the Cascade Bicycle Club and Washington Bikes merger is still progressing with big milestones coming in December for the two organizations.
Bay Area tugged in all directions: Mountain View, California approves a plan by Google to provide up to 9,100 dwelling units near the tech giant's campus. Meanwhile, Palo Alto adopted a zoning change to reduce heights in some residential areas to one story and the regional planning body has threatened to penalize cities that fail to meet housing goals.
Great parks: A compilation profiling many of North America's great park spaces from our very own Sarah Oberklaid.
Flowing with class: The gracious Anderson School in Bothell renovated by Oregon-based brewery and hospitality company McMenamins.
Maps of the Week: A designer has created a map series based upon experience and from the mind instead of GPS. And, maps showing where and how US veterans live.

Stephen is a professional urban planner in Puget Sound with a passion for sustainable, livable, and diverse cities. He is especially interested in how policies, regulations, and programs can promote positive outcomes for communities. With stints in great cities like Bellingham and Cork, Stephen currently lives in Seattle. He primarily covers land use and transportation issues and has been with The Urbanist since 2014.