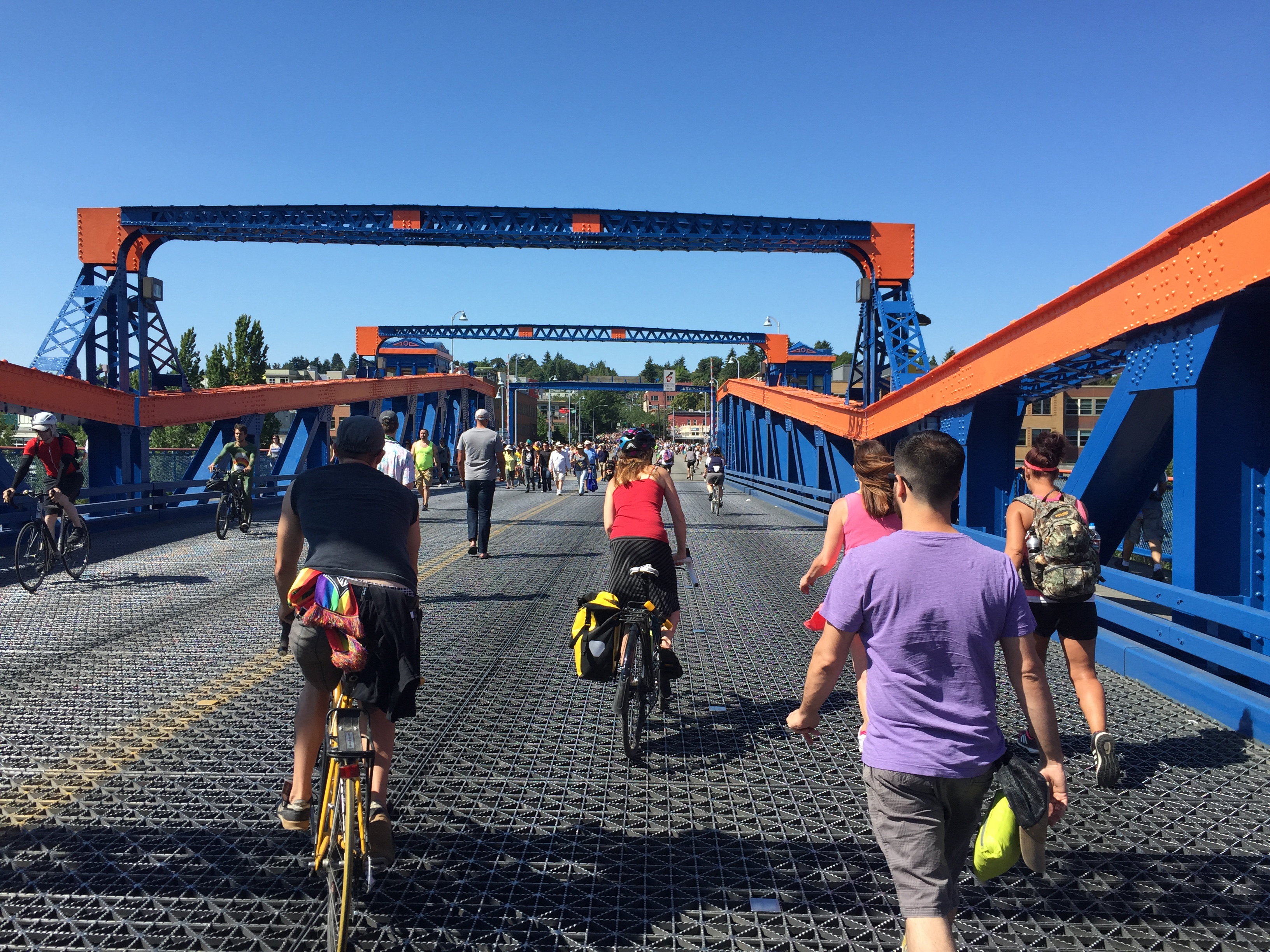 Seattle has been at the forefront nationally to create safer, smarter, and more dynamic streets. That's no accident. In part, it's because of the dedicated work by many local community advocates and organizations. Their work spans demonstration projects, community outreach and education, turning out to public meetings and hearings, collaborating with City staff, and much more. Their passion for better mobility solutions is paying off, which is why Seattle Neighborhood Greenways (SNG) wants to get all of those people in the same room to celebrate.
SNG will host their annual #Party4OurStreets on Thursday (December 3rd), which is sure to be a barn burner event. There will be plenty of food, refreshments (yes, beer), prizes, and awards. The lovely (and famous) Shirley (aka @NoSpandexReq) will run a kids craft area. Guests will have a chance to cast votes for the best of the best in a variety of categories, which span Exemplary Street Experiments to Greenway Champion. But perhaps most importantly, the event will celebrate the talent and hard work from many community volunteers.
There's a lot to celebrate. For starters, Seattle just passed $930 million transportation levy that will build:
Safe Routes to School for every public school in the city;
Safety improvements to 750 intersections;
250 blocks of new sidewalks;
60 miles of neighborhood greenways;
50 miles of protected bike lanes; and
Street calming measures for hundreds of blocks.
But 2015 also saw many other major achievements:
You can join SNG this at Impact HUB in Pioneer Square from 5.30pm to 7.30pm on Thursday. RSVPs are appreciated.

Stephen is a professional urban planner in Puget Sound with a passion for sustainable, livable, and diverse cities. He is especially interested in how policies, regulations, and programs can promote positive outcomes for communities. With stints in great cities like Bellingham and Cork, Stephen currently lives in Seattle. He primarily covers land use and transportation issues and has been with The Urbanist since 2014.