Two weeks ago, the Seattle City Council budget committee, consisting of all nine members, considered a budget request of critical importance to local housing. For the past year, Housing Now has been working with housing experts, policy experts, nonprofit leaders, and City councilmembers on identifying ways to expand publicly financed housing. What emerged out of this process was a budget resolution sponsored by Councilmember O'Brien, Sawant, and Licata.
This budget resolution, in its original form, would have put a proviso (requirement) on $75,000 in Office of Housing (OH) funds. The proviso would have required the OH to study cost savings and underlying assumptions necessary to expand publicly financed housing in Seattle. The study would have looked at advanced financing tools, federal subsidies, reducing construction costs, and regulatory changes. And, it would have built upon earlier analyses conducted by the OH (OH Response to SLI 130-1-A-2) which explored the use of City bonds to publicly finance housing under mostly status quo assumptions. Our study would have looked at updating and altering these assumptions so as to reduce the cost of building publicly financed housing. It would have built upon the HALA recommendations as well as looking at factors unique to publicly financed housing. Ideally, if enough cost savings could be found then we'd be able to build some housing with little to no public subsidies, allowing the creation of many thousands of additional units.
From our original draft there  were some revisions — which I'm told were made in order to chase votes — but in the end the Council was deadlocked. Half of the Councilmembers present — Mike O'Brien, Kshama Sawant, Nick Licata, and Tom Rasmussen — put their support behind it. Unfortunately, the other four present voted against. Without requisite majority in favor, the request failed. Nevertheless, we have much to be thankful for, and much hope for the coming year.
Passing the Housing Levy and Reimagining Public Housing

We pushed for this study now for two reasons:
First, rents are skyrocketing. We need more affordable housing now that will both influence the housing market; and at the same time remain immune from market pressures that drive up rents beyond that which low income people can afford. Private and publicly financed housing will always be essential parts of our housing mix, but for decades the number of publicly financed units has been inadequate.
Second, the Seattle Housing Levy is up for renewal, which presents an opportunity to combine increased public subsidies with a reimagining how we build publicly financed housing.
To be clear, we don't think there is anything particularly wrong with how we currently build these units. The prices we pay and the units we get are adequate. However, in a housing emergency, with thousands of people facing homelessness and economic evictions, "adequate" is insufficient — we have to do better. Finding ways to build more units at lower costs both helps us stretch our subsidies further and also greatly expand the supply of housing by building thousands of units with low or zero subsidies. These units would benefit people making $15 an hour, ensuring that people who work in Seattle can afford to live in Seattle.

What's Next

Over the winter, we're going to continue to meet with housing experts and nonprofit groups in order to build on the HALA report and produce recommendations regarding how to reduce the cost of publicly financed housing. The goal would be to gather additional ideas and provide the next Council with the information it needs. We hope the next Council will be supportive of this.
While ideas are important, so too is building the movement for more affordable housing. When spring comes around, we'll be tabling at farmers markets and other public events. Our message will be centered around:
Support for the Housing Levy;
Enacting the HALA recommendations; and
Building on these recommendations to reimagine publicly financed housing.
We'll be growing our supporters list in order to better mobilize people in support of these goals. We'll also be encouraging volunteers and allied groups to support specific housing projects.
Earlier this year, the Council considered public use of land seized from slumlord Hugh Sisley in Roosevelt. Many housing experts and residents, including our own Housing Now policy advisor Rob Harrison, had recommended dual use of the site as affordable housing and park space. But the Council disappointingly settled on an all park alternative. This decision is not set in stone though. Nothing has been built yet on the site, nor has anything been planned. The next Council will have four new members who could help initiate reconsideration of the policy decision, and even reverse it.
We'll be looking to support individual affordable housing projects — like this and others — that will contribute to a larger program.
What You Can Do To Help
Over 70 of you have already signed onto our petition, and we thank you for that. If you haven't yet, please sign on and share. We also need volunteers to help us grow, improve, and support the movement for publicly financed housing. Housing Now is a volunteer-powered organization and we have a need for people with lots of different skills. Finally, we need your financial support if we're going to make any of the above come about. Over the past year, we crowdfunded over $700, all from small donations. This money has paid for operating expenses such as our website, printed materials, and more. But we want to do more. Our goal is to print t-shirts, pamphlets, and other marketing materials like a big banner, and to do this, we hope to raise another $3,100 this winter. We don't have big institutional support like some other organizations; we depend upon the grass roots for support. 2016 is a critical year for housing in Seattle. If you've been waiting to do something about affordable housing, now's the time.
Alexander Broner is the Director of Housing Now.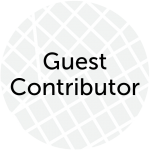 Alex Broner is Director of Housing Now, a project of Welcoming Communities Washington.