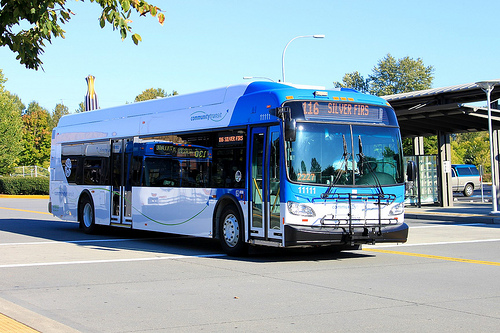 Community Transit is set to make service improvements to the local and commuter bus network in March 2016. This comes on the heels of a successful ballot measure, Proposition 1, which will feed rapid growth of the network over the next few years. The agency is targeting a modest service increase of 3,000 hours for March. Community Transit plans to make service improvements in three primary areas: span of service and midday frequency improvements on local routes, trip additions to commuter service, and extension of select service. In total, fifteen trips will be added to the network and a further six trips will be extended.
Eleven new trips will be added to improve span of service and midday frequency:
Swift (Everett Station-Aurora Village) – Two early morning trips are being added with corresponding trips from each terminal (one in each direction) starting at 4.40am.
Route 112 (Mountlake Terrace-Ash Way) – Seven weekday trips will be added midday between 10am and 2pm to provide 30-minute frequency throughout the day until 7pm.
Route 240 (Stanwood-Smokey Point) – One weeknight eastbound trip will be added; it will depart Stanwood at 8.25pm.
Route 271 (Gold Bar-Everett Station) – One weeknight westbound trip will be added; it will depart Gold Bar at 8.55pm.
Four trips added to commuter routes:
Route 413 (Swamp Creek-Downtown Seattle) – One weekday southbound trip will be added at 5.48am.
Route 415 (Downtown Seattle-North Lynnwood) – One weekday northbound trip will be added at 3.15pm.
Route 421 (Marysville-Downtown Seattle) – One weekday southbound trip will be added at 5.15am.
Route 435 (Downtown Seattle-Mill Creek) – One weekday northbound trip will be added at 3.55pm.
Six trips will be extended on one commuter route:
All trips on Route 880 (Mukilteo-University District) will be extended to serve the Mukilteo Ferry Terminal. The route is a commuter service that currently operates nine trips between Mukilteo and University District, but six trips are truncated in North Lynnwood at the 35th Ave W & 148th St SW stop. Extension of those trips will offer riders better connections to the ferry and local service during weekday peak morning and evening hours.
The March 2016 service improvements will be paid for entirely by the agency's reserve fund, not new taxes. However, Community Transit does have authority to collect an additional 0.3% in local sales tax, which is slated to begin on April 1, 2016. The new tax is estimated to deliver up to $25 million more in annual revenue once imposed. Community Transit has a vision for a much more frequent network and new local routes, enhanced paratransit and vanpool system, and a second Swift line in operation by 2018. But the process to achieve these improvements will take time.
Community Transit will begin a comprehensive service planning process in early 2016 to determine future service improvements. The first substantial deployment of Proposition 1-related service is anticipated to begin at the September 2016 service change. Successive rounds of service improvements will occur in following years. Community Transit had already programmed 21,000 service hours through 2019 prior to Proposition 1's passage. To ramp up resources to provide new service, the agency will go on a hiring and training spree in Spring 2016 and begin acquisition of additional equipment.

Stephen is a professional urban planner in Puget Sound with a passion for sustainable, livable, and diverse cities. He is especially interested in how policies, regulations, and programs can promote positive outcomes for communities. With stints in great cities like Bellingham and Cork, Stephen currently lives in Seattle. He primarily covers land use and transportation issues and has been with The Urbanist since 2014.