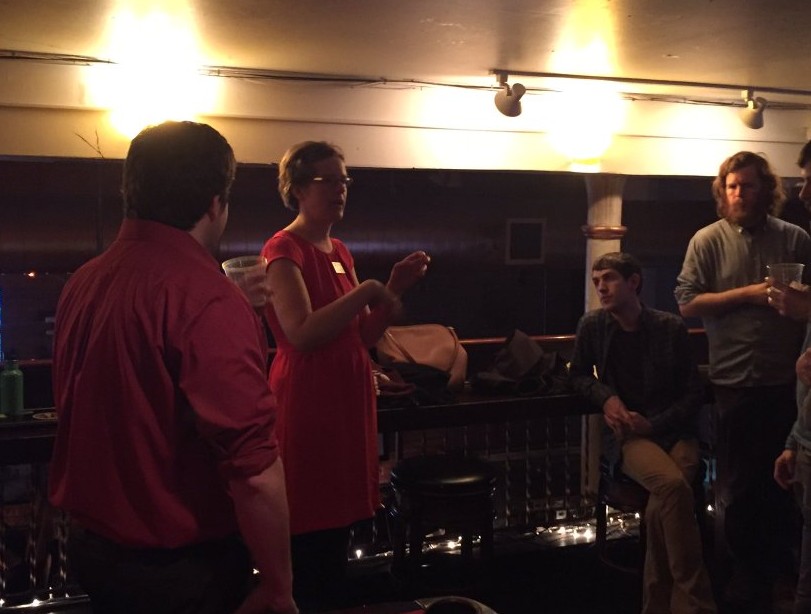 The food truck model: A new study explains why food trucks locate where they do.
The County plan: King County Executive Dow Constantine unveils the County's actions to help alleviate homelessness with a $17.3 million plan.
Induced biking: Like any other type of transportation investment, a new study suggests protected bike lanes induce more bicyclists to the roads.
Renters matter: Joel Sisolek of Capitol Hill explains why renters matter to the political and planning process.
Bold and dead: CityLab proclaims President Obama's urban transportation plan as both "bold" and "dead on arrival" to Congress.
Basic infrastructure: Kriston Capps makes the case for a network of homeless shelters as basic infrastructure.
Bike Seattle: This week Elizabeth Kiker, Executive Director of Cascade Bicycle Club, stopped on by our meetup to chat. Here are a few of her points from the evening.
Farewell to a great: Former Seattle Planning Director Diane Sugimura sits down to talk about her career and thoughts on Seattle's planning initiatives ($).
On timeout: President Obama's clean power plan got put on hold by the Supreme Court this week, so what next?
Bikeshare works: Tom Fucoloro says that bikeshare can thrive in Seattle.
Piecemeal building: Paris wants to take the Baugruppen model and put it to work with some very whimsical mid-rise buildings on and near the Périphériques.
Drive elsewhere: Minneapolis is looking at banning the drive-through business model throughout the city for very good reasons.
Au revoir: King County Metro's General Manager Kevin Desmond is heading north to Vancouver's Tranklink.
Onward and forward: Sound Transit's tunnel boring machine, Pamela, was temporarily halted 650 feet north ($) of University District Station after being partially damaged.
Fantasy: Jarrett Walker says that SimCity, the urban planning simulator, greenwashes parking in city building.

Stephen is a professional urban planner in Puget Sound with a passion for sustainable, livable, and diverse cities. He is especially interested in how policies, regulations, and programs can promote positive outcomes for communities. With stints in great cities like Bellingham and Cork, Stephen currently lives in Seattle. He primarily covers land use and transportation issues and has been with The Urbanist since 2014.