I first saw him at 14th and Jackson, chatting with some NightWatch pals. It was 6:45, long before the 9pm entry time for that program. He was dressed like a dad fallen on hard times– grey sweatshirt underneath a dog-tired leather jacket, khakis and a small knit cap. Forty, African-American.
"Hey," he said when I opened the doors. "I need an Owl transfer."
"I'll give you 10:30."
"Yeah, but I need an Owl." He was standing ten feet away from the bus, and apparently expected me me to tear him a special-length transfer and walk out and hand it to him. In that moment he smacked to me of entitlement, of pride built on sand, the sort where one believes the world owes one something. Because I'm not always at my best, I let this rub me the wrong way.
I said, "I'll hook you up next time," already closing the doors.
"Okay," he said.
The next time I saw him, which was later that same night, the timing was such that everyone was getting Owl transfers, and so gave him one too.
"You're a man of your word," he exclaimed.
"I do what I can," I said. He was polite.
That was a week or so ago. Tonight he was there again, at Third and Main. He waited while I lowered the wheelchair ramp for another passenger. My thoughts meandered: I could choose to like him or dislike him. Which will make my nights easier? He's not going anywhere. I need to find something about this guy that I like.
With the ramp now stowed he stepped aboard with an eye on my transfers.
"Hey," I said. "What's your name?"
"My–? Tony. And yours?"
"Nathan. Good to know your name."
Something inside him clicked in that second. The mind is a universe, and worlds can change in a blink. He shook my hand for a second longer. "You know," he said, smiling in a way which somehow struck me as formative, like this was the first smile, not his first but ever, primordial, a reminder that all good things start with something small… could we still be in the early days of humanity, warring our way through problems which eons from now will be utterly solved, faded memories of strife difficult to imagine?
"You know," he continued, "you're one of the, there's two best drivers, there's you and one other lady driver on the 36–"
​"I know who you're talkin' about! Wears makeup, hair like this, real friendly to everybody…"
"Man. You know everyone! Before I even described her, you know, and you also knew that other bad driver on the 14 we was–"
"Oh my goodness, I forgot we talked about that guy!" His memory is better than mine.
"But what I wanted to say was, is, about both you guys, is thank you for helping those who need help."
"It's an honor to serve. It's a great thing to serve. It's not something to look down on."
"Yeah, and a lotta people do. Thank you for not judging us, for not–"
"Well. I have family that used to be homeless."
"Oh!"
"So I can,"
"Go ahead."
"Well, the thing is, we're all the same. It's a phase. Like I'm sure you've done all kinds of other things in your life."
"Oh yeah!"
"And this is just another phase, hopefully one that'a end sooner rather than later."
"Yeah well, you know, my wife called me last month, the other month, hang on. What am I talkin' about, we spoke the day before yesterday. I been goin' through this surgery,"
"Oh, man! I hope it's been goin' well!"
"It has."
"Good."
"Her and me's been separated for a long time. Anyways she called me, mah wife, and said, 'come on over.'"
"No!"
"Yeah! Said she gonna pay for everything!"
"That sounds amazing!"
"Well, it's like I kinda don't know who to trust!"
"Well maybe, it's. I mean, there was a time when you guys were, when it was good. An' that was real, and maybe it's outta respect for that time."
"Yeah. Yeah. Yeah, I hope so. I hope that's what it is." He held the thought for a beat, letting it settle in. He smiled.
I was thinking of Dawna. "You know," I reflected, "goin' back to that lady 36 driver. I respect her so much 'cause she's been able to keep up that attitude for so long. In spite of everything, all the stuff that happens, what's impressive to me is the amount of time. She just keeps doin' it."
"She's a blessing. You both are. God's blessing."
"Oh, I don't know. What goes around comes around."
"It ain't about that. You got somethin', and you're givin' it out to everyone else."
"I'm just so thankful to be here."
I didn't know what else to say. I thought of Dawna and drivers like her, and how they bring to life the great Nietzsche quote:
"It is not the strength, but the duration, of great sentiments that makes great men."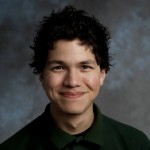 Nathan Vass is an artist, filmmaker, photographer, and author by day, and a Metro bus driver by night, where his community-building work has been showcased on TED, NPR, The Seattle Times, KING 5 and landed him a spot on Seattle Magazine's 2018 list of the 35 Most Influential People in Seattle. He has shown in over forty photography shows is also the director of nine films, six of which have shown at festivals, and one of which premiered at Henry Art Gallery. His book, The Lines That Make Us, is a Seattle bestseller and 2019 WA State Book Awards finalist.